By Elena del Valle
Photos by Gary Cox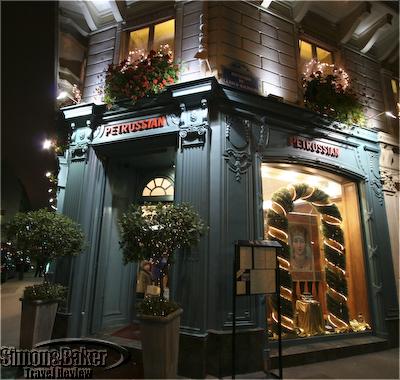 The Petrossian storefront in the early evening
For years we have enjoyed varied French cuisine styles at restaurants in Paris, France from humble bistros in hidden corners to the famed temples of haute cuisine in the best neighborhoods. On a recent visit we thought it would be fun to sample another type of cuisine.
With this goal in mind we headed to Le 144 Petrossian Restaurant known for its Russian dishes prepared by an up-and-coming young chef of Senegalese heritage. It was snowing when we arrived in the quiet Seventh Arrondisement restaurant. After handing our coats to the young lady at reception we headed upstairs, past the bar to a corner table. After perusing the menu and asking several questions of Jean Baptiste, our waiter, we settled on the house specialty, the Hommage a la Gastronomie Russe Petrossian Menu avec caviar Ossetra Tradition (served to a minimum of two people and the entire table) which consisted of 10 small savory and sweet dishes and a portion of Petrossian Ossetra Caviar served in its can and cost 130 euros per person.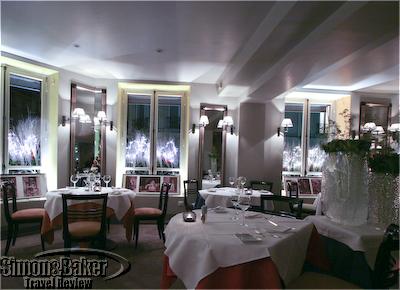 Le 144 Petrossian dining room with holiday lighting in the windows
While our meal arrived we kept our appetite at bay with salmon bites, pastries filled with goat cheese and meat and a glass of rose champagne. Although we were temped to have vodka we opted for a bottle of non vintage Bollinger Champagne instead to accompany our dinner.
Tasty bites and Champagne to whet the appetite
By the time dinner arrived we were ready to eat. First, there was Soupe de poisson impériale, a "milky" fish soup. It was followed by Zakouskiks: Huit petits plats issus de la tradition, an ample selection of appetizers served at the same time: eggplant "caviar," delicious smoked salmon, Russian salad with crab, herring, a sardine like fish, king crab, and melt-in-your-mouth salmon eggs. Although we liked all the dishes the salmon, eggplant and Ossetra caviar were our favorites by far.
The cold dish selection in the Russian menu
By then we were ready to call it a night only to remember there were four warm courses coming our way:  Agneau Yagouline, Caucasian style lamb served with pomegranate and a spiced fruit compote; Esturgeon grille comme dans la Caspienne, grilled sturgeon with a cream mushroom sauce (a favorite); Kotlety de boef et agneau épicés, a spicy lamb in a citrus sauce; and Pelmenis, meat balls in a creamy anisette sauce (a favorite).
Russian menu warm dishes
Before dessert arrived we were able to briefly meet Chef Rougui Dia in the kitchen. Her gracious and shy demeanor was disarming. We look forward to sampling more of her dishes on another occasion.
Dessert was chilled and did not match the descriptions in the menu. We were served cheesecake; salt and caramel cake, a pear pistachio cherry topped cake; chilled pineapple coconut; and pear and citrus zest.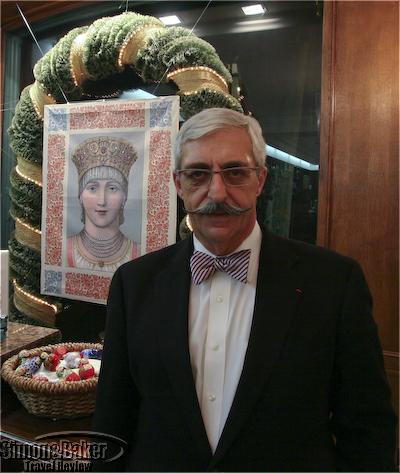 Armen Petrossian in front of the Paris boutique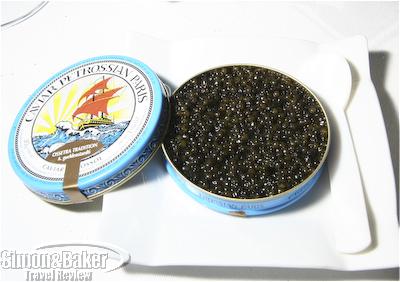 Petrossian Ossetra Caviar
The following week, we visited the Petrossian shop located a few steps away from the entrance to the restaurant where it was possible to purchase some of the dinner specialties like caviar. While at the shop we met Armen Petrossian, the head of the company. In addition to Paris, the company, owned by the Petrossian Family, has boutiques with cafes in New York, Los Angeles and Las Vegas. Le 144 Petrossian Restaurant, 18 Boulevard de la Tour Maubourg, 75007, Paris, France, +33 1 44 11 32 32, www.petrossian.fr