Article and photos by Josette King
Chiang Mai's Chedi Luang dates back to the 14th century
I landed in Chiang Mai on a sunny fall afternoon to a bird's eye view of what makes this ancient northern city one of the most sought after tourist destinations in Thailand. In the center of a broad valley outlined by high verdant hills the skyline of the city was a mosaic of contemporary buildings tightly mingling with the distinctive scalloped roofs of Buddhist temples. At the heart of this panoramic vista, a mile square medieval moat outlined the historic core of what was once the capital of the Lanna Kingdom, an ancient state that spread from eastern Burma (also known as Myanmar) to the western valleys of Laos. Founded in 1296 A.D., Chiang Mai became an important cultural and religious center before successive military invasions set off its decline and ultimately caused its rulers to abandon the city in the 18th century.
Wat Phan Tao is built of teak  in the Lanna Thai style
Far away and hard to reach from Bangkok 430 miles (700 kilometers) to the south, Chiang Mai became a mostly ignored provincial town in the foothills of the Himalayan Mountains. This helped preserve its cultural legacy and laid back charm to be re-discovered by mid-20th century tourists. The city's reputation as an exceptional destination to experience the traditional arts, crafts and culture of northern Thailand, as well as the unspoiled natural beauty of the surrounding hills, has grown exponentially over the past half century; and so has the city itself.
Tourism has become an important economic growth factor for Chiang Mai, which now welcomes over one million visitors annually. A vast array of hospitality options has developed around the city including two unique luxury boutique hotels that I especially enjoyed.
My room at the Tamarind Village had a traditional Lanna Thai flair
Tamarind Village was a charming contemporary version of a traditional mountain village, ideally located within the historic center. The intimate two-story property was laid out around a series of internal courtyards filled with fragrant tropical vegetation. Within the tranquil walled compound, every detail paid homage to the Lanna Thai cultural and artistic heritage. The entire property was decorated with the distinctive crafts of nearby hill tribes. At the restaurant, the menu highlighted traditional local cuisine and treatments at the intimate Village Spa focused on herbal products drawn from the Lanna tradition of natural healing. Even the gift boutique was brimming with ethnic jewelry, antique crafts and clothing made from tribal textiles. Guest accommodations were a harmonious balance of timeless serenity and contemporary comforts. And the thirty Buddhist temples that still remain within the square mile of the historic center, including some of the most revered ones in the city, were just a few minutes' walk beyond the Village walls.
Sunday Market stalls settle in a temple courtyard
Then there was the Sunday Walking Market, a colorful Chiang Mai tradition that unfolds every Sunday evening right in front of Tamarind Village on Rajdamnoen Road. The street is blocked to traffic then. Local craftspeople set up small displays and sell their wares. This was the most enjoyable shopping experience of my entire visit to Thailand. I was impressed by the quality of the items, and loved their very reasonable price. This was also a time where temple courtyards filled up with food stalls; and with five temples along Rajdamnoen Road, there were plenty of opportunities to sample real Northern Thai food.
Tamarind Village offered a lovely opportunity to immerse myself into Chiang Mai's past; the dusitD2 welcomed me onto its future.
DusitD2 reception and bar
The D2, as it was affectionately called by the hip local community and visitors alike, was an ultra-modern property that combined the highest standards of contemporary hospitality with a striking avant-garde East Asian décor to create a chic urban sanctuary in the midst of the city's bustling downtown. And just as hip as the guests were the charming, attentive staff that were not only able to meet and even anticipate my needs, but also could break into a choreographed line dance in the middle of superb minimalist lobby to mark the afternoon staff change! The restaurant, Moxie, was nationally acclaimed for its eclectic fusion of western and Asian haute cuisine. I also enjoyed its generous and equally imaginative breakfast buffet.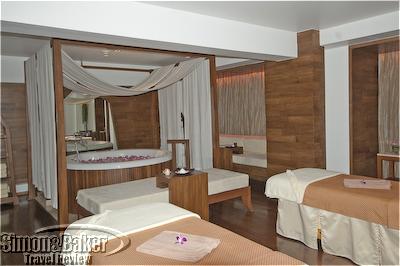 Devarana Spa treatment suite at DusitD2
The spa, Devarana (Sanskrit for Garden at Heaven's Gate) lived up to its name with its serenely luxurious environment and its therapists trained to combine Thai massage with the best known international methods to create outstanding treatments. My spacious, light-filled suite was a clear testimonial to what made the dusitD2 a favorite with business travelers as well as tourists. The generous array of the latest amenities included a work-size desk with an ergonomic chair and reliable, high-speed WiFi connection secured with computer-generated user and pass codes. And a vibrant tourism experience was just outside my door. In addition to several Buddhist temples within minutes walk, the Vieng Ping Night Bazaar building was located just across the street from the hotel.
The bedroom had a serene contemporary decor at DusitD2
The vast three-story shopping arcade under a Thai temple-style roof was filled with shops and stalls bursting with crafts, clothing and antiques. In front of the arcade both sides of Chang Khlan Road was a gauntlet of street vendors selling souvenirs and mass-produced articles of all kinds. Open from late afternoon until late evening, the Night Bazaar was not just a place to shop but possibly also the most popular tourist attraction in Chiang Mai. There also was a huge food court in the Kalare Center across the street, with a large selection of international food stalls and an occasional performance by traditional Thai dancers and musicians.
Visit the Simon & Baker Travel Review to read more about my stay at the Tamarind Village and dusitD2 Chiang Mai in Thailand.
Market stall at Chiang Mai's Sunday Market