Article and photos by Elena del Valle
Cambodian silversmith Ly Pisith in his shop
As I sat across from him early one evening in the boutique I noticed his calm demeanor in between the constant interruptions of customers. I sensed kindness, a certain sadness and a quiet strength. Beyond that it was impossible to guess what the welcoming and handsome man was thinking. We spoke easily, switching between languages and topics as the ebb and flow of customers allowed.
At first I didn't know what stirred disquiet within me. The store was a labor of love filed with distinctive locally inspired pieces on display. Every one of them was a part of a story, his story, I discovered later as we spoke.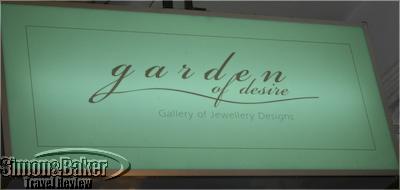 His shop is located in the heart of Siem Reap, Cambodia
Ly Pisith lived a harrowing childhood in Cambodia. After escaping the Khmer Rouge, the despotic regime that killed everyone in his family and forcibly recruited him, he grew up on the streets of the capital city. From the urban center of the country he walked miles upon miles to the border with Thailand where he was taken to a French Red Cross camp.
From there things improved. Eventually he moved to France where he attended school. He studied at the Institut Universitaire de Technologie in Bordeaux and took courses in graphic art and decoration at the Beaux Art de Paris. In time he became successful designing eye wear at Alain Mikkli and Stark, he told me softly in French. But the ghosts of his past haunted him, driving him to return to the land where he lost everything and suffered so profoundly in search of peace and a respite. He believes the path to what he seeks is in Siem Reap, Cambodia confronting the past that is no longer.
The Garden of Desire displays were locally inspired and made with local artifacts
"I have always a passion in jewelery design. I started young but the designs were for myself and close friends only. It was only two years back when I decided to pursue jewelery design, open up a gallery and made a new career move," he said.
In 2008, he opened Garden of Desire, a silver jewelry boutique in the heart of Siem Reap near the central market. In the well lit shop decorated with local materials including wood and art based on the designs of the nearby world famous Angkor Temples he sells art as jewelry in contemporary designs. An executive at my hotel recommended the shop after explaining that it was the only jeweler in town he trusted to be reputable due to the many fake precious stones being sold as the real thing even in high end stores. Almost everyone I asked echoed those sentiments. When I asked the shop owner about the situation he agreed it was a widespread problem and the reason he only worked with semi-precious stones.
His designs are wearable art with elements of storytelling; made to be comfortable to wear and stylish. His art is "about encasements of personal stories and reflections." Cages are a repetitive feature in his work, he explained, because so much of his life is associated with being constrained in some way. Even at the Red Cross camp where he found help he was imprisoned since he was not allowed to leave.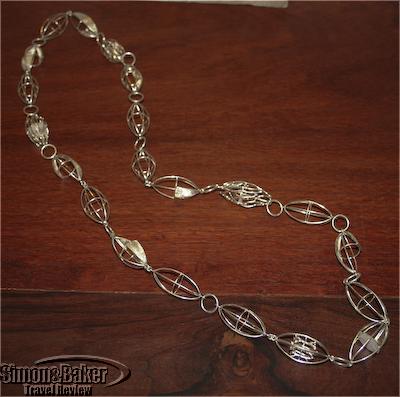 An intricate silver necklace, one of the Caged designs
"The jewelry doesn't have to be nice. It's about their personality. They find the right something that tells you something perfectly takes over you. It really has to be something that brings out you. This is my conception of jewelry; and jewelry has a feel, a look," he said, explaining that it is not necessary for jewelry to make the wearer feel good or nice; he seeks to provide items his customer identify with immediately.
He went on to say that jewelry can express feelings of pain, anguish, and the anxiety of feeling boxed in; his customers browse through the store and find the item they identify with right away. He shares his feelings and his experiences in his jewelry and his customers find the ones that resonate with them.
A couple purchased a ring while I was at the store. They walked around and waited two hours while it was sized rather than give up on the purchase. He sees that desire and that determination often among his customers, he told me when I asked how customers respond to his jewelry.
Sculpture as jewelry
"I am always most willing to explain my works to my customers who are keen in my creations. After hearing about the ideas behind their purchase, they are often surprised and value the pieces even more. But my creations can be appreciated on different levels; from the designs to forms," said the Cambodian artist who was partly self taught in France.
"I am always curious about working with new materials and often I learned from books and through experimentation. I also work with Cambodian artisans. It is a two way learning journey for us. We come up with our own methods," he said when asked how he learned his trade.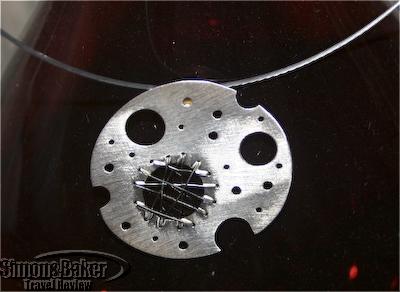 Intricate and thought provoking designs
Some of his series include Weather, about the environment including clouds, rain, organisms and the ozone; Cage which consists of two necklaces. The first speaks of humans trying to control or take over nature. The second necklace illustrates nature overpowering humans and resisting interventions. Series 1 Can You Hear Me? is an abstract image of a land mine victim. Series 2 Can You Hear Me? is also an abstract portrait of a land mine victim. Here the inner voice is expressed through the facial expression, a silent scream.
"Upon seeing the victims and knowing their personal stories, I was intrigued to create a piece of jewelry. This piece shows the figure of the victim. Standing on only one good leg and hand reaching out," he said.
Out of the ordinary star earrings
"Having lived in France for most of my life and traveling around the globe, Cambodia and especially Siem Reap is still close to my heart. I was born in Phnom Penh and travel(ed) to France after the war. Siem Reap is such a charming place with the temples where I can seek peace. I lead a simple yet meaningful life creating my works. I do miss a little the city buzz from time to time where you have everything," Ly said, explaining that in the future he plans to continue experimenting with new materials beyond silver. Garden of Desire, The Passage-Old Market Area, Siem Reap, Kingdom of Cambodia, +855 12 319116, www.gardenofdesire.wordpress.com, gardenofdesire@ymail.com