By Elena del Valle, video and photos by Gary Cox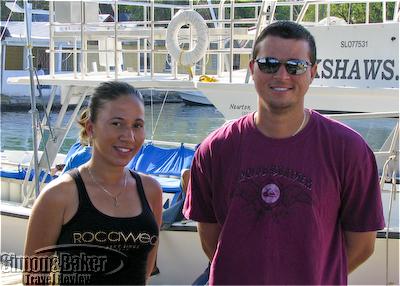 Hackshaws.com is a family run business
We had been crossing our fingers since the night before in the hope of clear skies. We arrived at Vigie Marina just outside Castries, Saint Lucia in the Caribbean a few minutes early excited at the prospect of seeing dolphins or whales. After a brief greeting we boarded the Lady Anne, a 2004 50 foot Newton custom motor boat with capacity for 60 passengers for a Half Day Whale Watch Safari. The two of us, a cheerful crew of three, Captain Antonious, and deck hands Jonny and Ovar, and 21 other passengers departed at 8 a.m. and returned four hours later. With the exception of one young girl we were all adults on board.
One of two 50 foot custom Newton boats at Hackshaws the day we visited
The crew had a short safety discussion which included a mention of the location of life vests and that there were first aid kits topside and on our deck. They suggested we walk around barefoot and explained there were shady and sunny areas of the boat where we could sit. They also offered us cold soft drinks, mineral water, and rum punch and cheese flavored Pringles potato chips and mentioned there was a small head (bathroom) for guest use.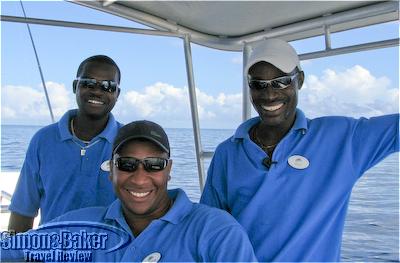 The happy crew of the Lady Anne
Soon the marina was behind us and we began searching for dolphins and whales. Movement caught my eye and when I asked the captain what it was he said it might be whales. As we approached we saw a pod of 20 or more dolphins, I thought. The crew explained that they were pilot whales, dark gray members of the dolphin family measuring 16 to 20 feet and weighing up to three tons, near the surface. They swam under and around us playfully for about 20 minutes. We were delighted to observe them for as long as we could.

A while later, as we hugged the west coast of Saint Lucia heading south we saw spotted dolphins. These were smaller than the pilot whales and perhaps even more playful. These dolphins, found in tropical and warm waters, are said to measure an average of seven feet and weigh about 220 pounds. We remained with them for about 15 minutes, circling back for a final glimpse.
Once the dolphins tired us playing around our boat and swam away we continued south until we reached the famous Gros and Petit pitons. At Jalousie Bay we circled back, observing the hills and The Jalousie Plantation as we turned back north. During the tour we saw the Saint Lucia coast line close up and the profiles of the nearby islands of Saint Vincent and Martinique in the distance.
The famous Saint Lucia Pitons
On our return we made a brief stop in Marigot Bay to drop off two of our passengers before docking back at Vigie Marina. Hackshaw Boat Charters, the tour company that ran our tour, was owned by three Saint Lucia siblings Chris, Jacquie and Nick Hackshaw. Hackshaw Boat Charters, Vigie Marina Castries, Saint Lucia, Telephone (758) 453 0553, Fax (758) 4581250, www.hackshaws.com, sales@hackshaws.com