By Elena del Valle, photos by Gary Cox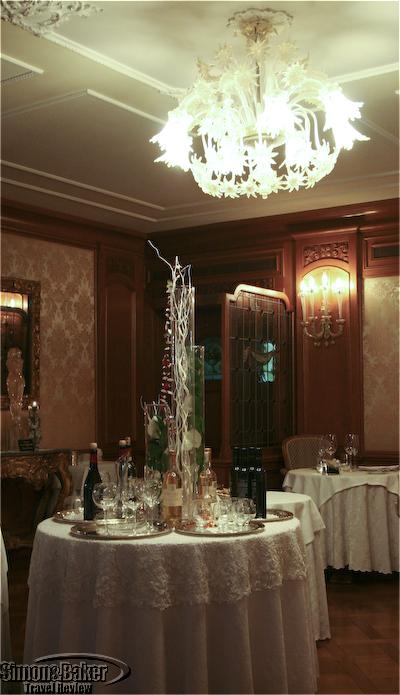 The dining room in Canova restaurant
It was our last night in Venice and it was raining. Again. For three days, in between showers and intermittent sunshine, we had walked mercilessly through the city. As much as we loved the pedestrian benefits we longed to enjoy a quiet dinner that didn't require an outing or getting wet. Fortunately, our hotel had a ground level restaurant. Ristorante Canova, named for Venetian sculptor Antonio Canova, was just what we wanted. It had contemporary decor, wood floors and wood and gold colored walls, Italian porcelain dinnerware, silver cutlery and helpful staff.
Shrimp with olive oil and artichokes
We began with a prosecco aperitif and a pre-appetizer morsel. While we pondered dinner options we observed the L shaped dining room. A simple orchid in a square vase adorned our table set against the wall in the back of the room. It was a perfect location to savor our quiet meal, see the rain fall through the nearby window and watch guests at the handful of nearby tables that shared the restaurant with us that night. From the Baglioni Caffe across the other side of the entrance we could hear the pleasant sounds of live music by Stefano. Three types of warm bread and break sticks and two types of French butter (lightly salted and unsalted) kept us entertained.
Spaghetti with clams in a light tomato sauce
We shared local shrimp over artichokes, olive oil and lemon. My dinner partner tried the Ravioli with spinach and ricotta and I had Spaghetti with clams in a light tomato sauce. For mains I had Mixed grilled seafood of scampi, monkfish, sea bass and scallops and he ordered Sea bass with potatoes. Both mains were satisfying. To wrap up our meal we had strawberry and green apple sorbet. Click here to read about our stay at the Luna Baglioni where Ristorante Canova is located.
Sorbet dessert at Canova