By Elena del Valle, photos by Gary Cox
The fish market in Venice
We easily made our way on foot from our hotel near San Marco Square on the southern side of Venice to our meeting point, a quiet piazza where we easily found Damiano Martin, the son of the owners of Osteria da Fiore and our guide on a brief culinary stride through the streets of Venice, Italy. As we quickly walked to the fish market Damiano talked about some of the old and faded signs for bakery, fish shop, meat shop and so forth on the buildings of the city. One narrow street followed another and eventually we reached the covered market where the citizens of Venice bought their fish.
Soft shell crabs fresh from the ocean
It was from those same vendors, Damiano explained, that Mara Martin, his mother, the chef and part owner of Osteria da Fiore restaurant, purchased seafood for the restaurant every day. She and other chefs in the city would be in contact with the fishermen very early in the morning to buy the freshest and best catch. What remained was sold retail in the fish market. What was amazing was the lack of fish smell in spite of the sunny morning and plentiful seafood in the stalls.
Next to the fish market there were produce vendors selling all kinds of fruits and vegetables from near and far. It was fun to watch the colorful display and ample selection as we walked by. As we turned, Damiano stopped to show us a corner vendor who sold the best (and priciest) produce in town. He also carried specialty and hard to get items. Before we knew it it was time to meet the chef.
Fruit and vegetable stalls in Venice market
Mara Martin is one of those people that is easy to like. She has a ready smile and radiates Italian charm. As soon as we arrived at her home, a cozy and immaculate penthouse apartment in an old Venetian building (a former noble home on the Grand Canal), she handed each of us an apron and showed us around. Our favorite place was an open terrace reached by crossing through her kitchen with a striking view over the rooftops of Venice. From there we could see forever or at least a good part of the world famed town.
Everything was ready and time was short so after a quick drink of water she began her cooking demonstration. The plan was for her to show us and for us to try to prepare the dishes with her help. Instead we watched with admiration as she whizzed through the meal preparation, explaining what she was doing in Italian while Damiano translated into English. In between her explanations and demonstrations we peppered her with questions and enjoyed the moment. It's not everyday that a well known chef makes you a private lunch!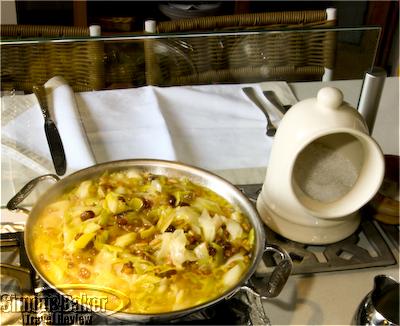 Sweet and sour bream Marco Polo
That day in early May, Mara prepared Sweet and sour bream Marco Polo (with leeks, ginger, raisins, citrus juice and pine nuts), Venetian black squid risotto made with Aquarelle Rice from Piedmont, Tempura fried softshell crabs and sardines (a favorite)  served with with arugula and plain salad with citrus slices and Ratafia coffee dessert, a coffee and sugar syrup sorbet. The secret to the tempura batter, she explained with a twinkle in her eye, was her personal blend of sparkling water, sparkling wine, and flour. Her tempura batter was exceptional.
Mara making those exceptional tempura crabs
At the conclusion of her cooking demonstration, the four of us sat down on stools in the small kitchen and enjoyed a savory and joyful meal, the fruits of several hours of her labor the previous day and that morning. She accompanied the four courses with a bottle of 2008 Frescobaldi white wine, home made crunchy and tasty bread (a favorite) and grissini (bread sticks). After the dessert Mara served bite sized home made Tuscan almond biscotti and almond flour nuggets (a favorite). Kudos to Chef Mara Martin, for a fun cooking demonstration and a beautifully prepared northern Italian meal!
The Osteria da Fiore 214-page cookbook, in English
The recipes for our meal were published, along with a host of others in a 214-page hardcover cookbook available in English and Italian for cooking course students and at the restaurant. The book was divided into four main sections: Antipasti, Primi Piatti, Secondi Piatti and Dolci (Italian for appetizers, first courses, second courses and desserts). The Sweet and sour sea bream Marco Polo recipe was on page 57; the one for Venetian black squid risotto appeared on page 107; a recipe similar to her Tempura fried softshell crabs and sardines appeared on page 157 and instructions for the Turkish Style Espresso Sorbet appear on page 183 which seems very much like the dessert she made at lunch.
The following day we visited Mara at work where we sampled a tasting menu of her choosing. Click here to read about our lunch at Osteria da Fiore.