By Elena del Valle, photos by Gary Cox

A white rhino at the Royal Malewane

A relaxing corner of our suite's private outdoor deck at the Royal Malewane
When I mention South Africa to people who haven't been there I get one of two reactions, fear or excitement. Fear because of the country's reputation for crime and excitement because it sounds exotic and fun to visit. For those who know about game viewing Africa's southernmost nation is synonymous with luxury safaris. Others still are aware of the country's nascent wine industry and gourmet inclination. Game viewing and visits to the wine region, to a lesser extent, are some of the main reasons international travelers find their way to South Africa.
For those willing to overlook the hateful crime statistics and brave the long flights to reach the far corner of the African continent the rewards are plentiful and an excellent value for money. Visitors with the means and desire to travel in style will find there are many luxurious accommodations to choose from including five-star hotels, lodges, and tented camps. When planning a trip, selecting an area of topical or geographic interest is a good first step. For some a familiar name, such as a chain hotel, may be reassuring.
Another possibility for the more adventurous is a boutique property. For guests wishing to sample a less uniform and more local experience small properties like lodges, camps and boutique hotels can be a godsend.  Often these types of properties offer attentive customer centered service and many advantages over the larger hotels. Over time we've discovered several outstanding properties owned by the same company or family in various parts of the country offering excellent and distinctive luxury accommodations.
The inner courtyard with two pools at Birkenheadhouse
Views from the deck at Birkenheadhouse
An example of this is three properties that form The Royal Portfolio owned by Liz and Phil Biden. The couple successfully converted their vacation homes in different parts of South Africa into small luxury lodges. We have visited the three properties on two separate occasions. First, we were at the Royal Malewane and on our most recent trip we visited Birkenheadhouse and La Residence. Each is distinctive and has its own attractions.
We especially appreciated the outstanding service, comfort and luxury accommodations, attention to detail, superb whimsical décor, and strong foodie orientation they shared. They make an excellent circuit for those wishing to sample some of the best options South Africa has to offer for safari and whale watching destinations as well as for fine food and wine lovers.
A side view of the central courtyard at La Residence
The main building interior at La Residence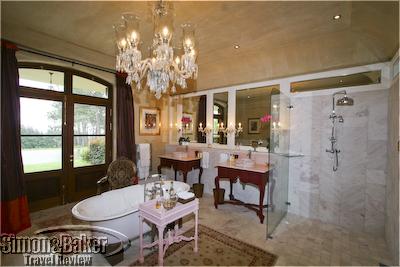 The romantic bathroom in the Hibiscus Suite
The Royal Malewane, an intimate luxury safari lodge with an on site spa near http://simonandbaker.com/kruger, has been host to international celebrities and politicos. Birkenheadhouse, a second property located in Hermanus on the coast east of Cape Town, is perched above the beach in a village known nationally for its seasonal whale watching opportunities. La Residence is our favorite for its over-the-top flair, beautiful setting within a farm estate and delicious meals. It is in the wine and gourmet town of Franschoek, a short drive from Cape Town.