Article and photos by Josette King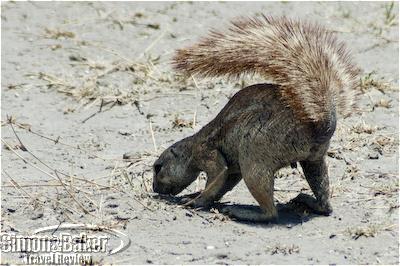 A Kalahari squirrel uses its tail for shade
Male kudus emerge from the bush
In the mainly roadless wilderness of the Kalahari Desert ("thirstland" in local Setswana language) that covers roughly two-thirds of Botswana, adventure usually begins with a bush plane flight into the middle of nowhere. On this particular day, the flight was taking me on a southeastern heading from the Makgadikgadi Salt Pans toward the Central Kalahari Game Reserve, a semi-arid immensity the size of Switzerland located in the center of the country. After one soporific hour in the steamy cockpit, gazing at some of the flattest, emptiest landscape I had ever seen, I did a double take. We were starting our descent toward a green-forested expanse neatly slashed by a long airstrip. Wasn't the center of the Kalahari to be the most barren destination of my entire itinerary? It would be, but that was an adventure for another day.
For now, I had arrived at Haina Kalahari Lodge, an intimate luxury retreat nestled in a private conservancy abutting the northern border of the game reserve. An unexpected heavy rainstorm the previous week had injected exuberant life into the land. The trees were bursting with green buds and the trumpet thorn bushes were filled with the white and purple flowers that gave them their name. Impalas, kudus, oryx and and steenboks feasted on new grass, and big cats feasted on antelope. Giraffes kept at a cautious distance from the fray. The conservancy was home to a resident pride of large, vocal Kalahari lions, the males with their distinctive black-tipped mane. Most game drives produced at least one lion sighting. Cheetahs were stealthier, allowing me only an occasional glimpse.
The lounge
My luxury tent at Haina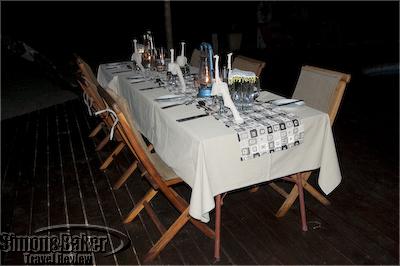 The al fresco dining area
The lodge was a haven of contemporary luxury and casual atmosphere, graced with the some of the latest in modern conveniences, such as reliable satellite WiFi Internet connection in the main lodge and solar-generated electricity throughout the property. The superbly appointed oversized guest tents were sited for total privacy, making all the more enjoyable their large, front veranda and rear glass enclosed indoor showers overlooking the bush. With this winning combination of creature comforts and nearby game, I was fleetingly tempted to remain within the conservancy for the duration of my stay at Haina.
But the harsh wilderness of the Central Kalahari Game Park was only a drive away, especially Deception Valley, where a river had meandered some 16,000 years ago. More recently, it had been the site of the camp were American Zoologists Mark and Delia Owen had lived in tents for seven years in the 1970's while conducting research on Kalahari lions and brown hyenas. For me, it became the destination of a fascinating day-long drive in a landscape punctuated by distant mirages, birds silently gliding on the faintest of hot air updrafts, and the occasional antelope standing stock-still under the sliver of shade from a desiccated tree. Click here to read more about my visit at Haina Kalahari Lodge.