By Elena del Valle and photos by Gary Cox
A quiet corner at Asara near the reception
The Sansibar Cigar and Whiskey Lounge
We arrived at Asara Wine Estate and Hotel, a small luxury and gourmet oriented hotel and wine producing property just outside the college city of Stellenbosch in South Africa's wine region, in early spring. Although there was a definite chill in the air the days were beautiful. There were just enough puffy clouds in the perfect blue sky to make it interesting and the view of the property from our rooms was lovely. It was hard to imagine that the quiet country setting was only 25 minutes away from the airport and not much further from bustling Cape Town.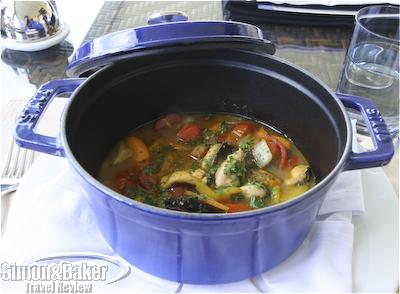 A hearty seafood lunch dish at Asara
We like that Asara is friendly to the environment. The company practices eco-sensitive biodynamic wine production to reduce the environmental impact of its operations as well as other efforts to offset the estate's carbon footprint. Solar panels are part of the wine production process. All wine bottles and glassware on the estate are recycled.
More than 400 indigenous pin oaks trees were planted to aid oxygen production. Plans are in place to remove all alien plants from the estate by 2011. At the same time, organic waste from the restaurants and cellar is used for organic compost and the four dams in the farm are used for irrigation. No harmful chemicals are used for pest control.
Perhaps these efforts are paying off with wildlife. Recently, two new litters of endangered caracal (a fast small to medium cat similar to the serval) were seen around the estate, along with the grysbokkies, duikers and guinea fowl that the farm their home.
As a visitor what first comes to mind when I think of the 37-room Relais and Chateaux property is the view of the vineyards, a pond and mountains in the background from our table at Raphael's, the hotel's gourmet restaurant. We enjoyed the comfortable and well appointed accommodations and facilities and food and wine opportunities and would gladly return. Click here to read about our visit to Asara.