Article and photos by Josette King
Victorian gems are being restored to their original charm
It is said in Savannah that when its founder General James Oglethorpe departed for England in 1743 he left instructions not to change anything until he returned. He never did. And although the city expanded in the centuries that followed, it retained the grid pattern of verdant squares linked by broad avenues envisioned by Oglethorpe. Today, under its iconic canopy of ancient live oaks fluttering with Spanish moss, Savannah remains a languid antebellum city of elegant colonial mansions and Southern charm.
But while history resonates at every turn, so does the creative energy of the city's art scene stimulated by the students, faculty and alumni of the booming Savannah College of Art and Design (SCAD). Their inspiration is very much in evidence at the college's own store, shopSCAD (300 Bull Street). This unique emporium is bursting with cutting-edge paintings, photographs, pottery, jewelry and wearable items; reasonably priced creations of the students, faculty and alumni of the college.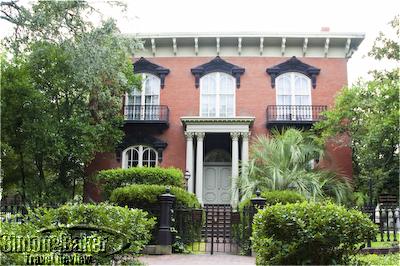 Historic colonial homes line the squares of Savannah
Creativity spills over into other areas of the city's life as well. Young chefs put their own original spin on Southern classics and old favorites from around the world that have settled over time in the historic port city of Savannah. I enjoyed several lovely meals during my recent visit, most notably a dinner at Local 11ten (1110 Bull Street). Since he took over the kitchen in early 2008, Chef Jeff Rodgers has worked closely with a handful of trusted small suppliers to source the best locally grown and harvested products he showcases in his refined yet unpretentious menu.
Scallops seared to perfection at Local 11ten
And word has been spreading that something wonderful is happening at Local 11ten. A friend who had recently visited Savannah recommended it, "and make sure to try the scallops," he said. I did. The four gigantic sea scallops were so fresh and sweet they required only the slightest bit of searing. They were served on a bed of crisp asparagus and barely wilted endive, drizzled with a warm sweet pepper vinaigrette, their tartness the perfect foil for the sweetness of the scallops. But equally palate-thrilling were the amuse-bouche: a generously-sized lobster cake served with a glaze of horseradish and sherry sauce. We unanimously declared it worthy to become one of Chef Rodgers' signature dishes.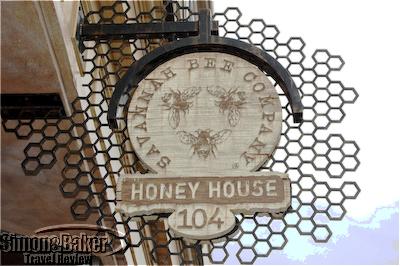 The Honey House, a favorite stop for discriminating foodies
For creativity in retailing, my personal award goes to the Honey House (104 Broughton Street). Opened in 2008 as the flagship store of a local artisanal honey producer, the Savannah Bee Company, this Historic District storefront has already established itself as a required stop for local and visiting gourmets and other discriminating shoppers. The shop was a visual feast, brimming with artfully arranged displays of all things honey. The company's signature tapered bottles lined the walls, filled in many shades of gold, from deep sourwood to rich tupelo to pale acacia honey and several hues in between.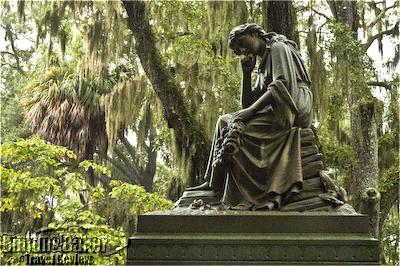 The Bonaventure Cemetery is famous for its elaborate monuments
The stacks of body-care offerings were equally irresistible, from Royal Jelly body butter to bees wax and nail salve and mint julep lip balm. Deeper into the store a floor to ceiling hive playroom invited children to pretend they were bees, while adults browsed the tempting array of bee themed toys and children's clothing. Bee-keeping jumpsuits, hats and other paraphernalia were also available. Feeling weak from so many choices, I repaired to the bar for a honey cappuccino and honey tasting (the full-bodied Tupelo honey was my favorite), but for me the ultimate indulgence was the honeycomb sampling tray. Who would have thought a sliver of honeycomb on a slice of sharp cheese, or tart green apple, could taste to wonderful?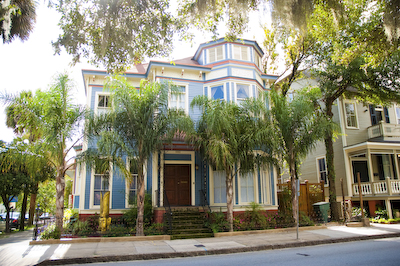 The Waldburg, a charming Queen Anne home overlooking the park
Meanwhile, there is also much happening on the architectural preservation front, which is gaining momentum around Forsyth Park, Savannah's Central Park at the southern edge of the Historic District. This is the Victorian District where graceful 19th Century houses overlooked for decades are now being painstakingly brought back to their original loveliness. I had the pleasure to stay in one of them during my visit to Savannah: The Waldburg, a charming Queen Anne house overlooking the park.
It was recently the object of a thoughtful renovation into two elegant vacation apartments, clearly with the comfort and enjoyment of their guests in mind. Conveniently located within walking distance from many of the most sought-after tourist attractions in Savannah, it was an ideal base from where to experience the gracious essence of this most Southern of cities. Click here to read more about my recent visit to Savannah, and my most enjoyable stay at The Waldburg.