Article and photos by Gary Cox
The Wimberley Head Version II
While on safari in South Africa last year, a ranger who was a fellow photographer, introduced me to the Wimberley Head.  Mounted on a standard super clip, this piece of equipment revolutionized my game viewing photography. The super clip securely holds my 100-400 millimeter telephoto lens comfortably mounted onto the bars on the Land Rover or other game viewing vehicle. The telephoto lens is fitted with an Arca-Swiss style plate purchased separately from Wimberley.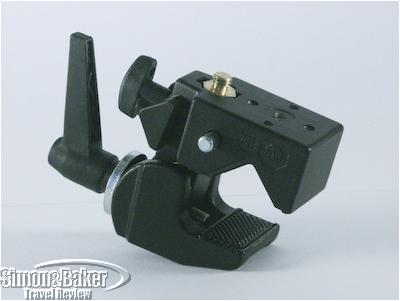 The Super Clip with Tripod Screw Head
The Wimberley tripod head uses a gimbal-type design to balance the camera and lens in all three dimensions. This greatly reduces the strain and potential shake of using it free hand, and the flexibility of movement is a big improvement over bean bag solutions I have tried. It is well engineered, with a solid feel, easy to use adjustments and clean lines. One notable issue, because it is mounted on the vehicle, other people moving around can cause the vehicle to shake, which can be quite annoying at the wrong moment. It is best suited for private to semi-private game drives because the camera extends over the seat in front of the photographer.
The full rig in the field
The photo above shows the full rig, including the external flash mount bar (sold separately). The flash extender completes the telephoto game viewing setup. This configuration, combined with the lens' image stabilization, provides a great platform for wildlife photography, reducing the annoying windows of downtime in the early morning and late evening when some of the best viewings occur, but the light is too low for a telephoto shot. When the vehicle is moving from sighting to sighting, the flash unscrews from its mount with a thumb wheel and the clamp releases the plate on the camera to avoid shaking the equipment apart on the dirt roads.
The Wimberley Head travels with me whenever the telephoto lens is in the bag. It is now an indispensable element of my camera support equipment.
Wimberley, located in Winchester, Virginia is a small business owned by a father and son team, David and Clay Wimberley, both mechanical engineers dedicated to designing and making professional photography equipment. The company offers a 60-day unconditional money-back guarantee on all of its products and has loaners available through its Free Trial Program. For details visit Tripodhead.com