Article and photos by Elena del Valle
Agave Restaurant in Summerlin, Nevada
Agave Restaurant (10820 West Charleston Blvd., 702.214.3500, AgaveLasVegas.com) in Summerlin, a wealthy suburb of Las Vegas, was fun for a yummy Mexican style lunch and a sampling of fine tequilas. Located within a typical strip mall, it was hard for my transport service (I decided not to drive since we had planned a tequila tasting) to miss the bright facade. There was ample seating indoors and in the restaurant's enclosed outdoor area. We sat indoors directly across from the pretty bar.
The entrance to Agave
Agave, named for the agave plant from which tequila is made, was decorated with iron and wood entrance doors, imperfect tile on the walls, and hand blown colored glass made by artisans from the Guadalajara region. It was colorful inside and out.
Inside Agave
We invited the chef, Antonio Mejia, to show off his favorite mild recipes and he sent enough food for a Guadalajara village: Freshly Made Guacamole with dungeness crab meat; Portabella Mushroom Tamal; Chile Braised Short Rib Taquitos; Spiced Chicken al Carbon Empanadas and my favorite, Shrimp and Crab Stacked Enchiladas.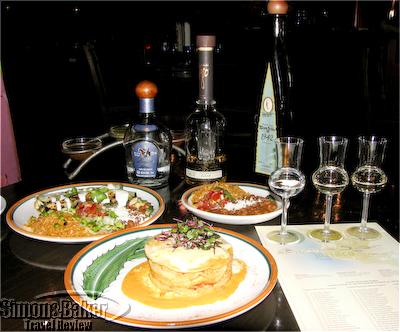 Lunch and tequila at Agave
The restaurant offers 89 different tequilas as part of its Tequila Flight Club. Although I pleaded tequila tasting ignorance right away, a patient bar tender shared insights on tequila making and history as well and suggestions on how to maximize the experience. It was best not to place my nose directly in the tequila glass to avoid the strong alcohol fumes. Instead, by using my hand to coax the tequila essence when I moved the glass I could gently appreciate the nuances of the individual tequilas, he explained.
We sampled one each from the Silver, Rested and Aged tequila options respectively: Tequila 7 Leguas, house Casa Noble, and Don Julio 1942. I tried not to look at the labels but, perhaps because I generally prefer smoky, smooth aged spirits, my favorite, hands down, was the Don Julio 1942.
The chef and bar manager, aficionados of the agave liquor, went to the city of Tequila, Mexico. While there they were the first people to ever purchase a barrel of tequila from Casa Noble, which according to the restaurant representative, is a very prestigious hacienda. The barrel was then bottled, numbered, and signed and now the restaurant sells it to its clientele – that was the house tequila we sampled.