Lee Fuller
In our family, the inspiration behind a wine tasting usually comes from our very own wine expert, my son Lee Fuller. This latest tasting on a recent afternoon, focused on biodynamic wines of Alsace, was no exception.
When it comes to his food supply, Lee is uncompromisingly green. He is also of one mind with Henry David Thoreau ("What is the use of a fine house if you haven't got a tolerable planet to put it on?"); although the conversation that led to this tasting was more along the lines of: "what is the use of a fine wine, if you haven't got a tolerable planet to drink it on?" This naturally led us to consider the dedication of a number of Alsatian vintners who have been producing biodynamic wines for the past two decades, long before it became fashionable.
What is biodynamics? An ultra-organic wine-making method that focuses not only on producing naturally fermented wines from organic grapes but also on healing the vineyard. The biodynamic vintner sees his vineyard: the vines, the soil in which they grow and the surrounding fauna and flora as an interdependent ecological whole. Where biodynamics goes beyond other methods of organic or sustainable agriculture is in its understanding that farming should be aligned with the spiritual forces of the universe. It is a return to agricultural methods that prevailed on the planet from time immemorial until the development of industrial farming in the past sixty years. In the biodynamic vineyard sowing and harvesting are again timed to the rhythm of the sun, the moon and the planets. Soil and crop treatment are homeopathic, using natural fertilizers such as composted animal manure, cultivating the soil and planting ground cover rather than using chemical herbicides. Plants other than vines are encouraged to grow around the vineyard to promote biodiversity by attracting beneficial insects.
There is no doubt that the biodynamic process is beneficial to the planet; and to the wine drinker who is no longer at risk of ingesting chemical residues that can end up in the wine. But… is the resulting wine any good?
That is the question we set out to address, in part, with a tasting of four biodynamic Alsatian wines.
Biodynamic practices are very labor intensive and require a huge long-term commitment on the part of the grower. Therefore we selected for our tasting an assortment of wines from four wineries that have been at the forefront of biodynamic viticulture for decades. This was our line up:
Domaine Barmes-Buecher, Crémant d'Alsace 2006 (sparkling)
Approximate retail price: $19.99
Since we often drink brut sparkling wines as an apéritif, we started with a Crémant d'Alsace Brut 2006, from Domaine Barmès-Buecher (crémant is the official appellation that designates French sparkling wines produced outside the Champagne region). It was very pale in color with gentle effervescence in the glass that developed in the mouth. We found it unusually mild for a brut. Made from a blend of Chardonnay and Pinot Blanc, its aroma was fruity with a hint of berries. On the palate, nectarine dominated. This was a lovely, refreshing sparkler that stood best on its own. A good choice for relaxed sipping on a warm summer's afternoon, or by the fire on a winter's evening.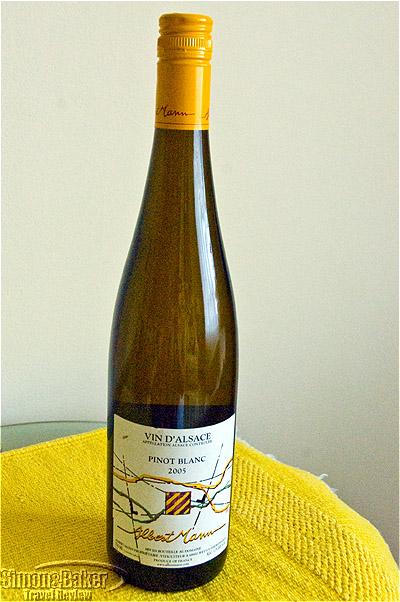 Albert Mann, Pinot Blanc 2005
Approximate retail price: $15.99
This was a delightful classic Alsace Pinot Blanc! Made from 100 percent Pinot Blanc grapes, it was very pale with a lime-colored hue and a fresh floral and herbal nose that hinted at lemon basil. It evolved to an Anjou pear palate with undertones of ripe citrus. The pear taste lingered through the finish. Overall a dry, well balanced wine that we enjoyed on its own and with light hors-d'oeuvres. It also held its own remarkably well with a pungent cheese and nuts. I intend to serve it soon with grilled fish.
Domaine Ostertag, Sylvaner "Vielle Vignes" 2006
Approximate retail price: $19.99
Made of 100 percent Sylvaner grapes coming from 50 to 70 year-old vines, this wine was a treat.  A little paler than the usual Sylvaner, it intrigued us immediately with an unusual nose reminiscent of freshly baked brioche. It became pleasantly fruity in the mouth, predominantly apple.  The finish was subdued, slightly mineral, with well-balanced acidity. We enjoyed it with mild cheeses and cold ham.  It also did very well later on with a seafood salad. A versatile pleaser that I will keep on hand for varied occasions.
Domaine Zind-Humbrecht, Riesling "Turckheim" 2004
Approximate retail price: $39.99
This was an opulent wine with lots of personality. Its very aromatic fruity nose mellowed after a while to a light citrus scent with hints of caramel. It evolved from pleasant sharpness on the tongue to a vibrant palate of peaches and tropical fruits laced with mineral accents. It had a long, mouthwatering finish that worked well with our goat cheese, and also with smoked salmon. Made of 100 percent Riesling grapes, this was a powerful wine that I look forward to serving this winter with a convivial platter of choucroute garnie.
We declared our experiment successful. The biodynamic Alsatian wines we sampled were delicious, loaded with personality, and competitively priced against their conventional counterparts.  We will definitely seek them out from now on; and enjoy the knowledge that our libations are helping the planet.
Photos and article by Josette King, in cooperation with Lee Fuller, oenophile and wine collector.