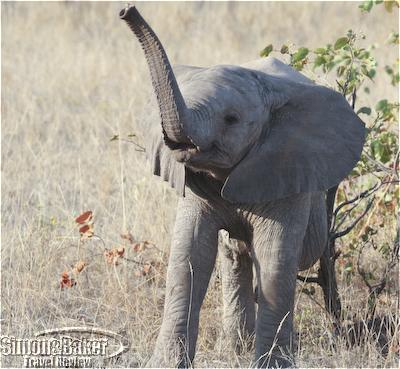 A feisty junior elephant lets visitors know how he feels
A lion at Mashatu
Although many travelers think of the Botswana Delta, the salt pans or the Chobe area when contemplating a game viewing trip to Botswana, there is a little known area in southeastern of Botswana called the Tuli Block which is also worth a visit.  Part of the attraction of that area, as with many parts of Botswana, is the possibility of seeing elephants roam freely in their natural habitat, unhindered (mostly) by the increasing land constraints that affect animal movement everywhere in Africa. The Tuli Block, near the Limpopo and Shashe rivers, shares borders with South Africa and Mozambique; this allows elephants to follow some of the seasonal patterns into wilderness areas many of their ancestors walked.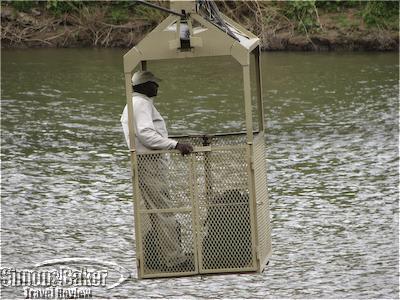 To reach Mashatu from South Africa it is necessary to cross over the Limpopo River in a basket and clear customs and immigration
Our team's suite at Mashatu Main Camp
For travelers who like a dose of luxury with their game viewing, Mashatu Main Camp offers luxury Botswana style, including exclusive accommodations, Big Five game viewing and an opportunity to discover the remote reserve while sharing it with only 12 other guests in the main area and a few others in the reserve. All inclusive rates include dawn and dusk game drives, three buffet meals a day and suite accommodations.
In addition to sighting elephants and the attraction of and off the beaten location, magnificent star filled skies, optional elephant and predator educational drives with on site research staff, and volunteer opportunities are some of the attractions of this well managed property owned and run, in part, by the owners of the famous Mala Mala Reserve in the Sabi Sands Reserve near http://simonandbaker.com/kruger in South Africa. Click here to read about our Simon and Baker team's impressions when they visited Mashatu Main Camp earlier this year.