By Elena del Valle*
The Man Who Ate The World in Search of the Perfect Dinner book cover
Jay Rayner, a London restaurant critic, traveled across continents to enjoy a meal at the best fine dining establishments he could identify and shared his findings in a recently published 273-page paperback book, The Man Who Ate The World in Search of the Perfect Dinner (Henry Holt and Company, $25). It took him 18 months to complete his journey and write the book. His budget? $36,000.
He started at some famous restaurants in Las Vegas, Nevada and concluded his project at renown temples of fine dining in Paris, France. In between, he visited some of the most expensive restaurants in the world including well known and sometimes obscure restaurants in Moscow, Dubai, New York, Tokyo, and London. He dined out alone, with colleagues and friends and, in Paris, with his wife.
Jay Rayner, author and restaurant critic
He left 'Vegas uncomfortable with the idea of being a guest of the restaurants and decided to pay his way as much as possible from that point forward. By the time he reached Paris he added one rule to his plan: he would order and eat the tasting menu whenever it was offered.
I found the book funny, interesting, and full of useful insights. While it is not a restaurant guidebook, there is a lot of information about gourmet restaurants and the business of fine dining. Filled with Rayner's accounts of his dining experiences, The Man Who Ate The World is an armchair trip through the London critic's eyes.
In the book, Rayner shares his impressions of the cities he visited, the culinary business world, some of the most celebrated gourmet chefs, his life as a paid restaurant critic for a British newspaper, the restaurants he visited, and some of the meals he was served. Although the promotional materials for the book never promised restaurant recommendations, more than once I wished he had shared practical suggestions or a summary with his recommendations.
Rayner is a restaurant critic for the London Observer where he has worked since 1996 and is on contract to write 100,000 words a year. Forty percent of the restaurants he writes about are in the fine dining category. In the United States, his articles have been published in Gourmet, Saveur and Food & Wine magazines. Prior to his work as a restaurant critic he covered crime, politics, cinema and theater. He is the author of five other books.
*Photos: Henry Holt and Company
---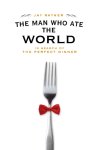 Click here to buy The Man Who Ate the World
---