By Josette King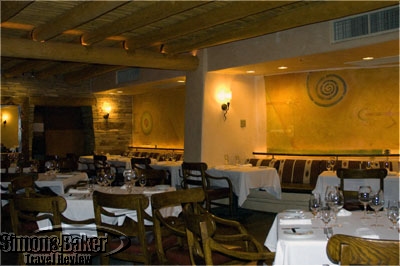 The Anasazi Restaurant dining room
At the Anasazi Restaurant in Santa Fe, New Mexico, the decor is a harbinger of the dinning experience: a sophisticated fusion of the cultures that shaped the area and discrete cosmopolitan touches. Stacked stone and adobe walls create intimate dining alcoves that showcase contemporary murals reminiscent of Pueblo petroglyphs.
Oyster bisque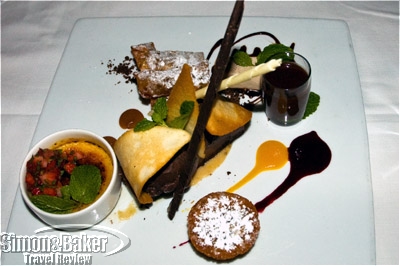 Dessert
Formally set tables clad in starch white linen and the romantic subdued lighting complete the setting that discretely highlights the contemporary global approach of Martin Rios, the talented and imaginative head chef. On my recent visit to the Anasazi Restaurant, I especially appreciated how Chef Rios wove together continental and southwestern flavors with oriental touches to create an intriguing dinning experience.
Click here to read Josette King's complete article about the Anasazi Restaurant.