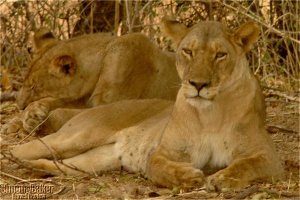 Lions enjoy some relief from the midday heat 
Photos: Josette King
Star of Africa sold several of its properties in Zambia, including three properties Chester and Joni visited and wrote about in the Simon & Baker Travel Review. They are Sussi Lodge in Livingstone and Puku Ridge Tented Camp and Chichele Presidential Lodge in the South Luangwa National Park. The new owners are renovating the three properties. Although Sussi Lodge will remain open during the renovations, Chichele and Puku Ridge are closed for now.
Elephants enjoy a cooling late afternoon wade
After her exciting visit to the South Luangwa National Park last fall, where she enjoyed outstanding game viewing on daily walking safaris and game drives, Simon & Baker Travel Review Writer and Photographer Josette King was delighted to return to Zambia in July 2007.
In addition to the Luangwa Valley, especially lush this year after experiencing intense seasonal flooding in January and February, Josette explored the Lower Zambezi National Park. Established in 1983, it is the most recent of Zambia's national parks. Although still relatively underdeveloped, this stretch of wilderness is wedged between the Zambezi River and the Muchinga escarpment; a privileged location that offers exceptionally picturesque scenery and an amazing concentration of wildlife along its 120 kilometers of river frontage. The river bank is also home to several highly reputed wilderness camps and lodges.
A carefree zebra colt scampers as we go by 
Josette concluded her journey with a visit around Victoria Falls and Livingstone. Check these pages and the Simon & Baker Travel Review in the coming months for more about Zambia. Meanwhile click on the hyperlinks to read about Zambia and the Luangwa Valley: Chamilandu, Chindeni, Kuyenda, Mfuwe Lodge, and Songwe Village.