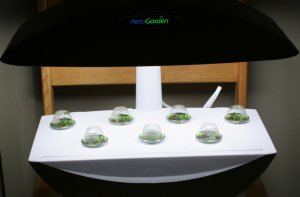 Our newly assembled AeroGarden
Ask the best chefs and they all same the same regarding quality ingredients. The secret to any gourmet dish is to start with fresh and premium products. It can't get any fresher than growing produce at home. When we first heard about the indoor soil free hydroponics AeroGarden system we were instantly curious. If successful, the new device would allow us to grow herbs, veggies and fruits at our convenience year round without the need of a green thumb. Add to that the many benefits promised in promotional materials and we had to try it.
It was surprisingly easy to assemble the garden from the boxed components. An intense white light simulated sunlight, shining like a beacon from our kitchen and stimulating plant growth. Our kit came with everything necessary including ready to use Salad Greens pods. All it required was assembly, water and electricity.
A few days after assembly the pods began to show growth
Within days of the set up, we began to see signs of growth and soon there were salad seedlings in every container. The AeroGarden containers were watered regularly and consistently thanks to the built-in mechanism and timer. When it became necessary to replenish the water and nutrients a light at the base of the AeroGarden lit up to alert us. When the lettuce reached the "ceiling"  it was time to raise the cover a notch so the light bulbs wouldn't scorch the plant leaves.
Salad Greens were delicious and tender
The lettuce leaves were tender and delicious, unlike any supermarket produce. We enjoyed them individually as a snack and in salads as well as plain and with salad dressing. Toward the end of the growth cycle we were traveling and were not as vigilant as we should have been with the nutrient and water replacements. This seems to have caused the last of the salad greens to become bitter.
We liked the unit so much we sent one to a friend who has since made excellent use of her unit, growing several cycles of produce. Soon we plan to try out the other kits like strawberries, tomatoes, gourmet herbs, French, Italian and Japanese herbs, chili peppers, basil (with seven varieties of basil), petunias, and the Master Gardener package with eggplants, peppers, green beans, and spinach.