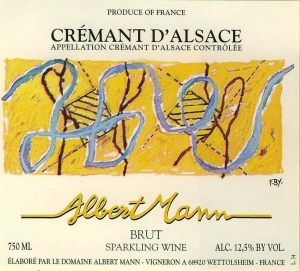 Mann cremant label
Until a few months ago we had never heard of cremant, a French sparkling wine from the Alsace region near the German border. During the end of year holidays we had opportunity to sample several well chilled bottles in the U.S. and France. Although some were too syrupy for our taste, others were drier and a pleasant surprise.
The cremants were often well priced, especially when compared with their better known champagne cousins. This made them ideal candidates for impromptu get togethers and celebrations as well as for everyday toasting.
We enjoyed the cremant icy and in champgne flutes. They complimented light dishes such as seafood, pasta, salads and broth based soups. Heavier dishes like red meats, pork, spicy foods and dishes with complex sauces tended to overwhelm them.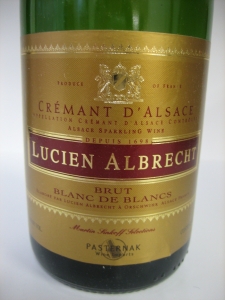 Lucien Albrecht brut bottle
Lucien Albrecht, Domaine Albert Mann, Pierre Sparr and Willm are among the ones we sampled that are available for purchase in the U.S. Lucien Albrecht brut blanc de blancs is available in the U.S. through Pasternak Wine Imports. The Domaine Albert Mann, at first glance most memorable for its distinctive lable by François Bruetschy, is a blend of Pinot Blanc, Auxerrois, Pinot Gris and Riesling. The fruity six year old is recommended by the bottler as an appertif and with oysters, shellfish and salmon.
We sampled the non vintage Pierre Sparr. It was crisp and refreshing. Pierre Sparr offered the only cremant d'Alsace we found available in a brut rose for a very reasonable $9.99. We also enjoyed the Willm blanc de blancs.