Investor in People Award finalist 10 Knots Development Corporation/El Nido Resorts, Philippines
The World Travel & Tourism Council recently announced 12 finalists in four categories for the 2007 Tourism for Tomorrow Awards. The Tourism for Tomorrow Awards recognise and promote leading examples of best practice in responsible tourism development in four categories: Destination, Conservation, Investor in People, and Global Tourism Business.
Destination Award finalist Australia's Great Barrier Reef
The finalists were selected from 130 applications from over 40 different countries representing seven continents. The finalists for the Destination Award are Australia's Great Barrier Reef, Greenbox Trading As Responsible Tourism, Ireland and The State of Vermont, USA. For the Conservation Award, they are Aqua-Trek in the Fiji Islands and USA; the Aspen Skiing Company, USA, and the Caiman Ecological Refuge in Brazil.
Conservation Award finalist Caiman Ecological Refuge, Brazil
For the Investor in People Award they are 10 Knots Development Corporation/El Nido Resorts in the Philippines; the Nihiwatu Resortin Indonesia and the Sunderbans Jungle Camp in India. For the Global Tourism Business Award, the finalists are Lindblad Expeditions in the USA and Global; Six Senses Resorts & Spas in Thailand and Global and Wilderness Safaris in South Africa.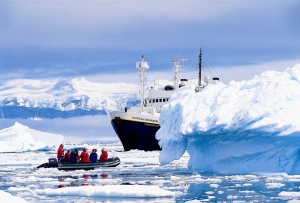 Global Tourism Business Award finalist Lindblad Expeditions
One of our teams visited three Wilderness Safaris properties in Botswana. To read about their experiences click on the name of the property Camp Okavango, Xigera and their favorite, King's Pool.
*Photos:  10 Knots Development Corporation/El Nido Resorts, Australia Great Barrier Reef, Caiman Ecological Refuge, and Lindblad Expeditions.