Article and photos by Elena del Valle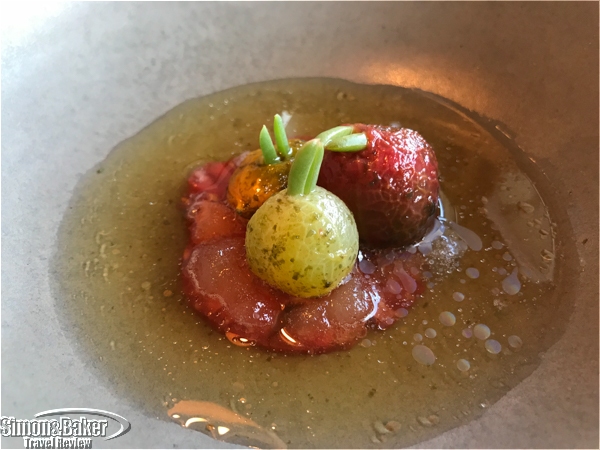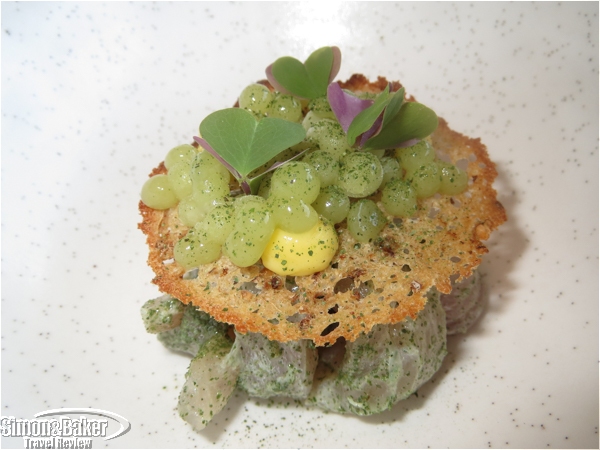 Dishes from our weekday surprise five-course menu
I heard about Roots, a locally focused restaurant with a twelve course tasting menu in the suburbs of Christchurch, New Zealand before I arrived there. I was curious about its surprise twelve course menu and wine pairing, but the only night I had available as my itinerary came to a close was the night before my predawn departure. I wasn't willing to indulge in such an elaborate meal on the eve of a series of long flights to return to the United States. At the last minute I realized the restaurant opened for lunch on weekends, offering a surprise five-course menu. That was tempting.
It was especially opportune because I had just made plans to visit Akaroa, and Lyttelton, where Roots was located, was on my way back to Christchurch from Akaroa. Would it be possible to book a table on short notice in peak season? My tour guide thought it was worth a try. She called from the car as we made our way north toward Christchurch from Lake Pukaki, where we had spent the previous nights. When the woman who answered the phone requested that we visit the restaurant website to book a table my guide explained we were on the road. Finally the woman at Roots agreed to hold a table provided we call back to give her a credit card guarantee. But, it wasn't until several hours later that we called her a second time. I figured by then the table was gone. It wasn't.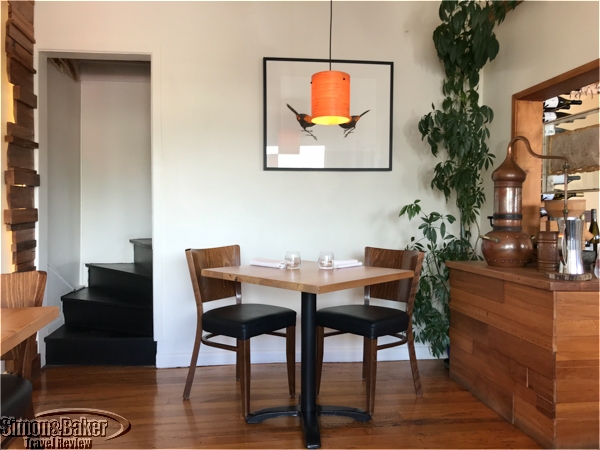 The table across from ours in the sunlit dining room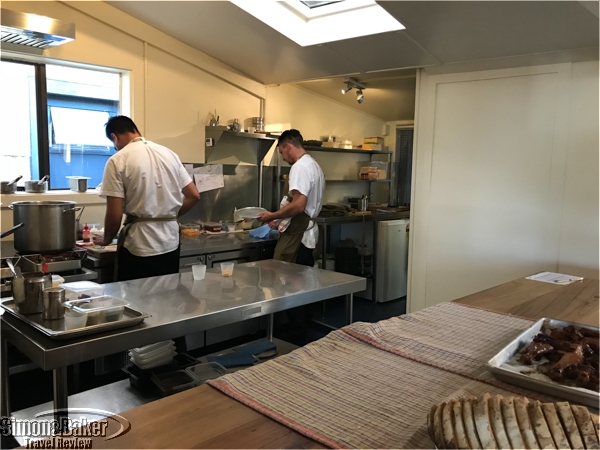 Staff at work in the open kitchen
Tomato bull kelp granita, ice plant, wasabi, smoked capsicum
The following afternoon, after grossly miscalculating the driving time from Akaroa, we arrived 30 minutes late. Despite crossing huge patches of no cellphone service we called twice to say we were on our way. When we arrived I sighed with relief, glad to be out of the vehicle. We were fortunate to find an empty parking space near the restaurant entrance on the popular and quaint main street in Lyttelton. Given our delay I expected a grumpy reception. I couldn't have been more wrong. Emma, the front of house manager, welcomed us without any fuss. And to our delight we had the entire restaurant to ourselves.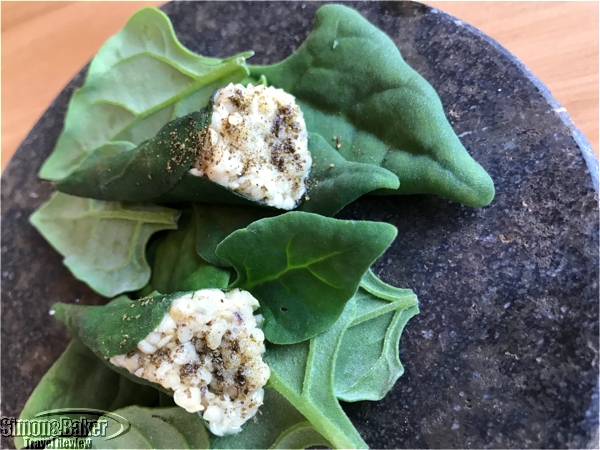 Hemp & NZ Spinach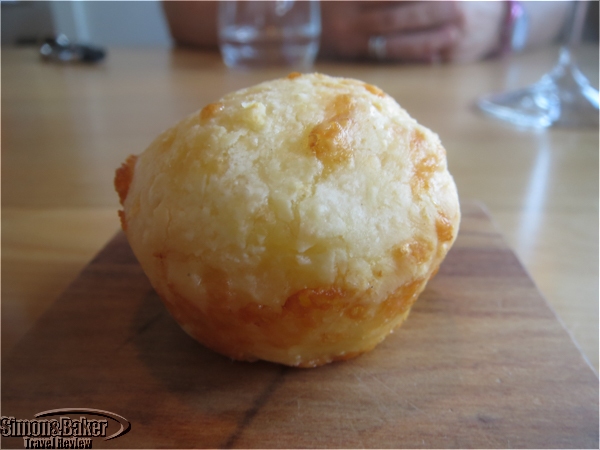 Pork Belly Pan de Yuca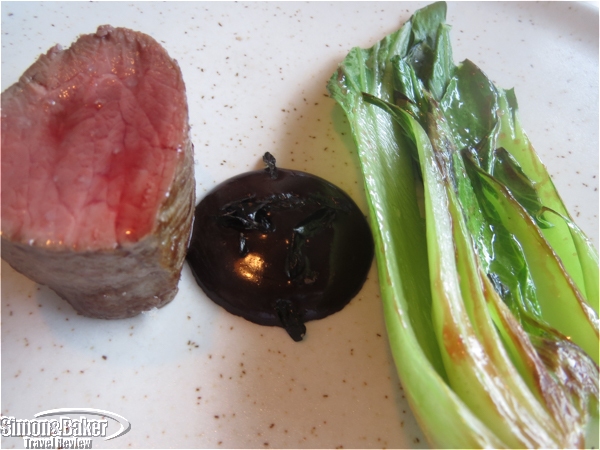 Venison blood, bok choy, plum, harakeke seeds
That set the relaxed and sunny tone for the rest of the day. As we sat down I admired the uncluttered space and pretty original artwork on the walls around us, made easier to appreciate thanks to the soft natural light that filtered into the dining room through large windows. There was no menu. Emma or another staff member described each dish when they placed it in front of us. After the rush on the winding road my stomach was unhappy. With some effort I convinced myself to limited wine consumption with the meal. Emma's two New Zealand recommendations,  2018 Clos Marguerite sauvignon blanc from Malborough and 2014 Mountford Estate pinot noir, were spot on.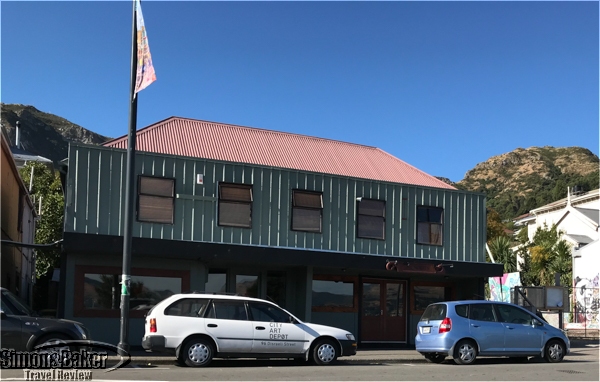 The front of the building housing Roots
Lunch consisted of the following (shared later by email): Hemp & NZ Spinach Pork Belly Pan de Yuca; Tomato bull kelp granita, ice plant, wasabi, smoked capsicum; Tuna kawa kawa, grain cracker, corn custard, cucumber, sorrel; Duck blackberries, confit garlic, black lime powder, broad bean miso; Venison blood, bok choy, plum, harakeke seeds; Cheese omg brie, Windsor blue, mahoe very old Edam, curio bay pecorino; Cleanser apricot, yoghurt, fresh mint; and Beetroot walnut, raspberry, thyme, goat cheese; and Marshmallow charcoal oil, wheat, white chocolate, wheat grass, Pineapple Sage. Despite repeated requests Roots representatives declined to respond to any questions.
I appreciated the warm service, understated ambiance, creative tone and visually appealing presentation of the dishes. I would recommend Roots to curious friends visiting Lyttelton who enjoy multi-course meals and inventive cuisine.