By Elena del Valle
Photos by Gary Cox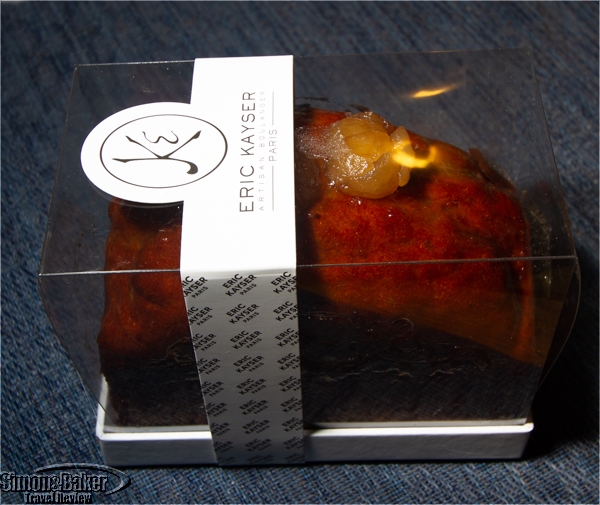 The seasonal holiday chestnut cake (not gluten free)
I have shopped in more bakeries in Paris, France than in any other city I have ever visited, but it wasn't until my most recent stay that I noticed gluten-free products, mainly in restaurants and only a few. Eric Kayser (www.maison-kayser.com) bakeries stood out for their limited selection of gluten-free products. Having been to a handful of the company's 240 bakeries in 27 countries and liked some of their products I wondered what the gluten-free line would be like.
The gluten free bread had sesame seeds on top and other seeds inside. 
We sampled three gluten-free items and several regular products at home, most from two locations on the rue Monge (14 rue monge, 8 rue monge) near the boulevard Saint Germain on the Left Bank. We liked all three of the gluten-free products: two loaves and one moist chocolate brownie cookie. They were Pain Mendiant San Gluten made with rice and buckwheat flour, apricots, raisins and apples (550 grams); Pain Aux Cereals San Gluten with sunflower and sesame seeds (600 grams); and Indecent Au Chocolat (90 grams). From the other products we liked the following especially: seasonal holiday chestnut cake, sesame seed and poppy seed baguette (by special order), and chocolate financier with chocolate chips.
The gluten free date and raisin loaf was a good match with foie gras pate
The gluten-free products were baked from 100 percent fresh ingredients at a dedicated location elsewhere in Paris (not where we picked them up). The ingredients were 90 percent organic for bread and 40 percent organic for gluten-free pastries, according to a company spokesperson.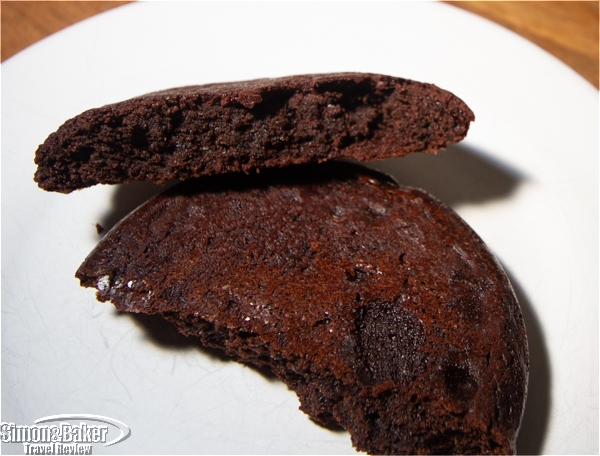 The gluten free chocolate cookie was moist and chewy and had a rich chocolate flavor.
In addition to the flavor and texture we liked that the gluten-free loaves kept fresh for several days in contrast to regular baguettes, which generally go stale within a day. We enjoyed the fruit and nut loaf with duck foie gras and seeded loaf slices made a good base for avocado toasts. The chocolate brownie cookie was moist and had a deep rich chocolate flavor.
The seasonal chestnut cake, coated with a lightly sweet syrup, was moist like a rich pound cake
The chestnut cake kept fresh for several days and was a good accompaniment to coffee. We also paired it with loose leaf fragrant vanilla red tea at any hour of the day. It was important to wrap it in a plastic bag to keep it from drying out.
The gluten free bread was a good base for avocado toast
Staff were friendly and helpful at two of the three locations we visited. They were friendly and spoke English of their own accord when they heard us speaking English at the shop on the popular rue de Montorgueil on the Right Bank. Product information on the wrappers was listed in French and English. Kayser was a native of Alsace and the grandson and great-grandson of bakers. He owned most of the chain's shops with the exception of those at train stations and airports.