Article and photos by Elena del Valle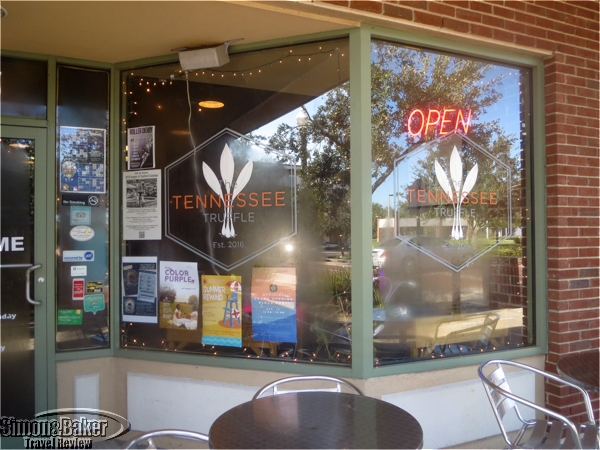 The Tennessee Truffle in Historic Downtown Sanford, Florida
Breakfast at The Tennessee Truffle (125 west 1st street, Sanford, Florida 32771, thetennesseetruffle.com, +1 407-942-3977) in Historic Downtown Sanford, Florida was fun and tasty. We were among the first patrons to arrive on a low season Saturday morning. It was quiet inside the 2,000 square foot restaurant established in 2016 by Nat Russell, owner and chef, as "a family restaurant using sustainable ingredients to make southern cuisine with a modern twist."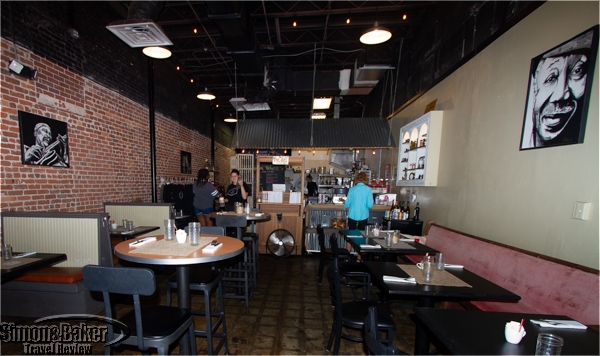 Inside the 2,000 square foot restaurant
Art on the walls of The Tennessee Truffle
From the breakfast mains we had Biscuits & Gravy and French Toast. Both were well prepared and presented. They were worth ordering on a second visit should I return to Sanford and recommending to friends who like southern cuisine. The smoked maple syrup in the French Toast gave the dish a pleasant if unexpected savory flavor. From the sides menu we ordered Grits with sorghum and crushed pecans; and pan seared Duroc Bacon, a 12-day house-cured bacon, which was more like ham. While grits are not a favorite dish in general I enjoyed those. To wrap it all we shared an order of Popcorn Brulee made with three forms of popcorn, ice cream, powder and brulee.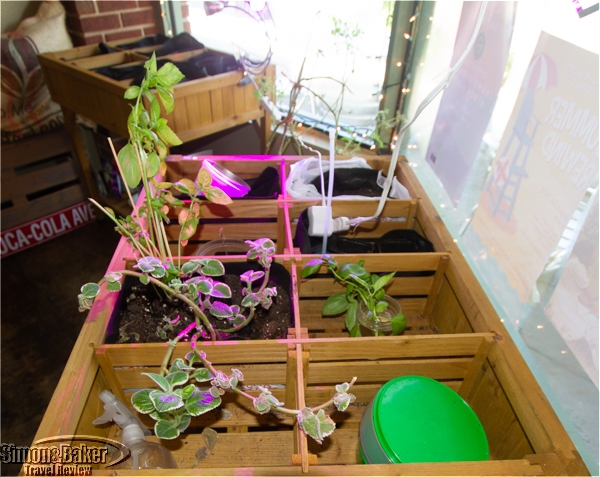 Plants grew next to the window in elevated wood planters
Our server was patient, friendly and helpful. When she didn't know the answer to a question she found out and returned with the information.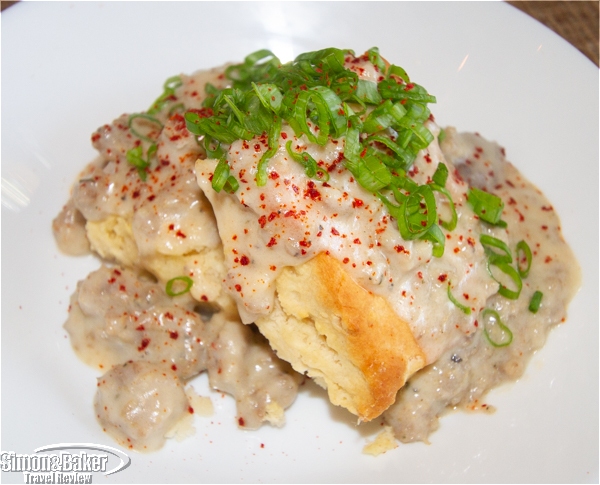 Biscuits & Gravy
Partway through our meal when the chef came out to bring a dish he graciously answered questions and posed for photos. "We are a restaurant using as much local produce and protein as possible," Russell, said by email later when asked about sourcing for the restaurant. "I believe in using the best product. If that's from Sanford great but I won't compromise flavor or freshness just to be local. If it's from the area all the better!"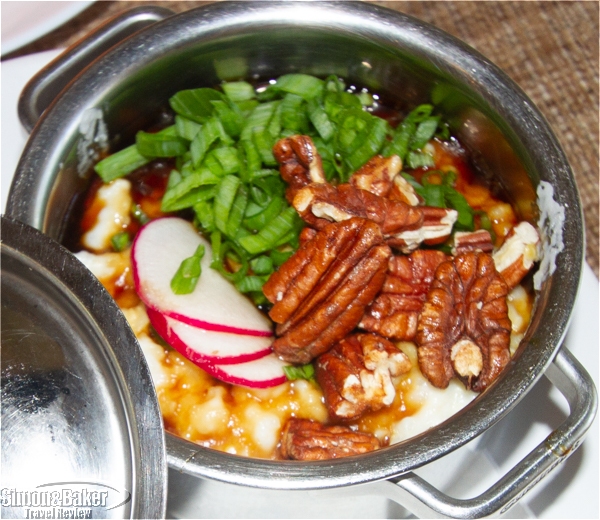 Grits with sorghum and crushed pecans
He went on to explain that everything they use is organic, about 50 percent of produce is from Florida, about 80 percent of the fish served is local, and 100 percent of the beef and beer is from Florida. A Culinary Institute of America graduate Russell, Memphis born, is former executive chef of Winter Park's Café de France in Florida.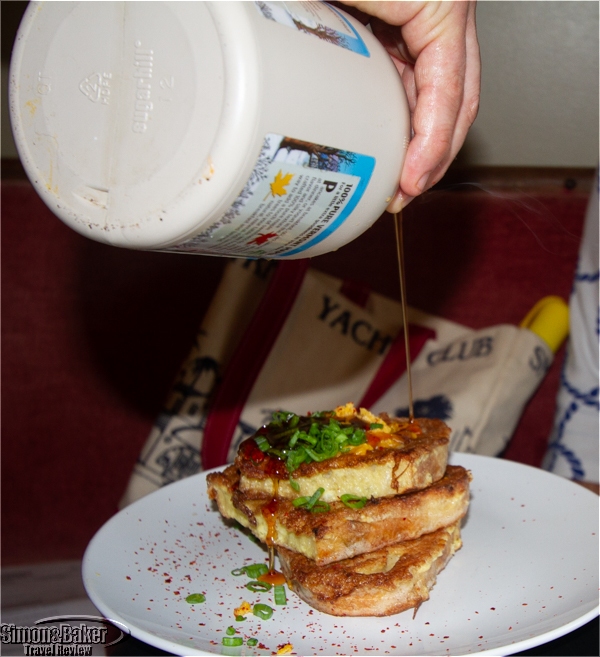 Smoked maple syrup on our French Toast gave the dish a savory flavor
When asked about the name of the restaurant he said, " In the Appalachian mountains the first thing to pop out of the ground in the spring is the ramp. They call this the Tennessee Truffle I love this story. So, I stole the name and the rest is history!"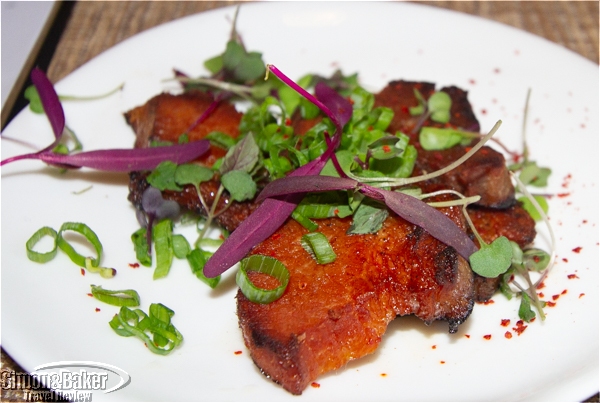 Duroc Bacon, a 12-day house-cured bacon
I liked the chef's light touch. The dishes I sampled had seasoning that allowed the ingredient's natural taste to shine. I appreciated his flair for surprising and unexpected flavors and textures such as the smoked maple syrup in his French Toast, the crunchy pecans in the grits and the three textures of popcorn, (powder, creamy brulee and ice cream) in the Popcorn Brulee.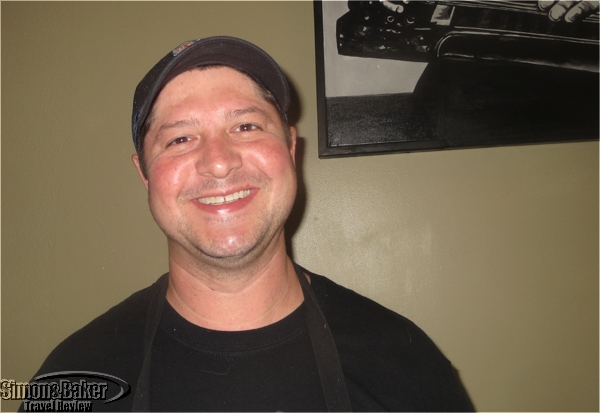 Nat Russell, owner and chef
The restaurant's light filled dining room was inviting and relaxed, the chairs comfortable. I wondered if the chef had used any of the herbs growing in pots between our table and the street facing window in our breakfast. The pleasant setting, warm and efficient service and lovingly prepared dishes made me want to return.