By Elena del Valle
Photos by Gary Cox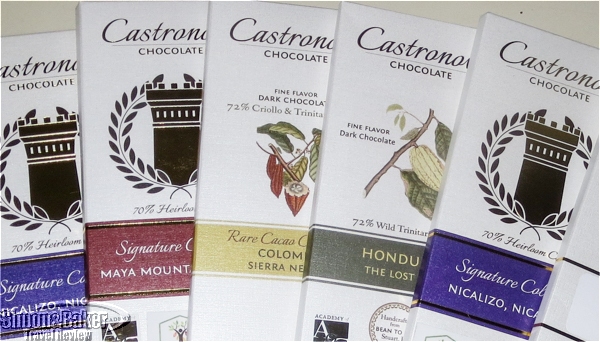 Castronovo bean to bar chocolates from individual countries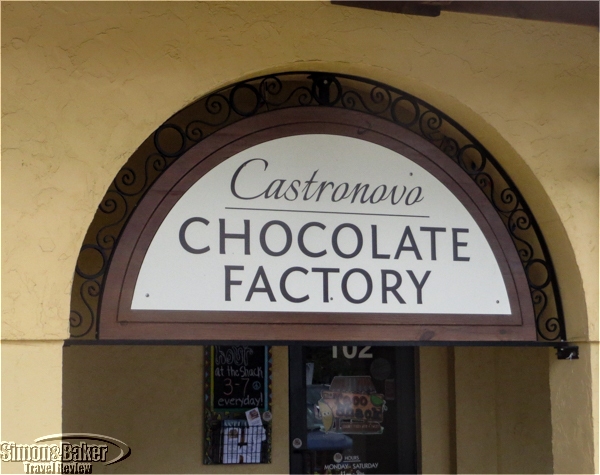 The Castronovo Chocolate Factory in Stuart, Florida
I had sampled Castronovo small batch craft chocolate several times before I made it to the 725 square foot shop and factory in Stuart, Florida. The rich dark chocolate 2.2 ounce single origin bars had made a fan out of me. I liked their distinctive yet nuanced flavors of the dark chocolate bars and that they were made with only three ingredients: cocoa beans, organic cane sugar, and cocoa butter.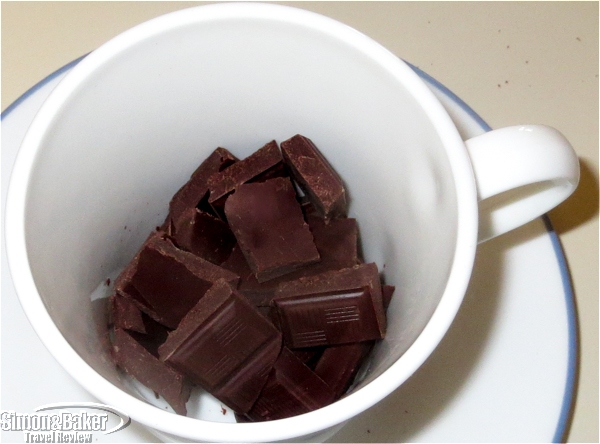 Pieces of a Castronovo bar ready for hot water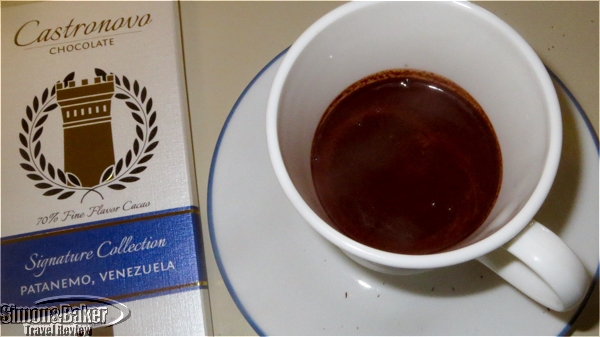 The Patanemo, Venezuela dark chocolate melted in a small amount of water tasted fantastic
Whether it was in a hot chocolate beverage or in morsels the chocolates I tried were head and shoulders above the supermarket bars and some gourmet bars. The day of our visit we tasted the 70 percent Hurricane Relief Benefit Bar from Hacienda Jeanmarie from Puerto Rico and ordered two batches of fresh baked chocolate chip cookies. The bar was inside a sealed foil envelope with a paper wrapper. Handwritten on the back was the batch number and the expiration date more than a year later.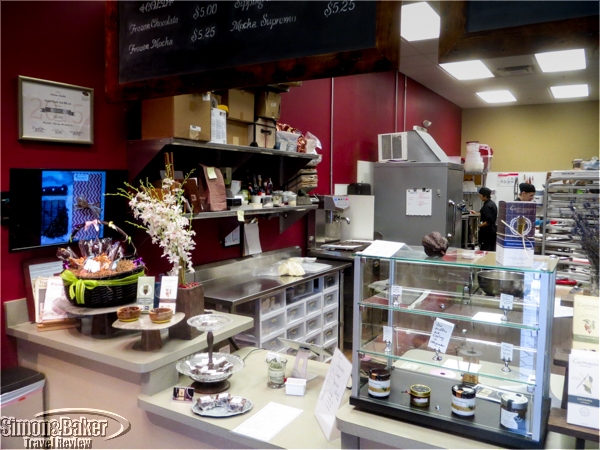 The shop doubled as a chocolate factory
I later found out the shop carried chocolate from eight vendors in Belize, Nicaragua, Colombia, Venezuela, Honduras. Because organic certification is expensive for farmers to obtain, the shop only sold two origins certified organic, Belize and Honduras, the owner explained by email.
A sign on the wall at the shop
"We are very selective in choosing our producers," Denise Castronovo said by email when asked about the selection criteria for her factory. "First off, the cocoa beans need to be produced using fair labor practices. Usually the beans come from family farms or indigenous communities. Since cacao is an understory shade crop, we seek out producers who typically are gathering the cacao in a rainforest environment rather than from plantations. Many of our cocoa beans are grown in the wild and simply harvested. Finally, when all of these criteria are met, we consider the flavor profile and looks for fine flavors that are unique to our line of chocolate and are not flawed by any errors in the fermentation."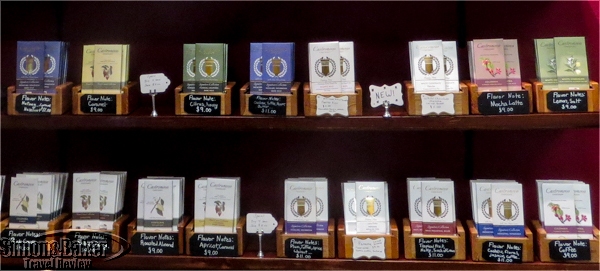 Each bar was on display with a handwritten description of its most distinctive flavor notes.
When asked how she chooses new suppliers she replied, "We require that our new suppliers be transparent about their sourcing to ensure that the farmers are paid fair wages. We work closely with suppliers who provide technical expertise on the post-processing fermentation and drying to ensure that the bean quality develops fine flavors and consistency. We purchase our cacao through direct trade which means that the cacao is not sold on the commodity market and there is price transparency throughout the supply chain to ensure that farmers receive a fair wage."
Chocolate products for sale at the shop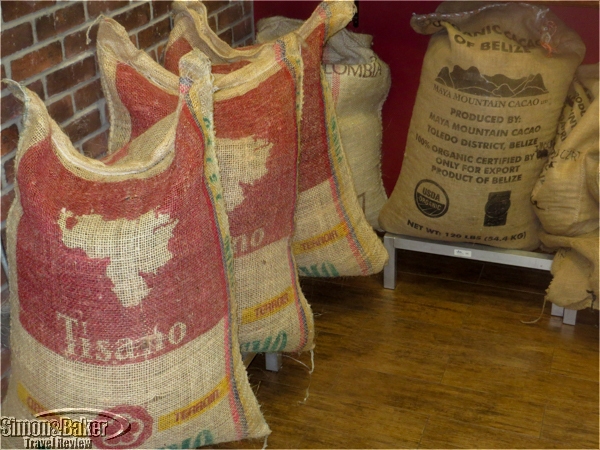 The original cocoa bags were on display, waiting to be processed.
It was too early for the cookies, making it necessary to pay for them and return an hour later when they were cool enough to pack. The staff member who looked after us, a vivacious and enthusiastic woman, was friendly and service oriented. She answered our questions and made suggestions when asked. With her assistance I bought other single origin bars, which I have yet to open. When I wondered about specifics regarding varietals she found a colleague to answer my questions. On the way home we ate most of the Puerto Rico bar, savoring the unctuous chocolate with hints of raisin flavor.
There were samples on the counter. 
When asked about staff training Castronovo explained that she instructs hires in factory methods of chocolate making, food safety, chocolatier work, pastry, barista, customer service and education. Over the years, the shop has had staff with professional pastry chef training, which was helpful for new product development.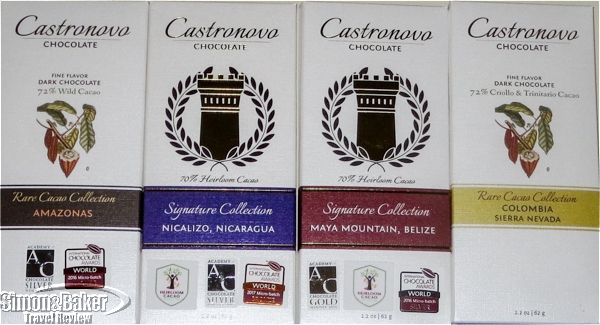 Many of the bars featured awards and certifications on the labels
I have heard some chocolate fans wax poetic about the pedigree of their bean varietal as well as single source origin. When purchasing raw ingredients Castronovo focuses her energy elsewhere, she explained.
"The bean varietal (criollo, trinitario, forester) is not the most important factor – taste is far more important," she said. "We do seek out heirloom varieties of cacao, whenever possible, so we can preserve the native cacao varieties from a region and discourage plantings of genetic hybrids. There are some genetic hybrids of cacao that we stay away from because they were modified for high production rather than fine flavor and taste terrible."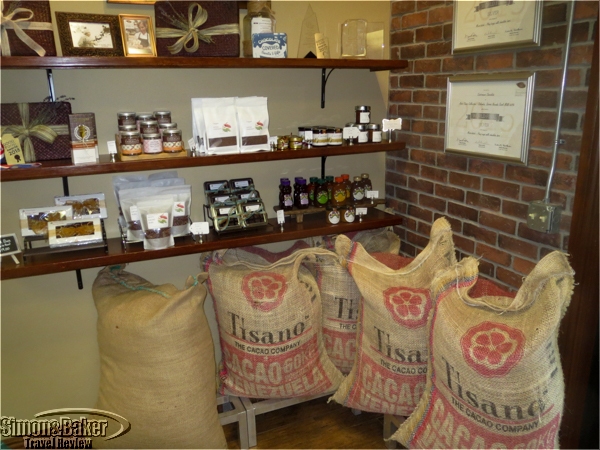 Products for sale and cacao bags inside the shop
She believes in bean to bar single origin production. In that regard she said, "We create small-batch single origin chocolate, so the origin is extremely important. At each origin there are unique cacao genetics and terroir which create different flavors in the final product."
Some of the Castronovo chocolates, including, in the middle, one of our favorite bars
We liked the 70 percent bar from the shop's Signature Collection, a single origin from Patanemo, Venezuela. We repeated the hot chocolate beverage tasting with Castronovo Chocolate Factory (555 S. Colorado Ave #103, Stuart, Florida 34994, +1 772-521-1699, www.castronovochocolate.com, castronovo@outlook.com) bought chocolate with equally rewarding results. The dark chocolate was a 70 percent cacao from Duarte in the Dominican Republic (no longer available). We also liked the Patanemo Dark Milk 66 percent and Nicalizo, Nicaragua 70 percent bars from the Signature Collection. I look forward to more Castronovo dark chocolate bar tastings in the coming months.