Article and photos by Elena del Valle
Josh Oakley, co-owner, The Smiling Bison restaurant and bar, holding the House Charcuterie and Cheese board
During a weekend visit to Sanford, Florida I had dinner with three colleagues at The Smiling Bison restaurant and bar (107 S Magnolia Avenue, Sanford Florida, 32771, +407 915-6086, www.smilingbison.com), a locavore venue. My dinner that night was tasty, well prepared and well presented. I loved that the restaurant staff made virtually all of the dishes from scratch using fresh (not frozen) ingredients, that 100 percent of the produce was domestic and mostly organic, and that meats were almost all free of added chemicals, according to Josh Oakley, co-owner.
He said by email later, "We make all pasta dough, sauces, cured and smoked meats/ sausages, etc. from scratch on premises. We source primarily from several local farms and their availability is the main force behind our weekly menu changes. All farms we source from use 100 percent organic practices, but getting and official organic certification is a tedious and expensive process which not all of them have gotten."
Our Duck Lovers Pizza fresh from the open kitchen
When asked what percent of animal products in the restaurant are free of added antibiotics and added hormones he replied, "I'd say about 95. We do a chicken wing night once a month and the wings are pretty much the only commodity meat you'll find on our menu."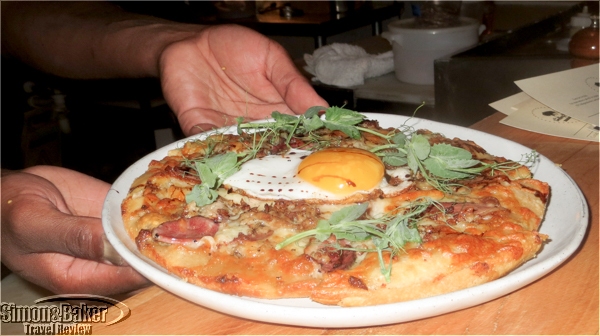 Our Duck Lovers Pizza Duck Lovers Pizza starter with duck ham, duck sausage, duck confit, jack cheese and a duck egg
I tasted the following dishes shared at our table: Smoked Fish Dip starter of trout roe, house made saltines and dill; and Duck Lovers Pizza starter with duck ham, duck sausage, duck confit, jack cheese and a duck egg; and House Charcuterie and Cheese with chicken liver mousse, summer sausage, kielbasa, garlic beef salami, pepperoni, grafton two year cheddar from Vermont, rogue Oregon blue cheese, house sourdough bread and pickles. For mains we had Spaghetti & Meatballs made with beef and pork meatballs (a favorite). Because our transport arrived before we had a chance to order our final course we missed dessert.
Our four stools at the Chef's Table provided us front row seating over the cook's work space, which faced the dining room. Despite it being the busiest night of the week Oakley made time to answer questions and describe dish preparation. Joel Serrer, our friendly server, likewise answered questions about the menu and beverages.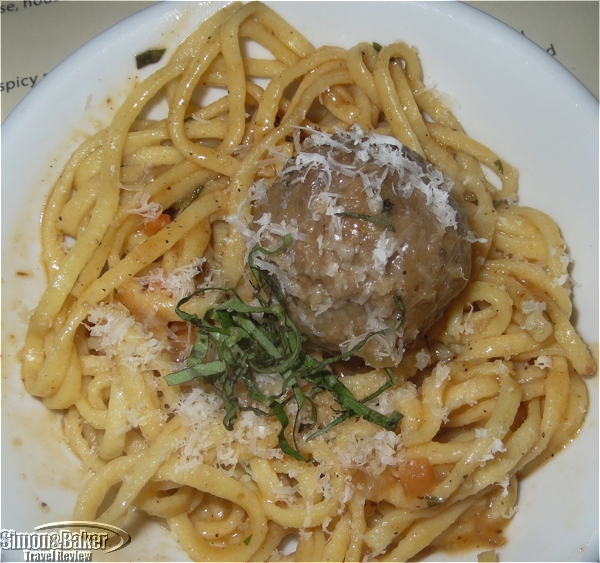 Spaghetti & Meatballs made with beef and pork meatballs
The 3,000 square foot restaurant, owned by Ron Thomas and Oakley, dated to 2013. The building was built in 1912. Originally it was the headquarters of The Sanford Herald newspaper it also served as home to a chapter of The International Order of Oddfellows prior to being converted into a restaurant space.
The name of the restaurant was a nod to the Oakley, who was born and raised in Buffalo, New York. A self taught cook who never attended culinary school he credits his early interest in food and cooking to his grandmothers.
The restaurant was centrally located in Historic Downtown Sanford, the food was well prepared from scratch using fresh and wholesome ingredients and the service was warm and attentive. My only beef? As the evening progressed and the restaurant filled up the noise level rose until I could barely hear the person in the stool next to mine. Should I find myself in Sanford again The Smiling Bison will be at the top of my list.