Article by Margot Liebman
Photos by Aaron Lubarsky*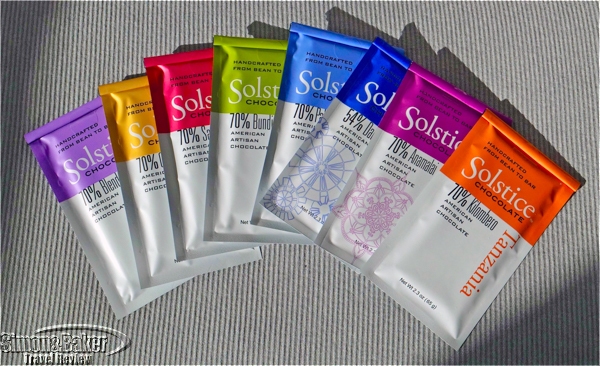 The selection of Solstice bars I tasted.
When a small box appeared in the mail one afternoon in late December, I was pleasantly surprised. Inside were eight sleek bars of chocolate from Solstice Chocolate, a premier American artisan chocolate maker in Salt Lake City, Utah (Solstice Chocolate, Inc., 469 West Century Drive, Salt Lake City, Utah 84123, +1- 801-871-5935, www.solsticechocolate.com, info@solsticechocolate.com). Each bar was dressed in a smooth, thick paper and foil package that resealed at the top to keep the chocolate inside fresh; and color coded with bold type indicating its origin, cacao percentage, and brand name.
The packaging described the source of the cacao beans used to make it. 
The Solstice website, describes its products as a "bean-to-bar chocolate" that is handcrafted using the finest single origin cacao from all over the world. With names like India, Madagascar, and Tanzania, it was easy to know where a bar's beans originated. I imagined that each bar would taste quite different, but quickly learned that the differences were subtle. From bean delivery to getting packaged bars out the door Solstice allotted between seven and ten days for production.
"Our chocolate is known for having bright flavors. Our origin varieties range from fruity to earthy; there's something for everyone," said DeAnn Wallin, owner, Solstice Chocolate when asked by email what distinguishes Solstice products from those of other chocolate makers. "Our bars stand out, each having its own personality, so to speak, and each can be distinguished from the others. Our style is also reflected through uncluttered packaging with bold colors."
As a milk chocolate lover, it took me a while to appreciate the dark, intense flavor of the Solstice Chocolates. Most of the bars tasted earthy and bitter, and were almost waxy in consistency. Save the one bar of milk chocolate, all the bars boasted 70 percent cacao. That said, it was fascinating to savor the different notes in each bar, and to think about the harvesting conditions that must play a role in how the beans grow.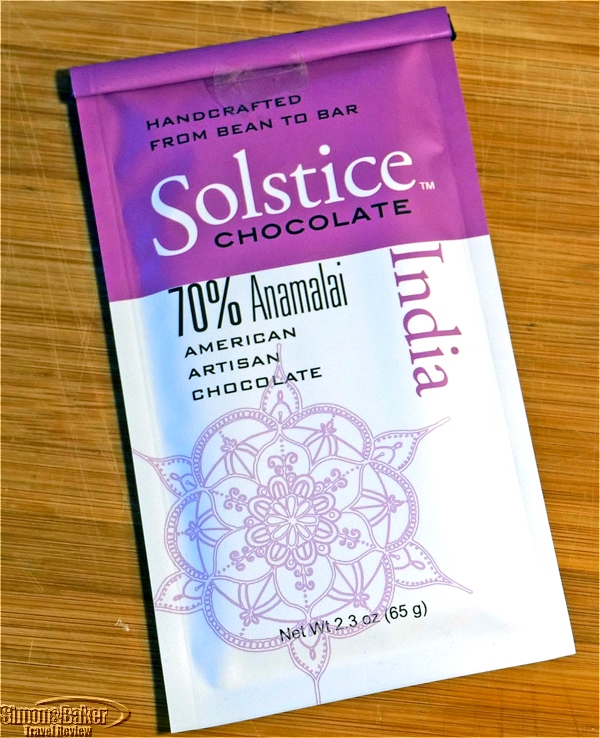 The bars displayed the percentage of cocoa.
I first tasted Uganda, which had a bitter tone that left hints of berries on my palette. Second I sampled Ecuador. When I looked on the Solstice website, I saw that Ecuador was handcrafted from cacao grown by Camino Verde Estate, a farm located near the southern coastline of Ecuador with an unusual fermentation method. It was a strong flavor, with sweet aromatics and hints of banana and cream. The next one was Bolivia. At first bite, a wave of nostalgia rushed over me. I quickly realized the bar reminded me of baking chocolate. It tasted of honey, nuts, and favorite memories of making chocolate desserts.
When asked how her company selects the beans Wallin replied, "Networking through trusted sources. We receive cacao samples on a regular basis. If one interests us then we test it, research it and decide if we want to invest in using it."
Tanzania was fruitier, smoother and a bit more tart than the previous bars. Wasatch was exciting, and had an unexpected spiciness. India was more complex than some of the others, with tangy flavor notes and hints of earthy spice. Madagascar was more of a slow experience, as most of the flavors came to me a few moments after the piece had already melted on my tongue. There was a strong citrus tone, and when I looked at the Solstice website I learned that those flavors are believed to be a result of former fruit plantations enriching the soil during French Colonial times.
The bars were molded with a sunburst shape in the center of each square.
For my last delicious morsel, I saved the milk chocolate. The package indicated that the bar was 54 percent cacao, where the dark chocolates were 70 percent cacao. The flavor was denser, and not as milky in texture as other milk chocolates I have sampled. I tasted subtle hints of graham cracker, but that may have been wishful thinking for a s'more.
Solstice Chocolate bars were lovely to look at. The packaging employed a celebratory color palette, and each bar was clearly labeled. A white dot on the country of origin map on the back of the package indicated where the beans were farmed. Knowing where the beans were sourced helped me enjoy the chocolate bars in a different way. I found myself looking for subtleties and thinking about the story of each chocolate in an interesting way. Based on my experience, I would recommend Solstice Chocolate to my friends who like dark chocolate.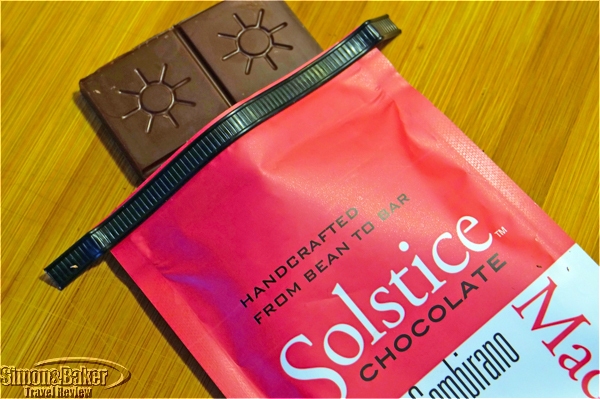 The packaging included a closure to reseal it after opening. 
Editor's note: We asked two of our contributors who are dark chocolate lovers to sample Solstice chocolates in February 2018 as well. Here is what they found.
We compared the Solstice Chocolate Madagascar 70 percent Sambirano, a 2.3 ounce bar, with a well-known premium European dark chocolate bar with a similar cacao content and were stunned by the difference in the two. We blended each with hot water and tasted them side by side. Where the hot drink made from the European bar was almost lumpy in texture, had a milky undertone and muted flat flavor the Solstice hot drink was smooth in texture and taste, with a layered tart flavor that was rich with just a hint of pleasant bitterness. It remains memorable after several weeks.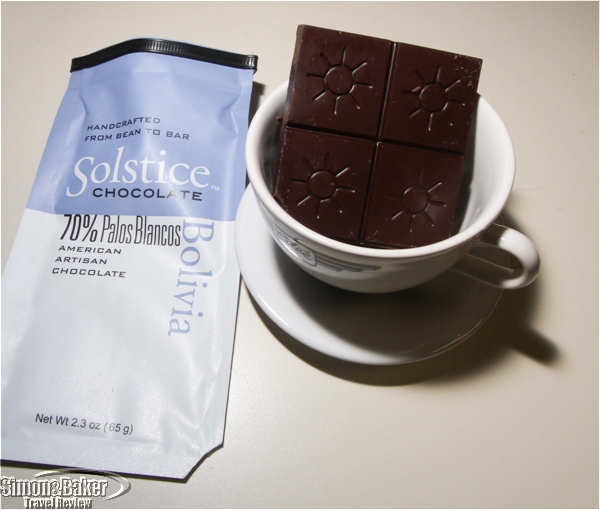 Melting the chocolate into a couple of ounces of hot water created a delectable drink. 
We also liked the Bolivia 70 percent Palos Blancos, which came in a 2.3 ounce bar. For a contrast we also sampled the Solstice Chocolate Coconut American Artisan White Chocolate, a 2.2 ounce bar. The coconut burst through immediately past the sweet and buttery texture of the butter colored pieces to become an instant favorite.
We appreciated the simplicity of the ingredients. The Sambirano and Palos Blancos ingredients were organic cacao bean, organic cane sugar and organic cocoa butter. The white chocolate was made with cocoa butter, whole milk, organic coconut, organic cane sugar, and pure vanilla extract.
*The final photo is by Gary Cox.