Article and photos by Scott S. Smith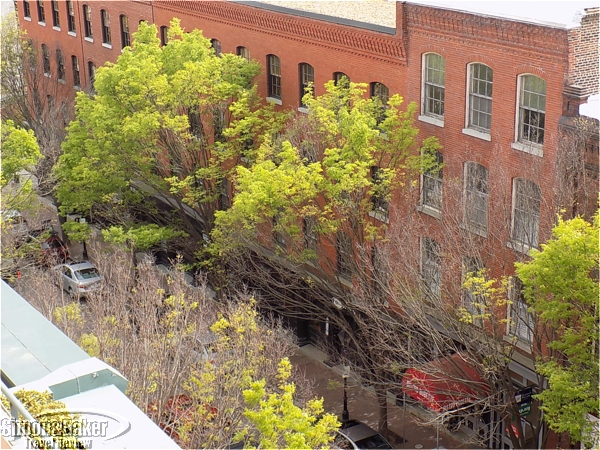 View from the top floor of The Berkeley Hotel in the restored tobacco warehouse district of downtown Richmond, Virginia
My bride, Sandra Wells, and I wanted to take our April 2017 honeymoon somewhere we could indulge our interest in history. We had never been to any of the sites related to the American Civil War and looked for the best place to learn more about that darkest of periods in our history. Atlanta had surprisingly little to offer, Gettysburg and most other battlefields were remote and focused just on local events, while we wanted to get a good overall understanding of the period. We came to realize that by far the best destination for this was Richmond, Virginia, around which dozens of battles were fought, since the capital of the Confederacy was just 109 miles south of Washington, D.C.
After consulting reviews and talking with experts in local tourism, we decided to spend two of our four nights at a 55-room luxury boutique hotel in the restored historic tobacco warehouse district in downtown Richmond, The Berkeley Hotel (1200 East Cary Street, Richmond, Virginia 23219, 804-780-1300, 888-780-4422, www.berkeleyhotel.com, info@berkeleyhotel.com). Downtown is just nine miles or 15 minutes from Richmond International Airport. It was built in 1988 by the Dobbs Family and prices were remarkably low for a four-star property (discounted because of ongoing renovation).
The Berkeley was set on the western edge of Shockoe Slip, whose cobblestone streets were a reminder that it was where the city started, and near the Central Business District. The hotel was an easy walk to the James River, where the American Civil War Center was located, and to the State Capitol, where the hemisphere's oldest active legislature met (Richmond became the colonial capital in 1780; five years before, in a nearby church, Patrick Henry had given his speech with the famous phrase, "Give me liberty or give me death").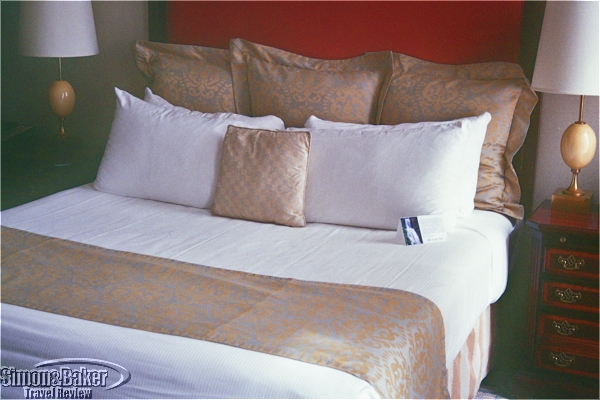 The bed in our King Terrace View Room
The hotel assigned us a 300 square feet (27.8 square meters) King Terrace View Room on the top (sixth) floor. It had a balcony furnished with chairs to look out over the restaurants and stores that had breathed new life into the historic district. I'm not one to notice much about room décor, but there were lovely framed prints of flowers on the walls. We soon learned that many guests like to return to see how their new room is decorated because each was designed differently from all the others in carpeting, wallpaper, furniture, and even shape (there was a photo gallery on the website to compare some examples). The air conditioning and heat controls were easy to use and effective. The closet contained two terry cotton robes, an iron, and ironing board. There was a safe at the front desk.
The bed was very comfortable, with 100 percent Frette Italian linens, while the pillows were filled with down and feathers. The room was clean and we allowed cleaning once during our stay (it was normally once a day) and refused turn down service. We agreed to the hotel's default policy of reducing impact on the environment by changing the linens every three days. Rollaway beds were available for an extra charge.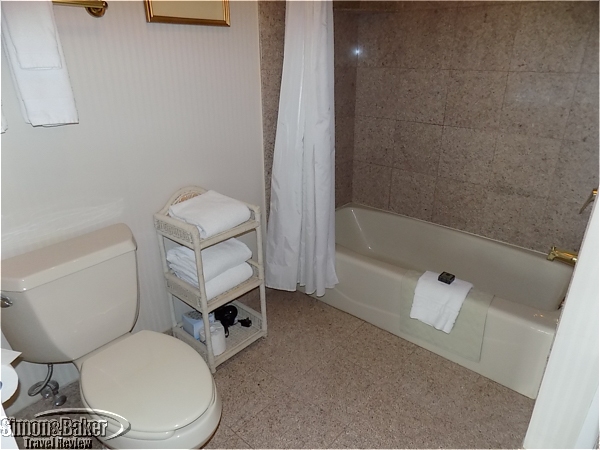 The bathroom in Room 604
There was a combination bathtub and shower with a powerful hydromassage showerhead. Like virtually every other luxury hotel we've been in, it had a makeup mirror with moderate (inadequate) lighting. There was a single sink, with toiletries from Gilchrist and Soames and cucumber and acai berry soap on the counter. The most unusual item was dental rinse (not something we normally have seen and helpful when dealing with flight liquid restrictions). There were two telephones, by the toilet and by the bed (local calls were free).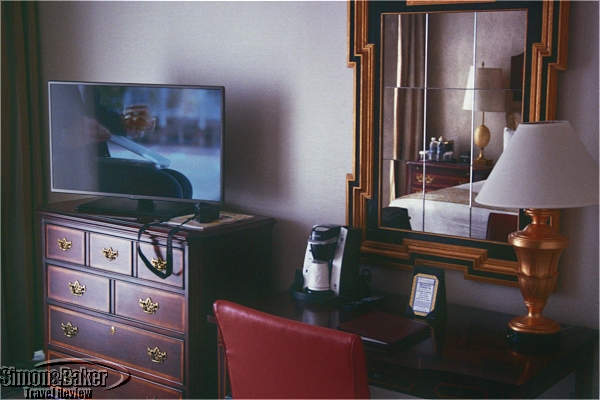 The desk and television side of the room
There was a coffee maker in the room, but we preferred to go to the lobby at 6:30 a.m. weekdays for fresh-made coffee, 7:00 a.m. on weekends (sweeteners included the best alternatives to sugar, stevia and erythiritol, which we have not seen often even in top hotels). There was also a desk and a 32-inch flat-screen LG television with cable. On the other side of the room there was a sitting area with stuffed chairs and a small round table.
There was complimentary high-speed wireless in the room and some public areas. There was no mini-bar or refrigerator, but ice machines were one floor below and elevators were fast (in a small hotel, that made transfers to other floors almost instantaneous). Complimentary health club privileges were available at the nearby Young Men's Christian Association (YMCA). Children were welcome and the hotel was pet-friendly, charging $50 per stay, one per room up to 25 pounds.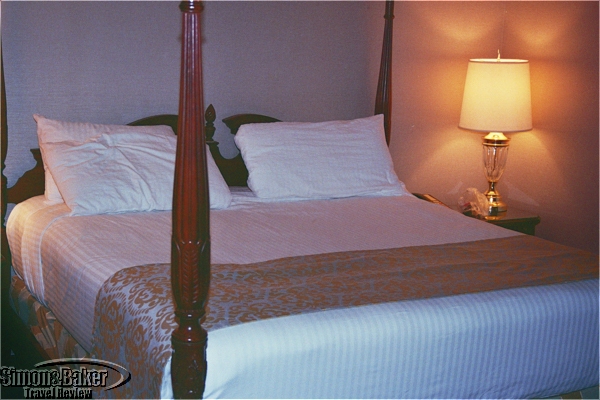 Our bed in the Governor's Suite
Any hotel can create a nice environment with upscale carpets, décor, and furniture. Under normal circumstances, adequate training may produce good service. But a crisis highlights staff's ability to balance conflicting demands from customers. On our first night at The Berkeley, we were asleep when around midnight we were awakened by a party next door. We asked them to keep it down, but when people get drunk they have a hard time judging whether they might be disturbing others. We finally called the front desk and within minutes a security representative invited us to move to Room 608 before he dealt with our neighbors. This seemed prudent: in our experience, most hotels prefer to start by asking guests to not disturb others, which usually just drags out the resolution. We had barely unpacked, so it was an easy move down the hall.
We were surprised when the new room turned out to be the Governor's Suite, a pair of rooms behind a set of doors separating them from the rest of the top floor. The bedroom was 600 square feet (55.7 square meters) and had a 37 inch flat screen Philips television. Next to it was a Keurig coffee maker with Royal Cup and Green Mountain options. A three-panel full-length mirror stood in one corner. There were several sofa chairs around a low glass table and plenty of room for a small group to visit after a wedding (which is what the Suite was often used for, as well as for birthday celebrations and other special events; the adjacent room we just peeked into was for the reception or a dinner). The four-poster bed had two mattresses, which made for comfortable sleep. The Suite was rented the next night, so we returned to 604 in the morning.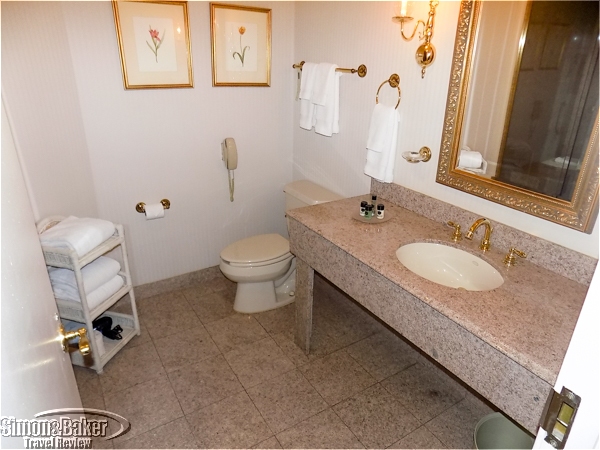 The bathroom in the Governor's Suite
The bathroom in 608 was larger than 604, the single sink had more counter space, and the décor was nicer (large gold-trimmed mirror and lights). There was also a large walk-in shower, rather than the small tub-shower combo in 604.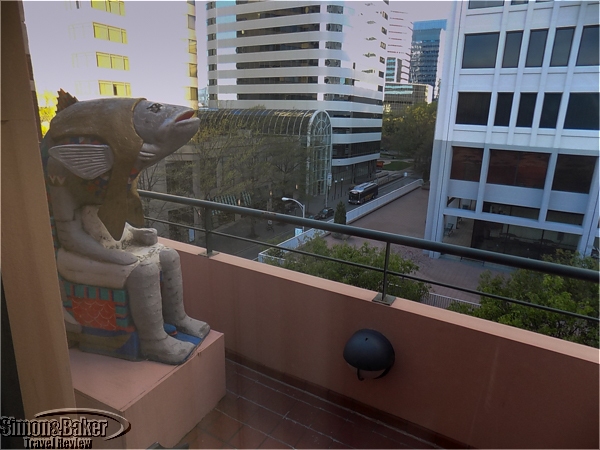 The view from the Governor's Suite
There was a balcony with chairs outside 608 and a sculpture of a fish-headed, Egyptian-style god. The view was of the Central Business District.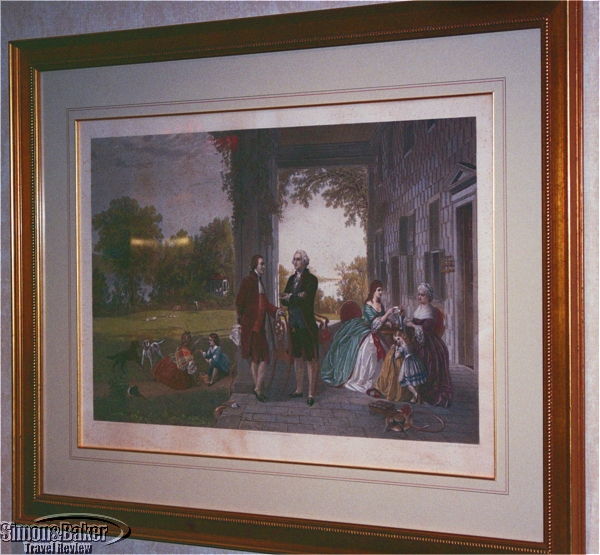 Artwork in one of the hotel hallways
The rooms and hallways were decorated with prints of paintings from the colonial era and old maps, which made it seem a place of Southern elegance from a bygone time. Many on the 60 staff of the hotel spoke Spanish. The ones we spoke with were knowledgeable about the city when we asked questions.
William Price III, chef, The Dining Room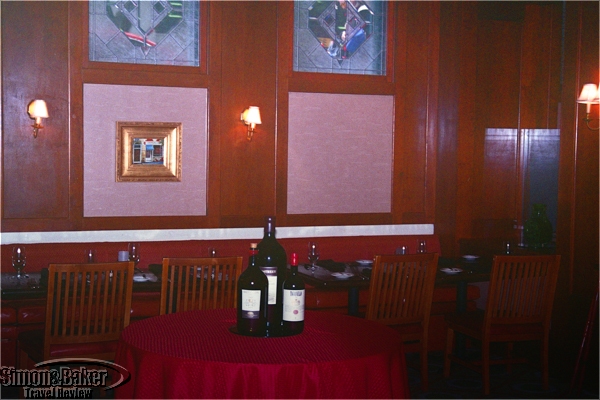 The Dining Room at The Berkeley
Breakfast, lunch, and dinner were served on the ground level in adjacent rooms, with a bar in the middle at the main restaurant, The Dining Room. William Price III, the young and friendly chef, had studied at the Pennsylvania School of Culinary Arts and Le Cordon Bleu Institute's Pittsburg campus.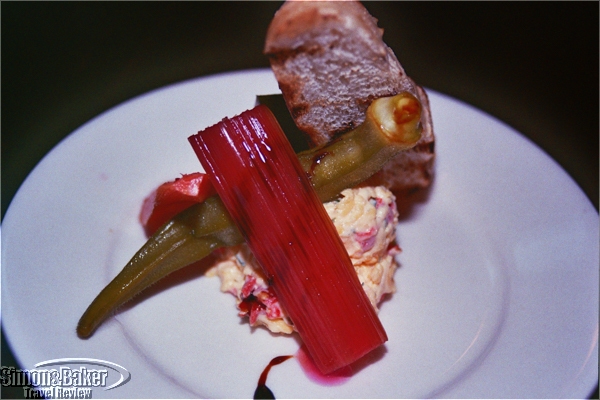 The Dining Room's Amuse Bouche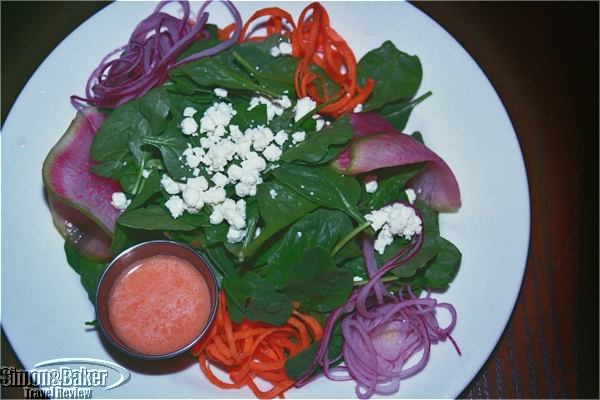 A salad at The Dining Room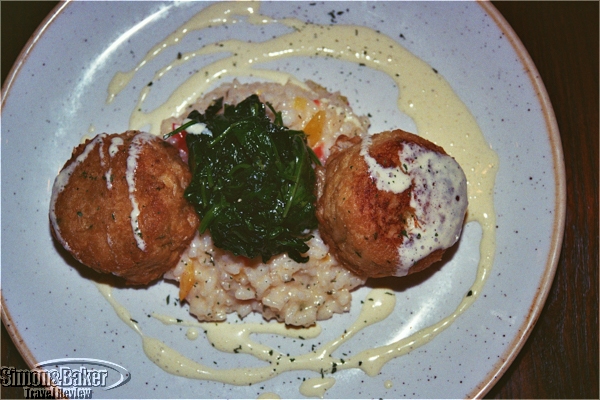 The chef's Signature Southern dish
We enjoyed our breakfast, including the Signature Farmers Market Quiche, grits, a three-egg omelette with aged cheddar cheese, onions, and sautéed mushrooms, the Southern specialty fried green tomatoes, and a salad. There wasn't a vegetarian option on the dinner menu. While Chef Price was whipping up a meatless experiment he had been working on, we amused our palettes with the Amuse Bouche, an appetizer of grilled French baguette, pimento cheese, and pickled vegetables, with sorghum balsamic vinaigrette, an apple peach crisp, and bread pudding. The chef's Signature Southern, a tentative name, was a delicious concoction with five green tomatoes, Parmesan cheese, and sautéed spinach risotto.
We only had time to see the top priorities on our list in three days, including the Virginia Fine Arts Museum, the American Civil War Center, the Museum of the Confederacy, and the Black History Museum and Cultural Center (we also recommend the RVA Tour of the city over alternatives because of their extremely knowledgeable guides). Richmond was rich with culture, so we definitely want to return, and would stay at The Berkeley because of its location, comfortable beds, food, service, and price (we hope it remains a relative bargain when the renovation is complete).