Article and photos by Gary Cox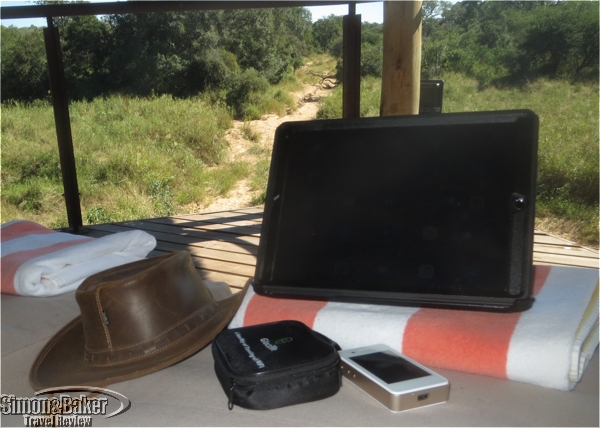 Lounging on the porch with my iPad and the RoamingMan hotspot in the Thornybush Nature Reserve
On our most recent safari trip to South Africa we took a 353 gram RoamingMan (RoamingMan, Ucloudlink (America), Ltd, 119B Hester St, New York, NY 10002, www.roamingman.com, supportus@roamingman.com) hotspot device, to connect to the internet with our electronic devices (laptop and tablet) using the nearest and strongest cellphone signals. Although most of the lodges where we stayed offered complimentary WiFi, many of the networks were unsecured, allowing anyone with a WiFi card and some basic skills to become an amateur eavesdropper. Others required a password known by many staff and guests. Because cellular 4G networks are encrypted and require expensive specialized equipment to hack we often felt safer using our personal hotspot than the property's WiFi. The RoamingMan device also provided internet access while we were transferring between properties, which was often a good time for us to go online and check emails.
Operating the device was easy. We turned it on and connected to the WiFi using the password on the screen. The 4G connection was fast enough to be useful for web browsing and emails. The hub, manufactured in China, was a little larger than a deck of cards and solidly built with a few simple controls. It weighed about eight ounces, came with a charging cable and was packed in a zippered case. The internal battery, rated to last up to 15 hours, held its charge when powered off for several days.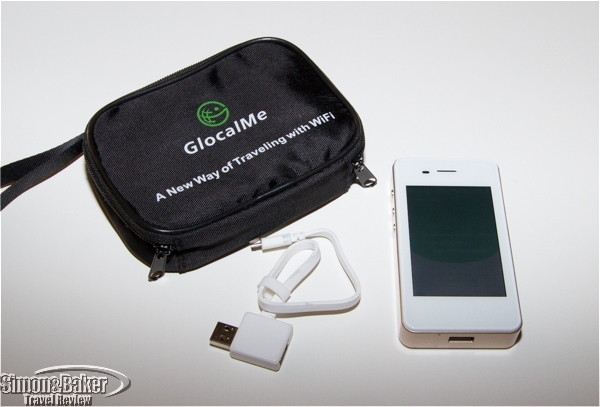 The RoamingMan WiFi device came with a charging cable and a zippered case.
Almost every device we travel with requires USB power to charge these days, and the charging cable had a pass through plug on the back, allowing multiple devices to charge from a single adapter. It performed double duty, as a WiFi hotspot and a standby battery pack for emergency charges, able to charge a cell phone or mp3 player in a pinch, a feature that came in handy a time or two.
RoamingMan rented the small Android based hub for a daily flat rate with unlimited data. The device we used was a customized version of the GlocalMe, with support provided by RoamingMan instead of the manufacturer. The WiFi hub used a cloud based SIM technology to allow global roaming, supposedly finding the best rate and connection, but what was critical to us is that it mostly worked well in South Africa. There was one day when we drove through the mountains in the Blyde River Canyon where reception was poor, but that was the exception. Connectivity was good in most places we tried.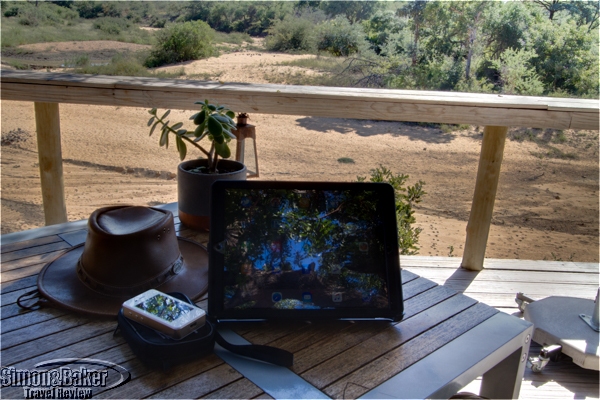 While sitting by the dry riverbed at The River Lodge I connected to the internet with the RoamingMan hotspot and my tablet
Delivery was of the hotspot unit stateside was efficient and convenient. The company shipped the device before we departed and activated it on the date we requested. When we returned home, we packed it into the shipping box, placed on the return label they provided and dropped it off a local UPS pickup spot. We were glad to have it with us, for the extra security of using cellular data without the challenges of figuring out the costs. This is one simple to use device that we will consider packing for future international adventures.