By Elena del Valle
Photos by Gary Cox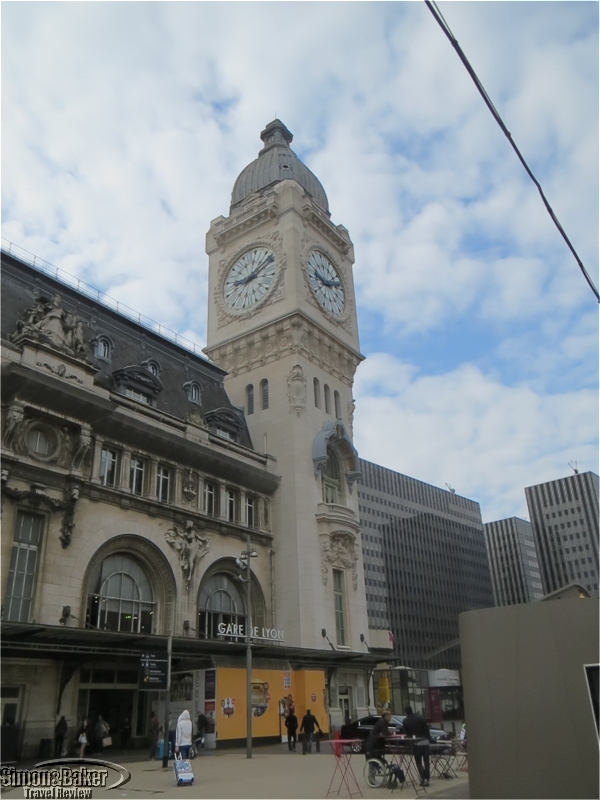 The Gare de Lyon train station in Paris
During a spring visit to Paris, France we went on an overnight side trip to the Seine-et-Marne Department (www.turisme77.co.uk and www.paris-whatelse.com) for the first time. To get there we took a train from the Gare de Lyon in the twelfth arrondissement of Paris to Melun, a city in the Seine-et-Marne. From there we made our way around by car from the train station to the area villages where, despite cold and rainy weather, we explored museums, chateaux, an artist village, a spa, and a pastry shop, spending the night at the La Demeure du Parc, a four-star boutique hotel within walking distance from the Château de Fontainebleau (Fontainebleau Castle), a museum and former royal residence.
The rotunda inside the Château de Champs-sur-Marne looking out on the gardens
Our first stop was the Château de Champs-sur-Marne (see Eighteenth century home museum near Paris worth visit when in Seine-et-Marne area), a 16 room two story structure completed in 1708. Known for its rococo style and its Notable Gardens the former family home had been converted into a museum managed by the French government. After a guided tour in English of the Château de Champs-sur-Marne, we had lunch and a short guided tour in English of the Château de Vaux-le-Vicomte, a private estate open to visitors and my favorite attraction overall. Even when compared with grand former royal residences the property's historic character, artistic harmony and beauty stood out. Before leaving and despite the ugly weather we made our way around the beautiful gardens in an abbreviated self-guided exploration.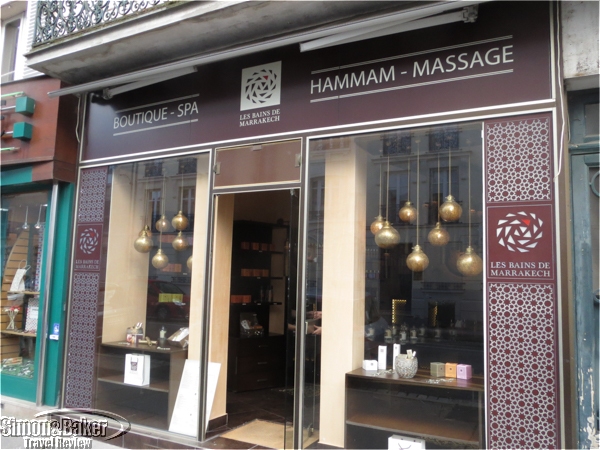 Les Bains de Marrakesh in Fontainebleau
The shop at Les Bains de Marrakesh
Before checking into our hotel we had a massage at Les Bains de Marrakech (186 rue Grande, 77300 Fontainebleau, +33 09 81 13 17 21, lesbainsdemarrakech.com, fontainebleau@lesbainsdemarrakech.com). Because we arrived late our massages were cut short. Despite that the staff members were friendly and welcoming. The small facility was spotless and quiet.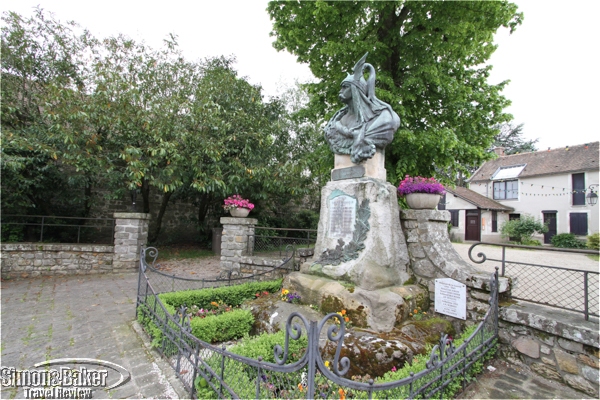 The war memorial in Barbizon
The house of Robert Louis Stevenson
Dinner (and breakfast the following morning) at our hotel was excellent. In the morning, we met Véronique Villalba, our English speaking guide in front of the Fontainebleau Castle, a former residence of the French monarchy, for an excellent tour. Following lunch, we headed to the charming artist Village of Barbizon, about seven miles northwest from Fontainebleau. We walked around with umbrellas in hand, exploring the touristy main street and admiring the pretty facades. We popped into Le Musee des Peintres de Barbizon (the Museum of Painters of Barbizon). Although it was crowded at times we enjoyed our visit thanks to our guide's insights and engaging discussion.
Tasty treats at Frédéric Cassel, Fontainebleau
On our way back to our hotel we stopped at Frédéric Cassel Fontainebleau (71-73, rue des Sablons, 77300 Fontainebleau, +33 01 60 71 00 64, www.fredericcassel.com), a shop in the town's popular pedestrian shopping street for espresso, tea, chocolates, and pastries. We had a Vanilla Millefeuille and an Ilanka pastry, a worthwhile sweet ending to our pleasant visit, before our taxi drove us back to the small train station, where we boarded the crowded train back to Paris.