Article and photos by Scott S. Smith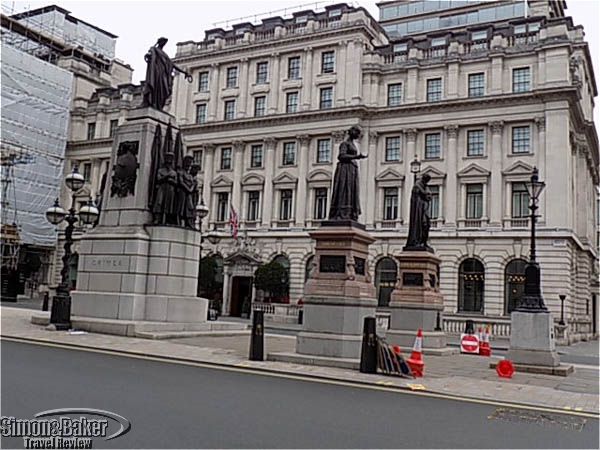 The Guards' Crimean War Memorial in front of the Sofitel London St James
In September 2016, my wife, Sandra, and I spent one night at the Sofitel London St James (6 Waterloo Place, London SW1Y 4AN, United Kingdom, +44 0871 6630625 or 800-221-4542, http://www.sofitel.com/gb/hotel-3144-sofitel-london-st-james/index.shtml, H3144@sofitel.com) in central London, United Kingdom. As history buffs, we chose it for its location a few blocks from the Piccadilly Circus subway stop on Waterloo Place, with its magnificent Guards' Crimean War Memorial.
The memorial was originally erected in 1861 to commemorate 2,152 soldiers who died in the 1854-56 conflict with Russia. Three guards were cast in bronze from captured Russian cannons. The memorial was reconstructed in 1914 to make way for statues of Florence Nightingale and the man who hired her to reform nursing on the front, Secretary of War Sidney Herbert. Nearby is the 34-meter (112 feet) Doric column for Prince Frederick Augustus, the Duke of York, a hero of the British Empire. The area is packed with 150 historic buildings, as well as statues, including those of King Edward VII (eldest son of Queen Victoria and Prince Albert) and Antarctic explorer Robert Falconer. It is also a few blocks from Buckingham Palace and Saint James's Palace (where retired royal officials now live, and which has its own changing of the guard). A nice touch in the lobby were the gorgeous fresh flower arrangements each day.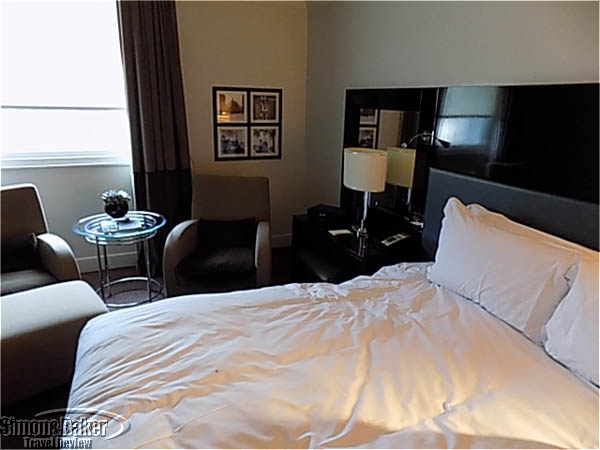 Our Premium Luxury Room
Room categories began with the Classic, then Luxury, Superior, Luxury with two single beds, and Premium Luxury. We stayed in a 32 square meters (344 square feet) Premium Luxury Room, one of 183 rooms at the property. We hadn't realized it was a five-star hotel until we tried the king bed and pillows. They were so well liked by hotel guests (we found them so comfortable we weren't surprised), that Sofitel sold them in various sizes and styles, from $1,750 to $2,123 at its online shop.
We appreciated the light on the headboard that allowed me to read and not disturb Sandra when she fell asleep early. The view over Waterloo Place and nearby parks was beautiful, but we had to keep the windows shut because of loud exterior noises late at night (we like fresh air, but didn't mind adjusting the air conditioning instead). The walls, floor, and ceilings were soundproof, so there was no noise from other rooms (a common problem I have encountered at four-star properties). There was an LCD TV, iron and board, safe, Krups coffee-maker, regular brew coffee pot, and complimentary WiFi. There was also complimentary Internet access in the business center. There were two types of complimentary mineral water on the desk. We were surprised by the number of families in the lobby and noted that the hotel offered cribs.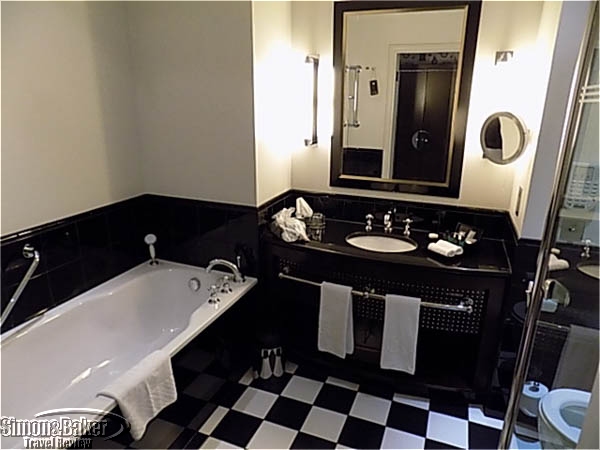 An excellent bathroom
The bathroom had a wonderful rainwater shower and Hermes toiletries. But the things which really distinguished this from other hotels were the deep and long bathtub with easy-to-understand controls (I can rarely find anything that can accommodate my 6'4" frame comfortably), the extensive counter space for both of our personal items, and an outstanding makeup mirror and lighting (even the best hotels usually have inadequate LCD lighting for the mirror).

The Rose Lounge
Breakfast in the restaurant was perhaps the best we've ever had in terms of food quality and quantity for people as picky as we are (lacto-ovo vegetarians who prefer whole foods). The sheer number of choices for yogurt and cereal alone were amazing. For example, there were organic and unsweetened selections, including honey and stevia. There were also many choices of cheese for omelets and breads.
After breakfast we visited the Rose Lounge, a lovely area for teas, with a harp in the corner. The staff, each of whom was multilingual, was pleasant. Some were helpful in explaining how to find our way to our daytime destinations. Thanks to its location, friendly service, in room amenities and excellent breakfast the Sofitel London St James would be our number one choice for a future stay in London.