By Elena del Valle
Photos by Gary Cox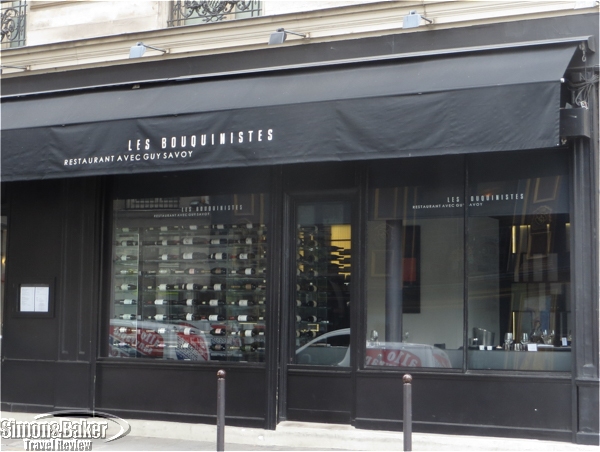 Les Bouquinistes side entrance
In a touristy neighborhood chock full of dining options like the Latin Quarter in Paris, France Les Bouquinistes (53, quai des Grands Augustins, 75006, Paris, France, +33 1 43 25 45 94, www.lesbouquinistes.com, bouquinistes@guysavoy.com) offered several features we liked. Before we arrived it already had the advantage that it was a short walk from our central accommodations. Having dined at Guy Savoy restaurants, including that one, in the past we were confident our experience would be positive. Stéphane Perraud, chef, and Cedric Jossot, restaurant manager, were in charge the day we had lunch at the eatery.
The black and white decor was designed to evoke the printed page
Les Bouquinistes occupied a corner on quai des Grands Augustins on the south side of the Seine River between the Pont Saint-Michel and the Pont Neuf. The two bridges linked the Left Bank with the Ile de la Cite, an island best known for being the home of Notre Dame Cathedral. Large glass windows took maximum advantage of the restaurant's location facing north toward the busy street, the river and the island beyond it.
The central section of the restaurant featured a wine rack.
Our early arrival won us a choice of seats. We selected a table near the entrance, which afforded us partial views of the street. My lunch partner sat at a leather black bench and I selected an armless wood chair in front of a bare white round table with a round black place mat for each of us. The clean lines, understated décor, gray carpet and black ceiling helped draw our eyes outward beyond the oversize glass walls and windows toward the quai des Grands Augustins to the north and the much quieter rue des Grands Augustins to the east.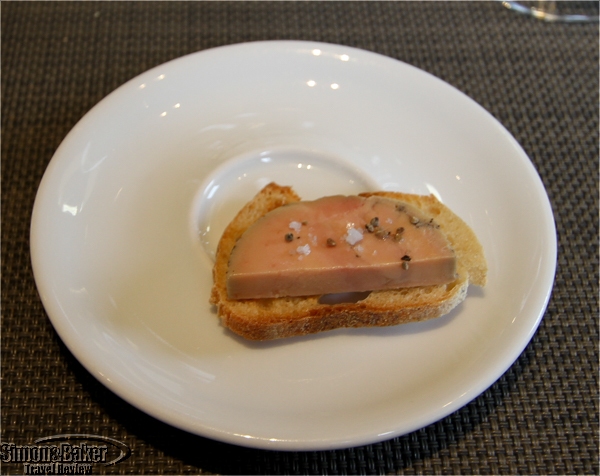 A simple yet classic starter
Our multi-course lunch began with a satisfying bite of foie gras atop a thin toast sprinkled with sea salt and touch of black pepper to stimulate our appetite. Our friendly English speaking server brought a wicker basket with crunchy epi bread (no butter or oil) and a bottle of the house sparkling water. Stainless steel cutlery, glassware and dinnerware were the only adornments to our table.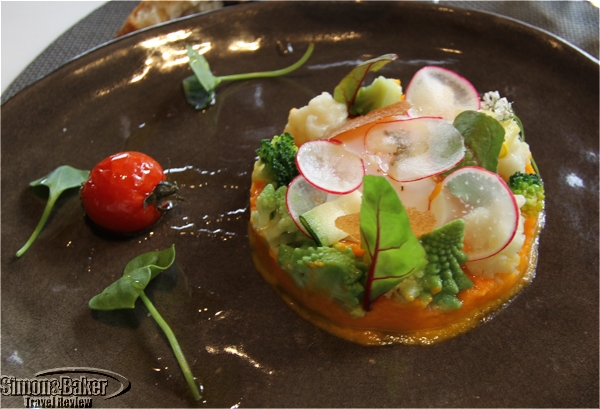 Legumes maraichers a l'oeuf parfait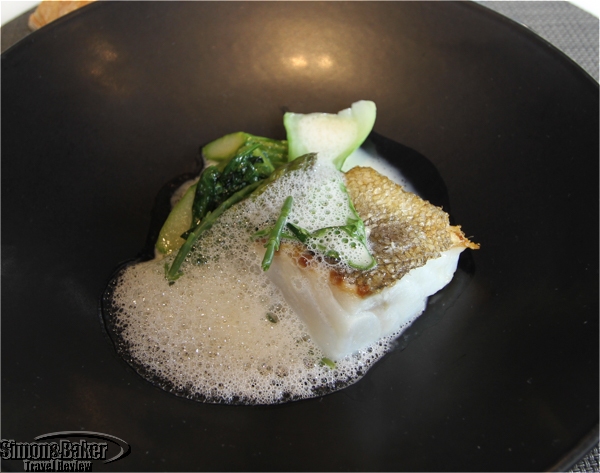 Blanc de cabillaud, asperges et pommes de terres confites, jus aux algues
We each had two different first courses followed by identical mains and desserts, a good sample of the chef's cuisine. For my first course I had Legumes maraichers a l'oeuf parfait, a vegetable dish with a lightly cooked egg. My lunch mate had Nacre de merlan, vinaigreette d'huitre, petits pois et fromage frais, white fish served on a bed of peas with a cheese and oyster sauce. Blanc de cabillaud, asperges et pommes de terres confites, jus aux algues, beautifully prepared barely cooked codfish served with a wonderful light sauce that complemented the fish and thin crunchy green asparagus; and Homard en bouillon, potimarron et sarrasin torrefie, lobster with sarrazin seed (from Brittany) sauce, pumpkin and black tuile baked wafers colored with squid ink, followed. Noix de carre de veau rotie, oignons grilles, puree de pommes de terre, Veal with a brown sauce, delicate mushrooms, baby onions and mashed potatoes, hit the comfort food funny bone just right. Our server was kind enough to assist us with a selection of Bordeaux wines, including a 2011 Chateaux Dutruch, to match our meal.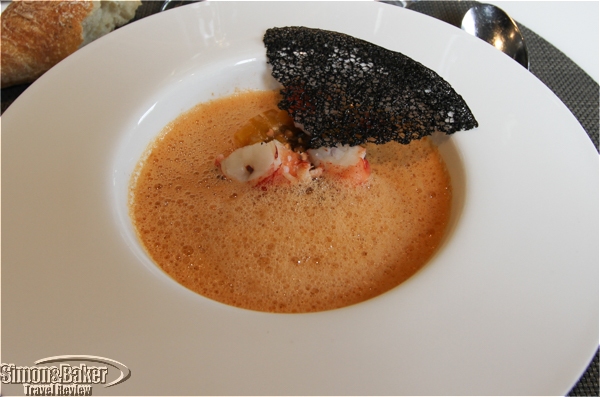 Homard en bouillon, potimarron et sarrasin torrefie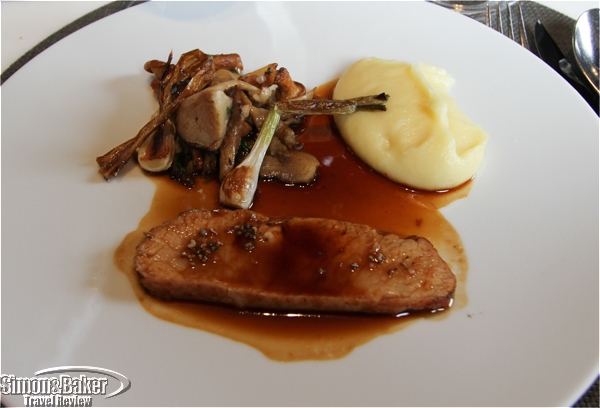 Carre de veau rotie, oignons grilles, puree de pommes de terre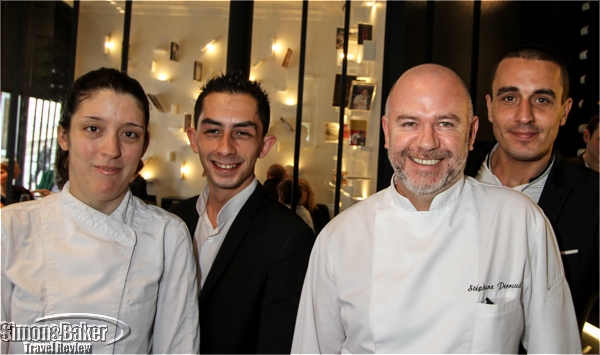 Staff members Alexandra Chabauty and Steve Fabre next to Stéphane Perraud, chef, and Cédric Jossot, restaurant manager
Dessert was a duo. One half was Cafe-chocolat lacte biskelia-cardamone blanche, a mix of coffee flavored bits, and the other was a Sable breton-menthe-coriandre, a "Gin and Tonic" mint coriander dish served with a cookie and a microwave sponge cake. By the time we left, the restaurant was at the peak of lunch hour and staff members were rushing to look after last minute arrivals. Our meal was satisfying, well served and in an attractive setting within a convenient location. We would return and recommend it to friends seeking a casual dining experience in the Latin Quarter within a stone's throw of the river.