By Elena del Valle
Photos by Gary Cox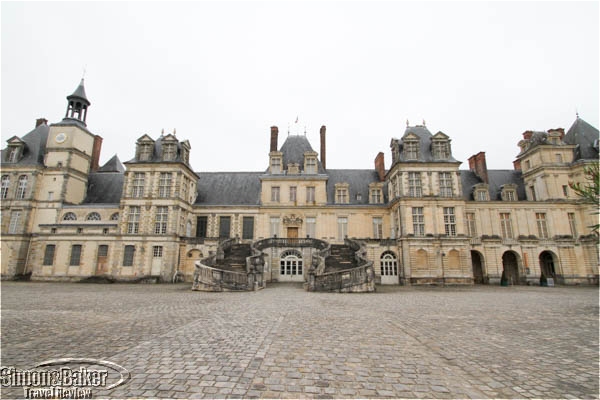 Fontainebleau Castle from the gate
During a spring trip to Paris, France we visited the nearby town of Fontainebleau, in the Seine-et-Marne Department (www.turisme77.co.uk and www.paris-whatelse.com), known for its former royal residence and forest. There was too much to see in one day so we spent the night at La Demeure du Parc, a boutique hotel established in late 2015 that was conveniently located within easy walking distance from Fontainebleau Castle.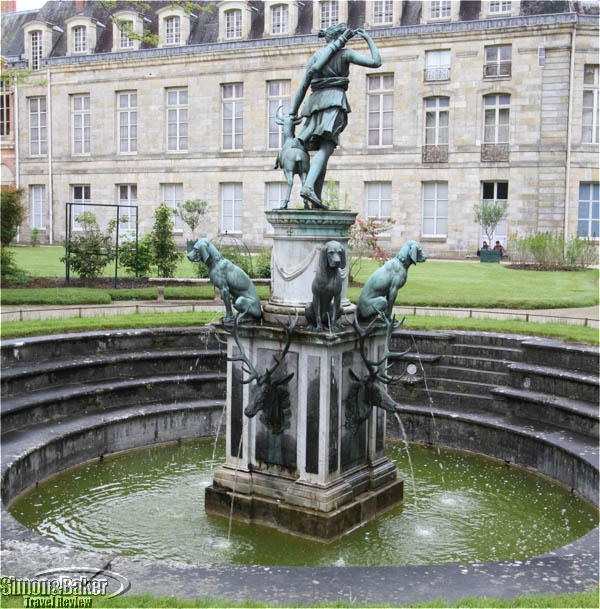 During our tour we walked past one of the water fountains named for Diana
Since our time was short and it was our first visit to the area we took advantage of the opportunity of a guided tour in English. We met Véronique Villalba (v.villalba@laposte.net), our licensed guide, at 10 a.m. in front of the castle for Les Grands Appartements Tour, a private two-hour visit of Fontainebleau. A graduate of the University of Nanterre specializing in art history she had 10 years of experience as a guide. It was her friendly demeanor and passion for history that brought the former castle stories to life and made our morning activity memorable.
The interior design varied according to the time period of construction.
When I asked her why the historic attraction was special she explained that it was the sole castle that housed French kings for more than eight centuries (taking into account an interruption due to the Hundred Years' War). In contrast, she explained, Versailles only served that purpose for four centuries and the Louvre had only become a royal home 650 years earlier.
One of the characteristics worth noting was that the castle retained period furniture
Fontainebleau Castle, established circa 1137, was large. The fortified complex occupied 46,500 square meters of space in 13 floors, which included 1,536 rooms. Of those, 6,000 square meters were open to the public. It had 130 hectares of parks and gardens with 42,500 plants, and employed 135 staff. Despite the chilly and rainy weather we encountered it was by no means devoid of visitors. On the plus side, with only 470,000 visitors in 2015 it was a much more serene attraction than the Louvre or Versailles, both of which had millions of visitors a year each.
The Grand Salon de l'Imperatrice
The attraction itself was made up of a hodgepodge of buildings, improved and modified on the whims and budget strings of its powerful owners over the years. Despite our brief visit we toured interior and exterior areas. That the interior rooms were frequently furnished with original pieces, she explained, lent the castle a notable ambiance absent in other castles and palaces where the furniture and art had been sold years earlier.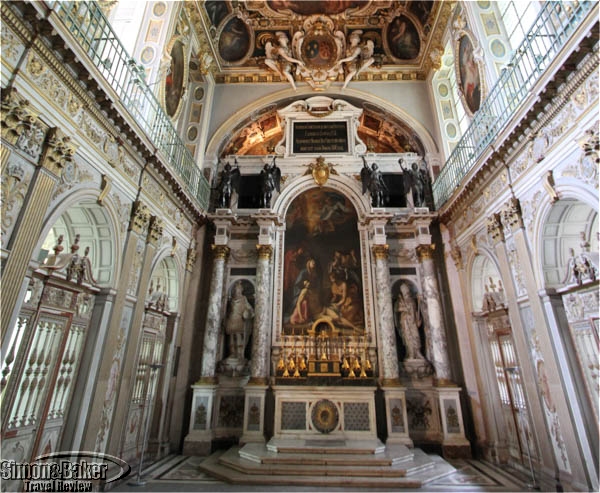 The Chapelle de la Trinité
We visited the Royal apartments, Renaissance Rooms, one of Marie Antoinette's Boudoirs, Francis I Gallery, Galerie de Diane, Chapel of the Trinity, Chapelle basse Saint-Saturnin (only the upper level). We saw many of the masterpieces: The Duke of Orléans Commemorative Wedding Cabinet, Charlemagne in the Guise of Henry IV (in the Chapelle de la Trinité), The Royal Elephant (in the Galerie François Ier), Alexander Taming Bucephalus (in the Galerie François Ier), Odyssey Cabinet (in the Ancienne Chambre de la Reine), Beneman Commode (in la Nouvelle Chambre de la Reine), Marie Antoinette's Bed, Napoleon's Throne. Outside we walked through or caught a glimpse of its gardens and courtyards (sometimes from a distance): Cour Ovale, Cour de la Fontaine Cour d'Honneur, Cour des Offices, Grand Parterre (created by André Le Nôtre and Louis Le Vau and said to be Louis XIV's greatest architectural achievement at Fontainebleau), Jardin Anglais, Jardin de Diane, Grotte des Pins, Pavillion de l'Étang, and Park. Should I return to Fontainebleau I would enjoy another visit to the castle, especially in the company of Véronique Villalba, for further discovery and leisurely exploration, including time in its gardens if the weather is clear.