Article and photos by Elena del Valle
Some of the Oliver wines I sampled
A water feature near the entrance to the tasting room
By the time we reached Oliver Winery and Vineyards (8024 North State Road 27, Bloomington, Indiana, 47404,  +1
812-876-5800,  www.oliverwinery.com, admin@oliverwinery.com), 10 miles from the heart of Bloomington, Indiana,
the waning sun was way past its zenith, its rays showing off the winery gardens to their best advantage.
To one side of the entrance, I caught a glimpse of a small pond surrounded by green lawns and inviting picnic tables in the cool shade.
There were many shady spots and picnic tables with a view of the pond
Inside the tasting room there were many displays, chalkboards and art on the walls
As our large group scattered over the outdoor terrace to enjoy the last of the afternoon I made my way indoors to the tasting room. Standing side by side with several colleagues I sampled six wines, some because someone else was sampling them and others I chose. They were: Creekbend Valvin Muscat 2014, Creekbend Vignoles 2014, Creekbend Traminette 2014, Cabernet Sauvignon 2012, Creekbend Catawba Late Harvest 2013, and Creekbend Vidal Blanc Ice Wine 2008. The last two required payment of a supplement beyond the regular tasting menu price. They were the sweetest.
Jim explained how the ice wine was notable because of the winery's geographic location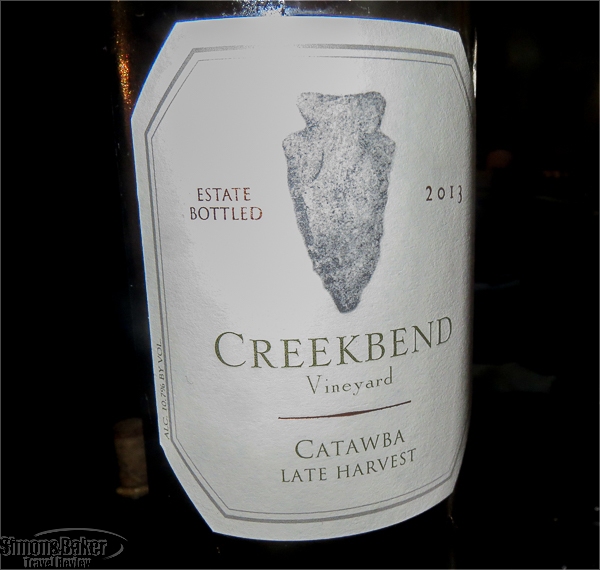 A bottle of 2013 Catawba Late Harvest
I was surprised to discover ice wine, the ultra sweet wine made from grapes allowed to freeze naturally on the vine, on the tasting list. Since most of the ice wine I had heard of or tried in the past in North America was from Michigan, New York, Pennsylvania, Oregon, Washington, or Canada (Germany and Austria too) I decided to sample some of their ice wine. Jim, the staff member who looked after us, was friendly and knowledgeable. He answered questions peppered from all sides with patience and interest. He offered each of us wine samples and shared tidbits about the winery and the vineyard only four miles away. Standing at the cozy tasting bar, chatting with fellow travelers about food and wine it was hard to imagine Oliver Winery employed 100 people and produced more than 320,000 cases or 3.8 million bottles of 40 wine types.
Oliver Winery and Vineyards, one of Indiana's oldest and largest wineries founded in 1972, was under the stewardship of Bill Oliver, son of the company founder. It had two physical locations, a winery that housed the modern 2,400 square foot tasting room where I sampled several wines and the pretty adjacent gardens and grounds; and Creekbend Vineyard, a 56-acre property where they grew the grapes. The company distributed its products in 18 states and shipped nationwide.