Article and photos by Josette King
A discrete sign guided visitors to the internal courtyard where the shop was located.
Epiceries fines (gourmet shops) are hard to miss in Paris, France. They range from vast food halls that offer all manner of desirable foodstuff from around France and far beyond, to boutiques specializing in a specific indulgence: caviar, cheese, smoked salmon, chocolate or macarons to name a few. You name it and any self-respecting Parisian will give you at least a couple of bonnes adresses (top places where you are sure to satisfy your particular yearning). Many of these epicurean temples have been in business for well over a century and have achieved the status of local institutions on the checklist of foodie tourists from every corner of the planet.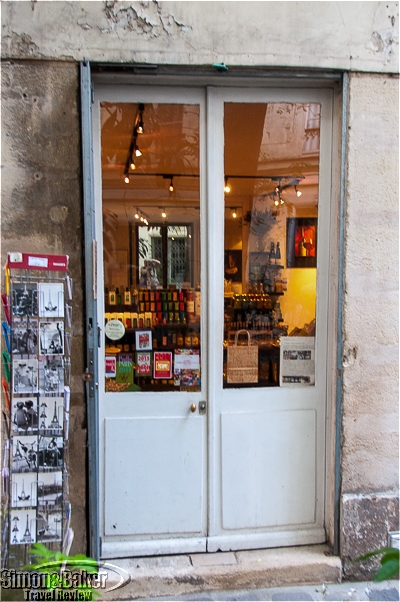 Unassuming doors led to a treasure trove of delicacies from the French heartland.
Then there are adresses confidentielles, exceptional places to be shared only as a favor to someone's friends. Tomat's (12 Rue Jacob, 75006 Paris, France. +33 1 44 07 36 58. www.tomats.fr), a tiny gem tucked in a 17th century courtyard in the heart of Saint Germain des Prés rates high on my list of the latter. Barely a decade old, its unique appeal is rooted in the passion of its owner-manager Alexandra Blanchet de Pudhot for the traditional delicacies of the French heartland. She was proud to point out that 95 percent of her inventory comes from small French producers. She also featured a few outstanding Italian treats, such as her coarse fresh Genovese Pesto so delicious that one of my friends has taken to slathering it on toasted country bread.
Tomat's owner-manager Alexandra Blanchet de Pudhot
In addition to a broad array of the essentials that great pantries are made of, she also sourced exceptional seasonal specialties. At the time of my early fall visit she had just received a fish and crawfish terrine from the Loire Valley that was otherwise only available at the producer's. And in anticipation of the holiday season her inventory was being enhanced with attractive assortments of exotic spices each with a cookbook included, as well as new kinds of truffled foie gras, duck confits and traditional goose sausages from the South West of France that I expect will star in my gourmet gift baskets. Alexandra had tasted approximately 80 percent of the products carried at Tomat's. Her associate was charged with tasting the remainder, such as artisan jams and honeys, the full range of the peerless Bonnat chocolate bars, and other sweets. Products that have become permanent staples of the inventory were re-sampled periodically to ensure that the high quality remained constant.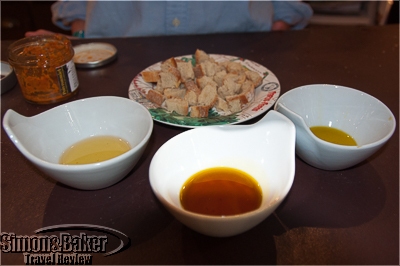 A tasting of artisanal Huiles LeBlanc
At Tomat's the emphasis on personal contact was as exceptional as the products on the shelves. Alexandra clearly enjoyed discovering her customers' tastes to better offer suggestions on what could delight them and enhance their recipes, making her épicerie the sort of place where savvy cooks get their "secret ingredients." In my case recently, one such find was a small pot of Beaume de Casanova, an exquisite bitter chocolate and ginger mustard, a few dabs of which had my guest raving over a simple roasted chicken. I had not suspected such a thing existed until my visit to Tomat's. Nor had I heard of Huiles LeBlanc, a wide range artisan oils from Burgundy.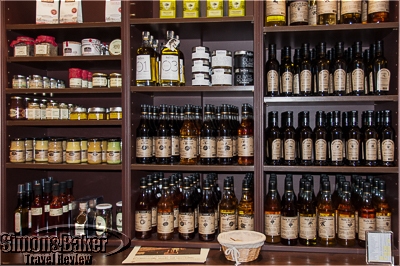 The shelves were brimming with the makings of a great pantry.
The family-owned and operated enterprise has extracted exceptional virgin oils from a variety of products from pistachio, pine and hazelnuts to marrow pits for well over a century. In Paris, they could be found at Tomat's exclusively. I was a bit dubious at some of the most esoteric concoctions such as oil from the nut found inside the pit of prune plums, until I had a taste of several of them. In all cases, it had a more subtle, smoother taste than the nut itself. Their pistachio oil is my new favorite to drizzle over seared scallops and poached mild white fish. As for the prune plum nut oil? A few teaspoons transformed a humble autumn fruit compote into an intriguing dessert. I have also been known to use it as a dipping oil for bits of day-old brioche.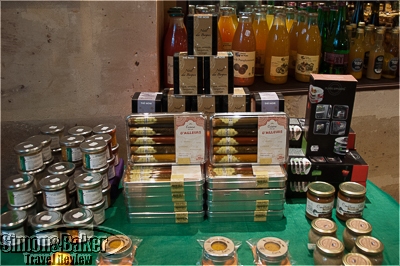 An attractive assortments exotic spices made original gifts
With its exceptional variety of unusual products, personalized service and this not insignificant detail, friendly prices, Tomat's has become a frequent stop for me, just in case a new interesting something has come in. It usually has.