Article and photos by Elena del Valle
The entrance to Wine Tasting in Paris on an old cobblestone street
Understanding and appreciating wine is a personal and subjective experience, one I always feel the need to improve. Each time an opportunity presents itself for me to grow my knowledge and exposure to wines I jump on it. And what better place than Paris, France while I had time to spare? When I heard about a new program in English I was immediately interested. Hosted by Thierry Givone, a native of Burgundy, the French Wine Tour, a two hour hands on workshop was engaging and fun. Thanks to its central location I was able to walk there from my temporary Parisian home.
Thierry Givone, a native of Burgundy, hosted wine tasting workshops in English. 
Following self introductions and a brief video presentation by our host, six of us, all Americans coincidentally (while Americans represent half of his clientele, many British, Canadians, Australians, and Europeans attend as well) tasted and discussed six wines ranging in retail price between 12 and 20 euros. They were, Champagne Brut Reserve from Thierry Massin; Sauvignon blanc Eclat de Silex, from Domaine Michaud, in Loire Valley 2013; Chardonnay Macon La Roche Vineuse from Domaine Merlin in Burgundy 2013; Pinot Noir Mercurey from Chateau de Santeney 2009; Bordeaux Chateau D'arcins Haut Medoc Cru Bourgeois 2011; and ORTAS, From Caves de Rasteaux, in Rhone Valley 2012.
The main area of Wine Tasting in Paris (click to enlarge)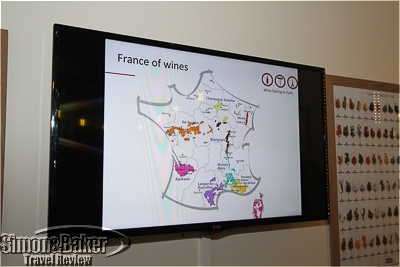 Givone relied on a flat screen television for his presentation.
"I hope the quality of my welcome, from the confirmation e-mail to the recommendation of what to do or where to go after the tasting," said Givone when asked what makes his programs special in a city filled with wine and gourmet tasting possibilities. "Individual interaction, the fact that I created the company and I animate all tastings myself, with passion and involvement, when other companies just drive the business and hire free lance sommelier for the animation. The atmosphere of my space, in this nice street, with a small tasting room where people feel very well. I've tried to create a 'tour' with a good combination of global information, details, historical facts, fun facts, and personal experience, so that people have learned things and had a great moment."
The champagne selection from Thierry Massin
Givone's first job was as marketing manager in a French subsidiary of an American group. In 2013, he established Wine Tasting In Paris (14 Rue des boulangers, 75005 Paris, France, + 33 676 933 288, www.wine-tasting-in-paris.com, thierry@wine-tasting-in-paris.com) at another location. The course I attended took place in a 45 square meter two room space within a building that may date to the XVII century, near metro stations Cardinal-Lemoine and Jussieu. The cobble stoned street itself was already in existence in 1350.
We spent most of the time at the table, watching the presentation and tasting wines. (click to enlarge)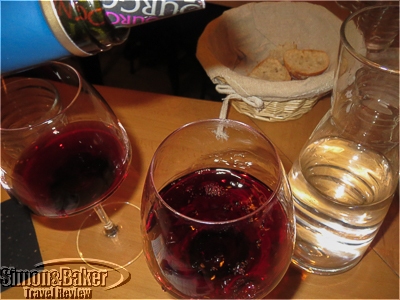 We each had wine glasses, bread and water within reach.
Givone, a fan of wines from his native Burgundy, rounded his wine education by spending time at Wine and Spirit Education Trust (WSET) at the Ecole du Vin in Paris, Wine School of Bordeaux, and Wine University of Cotes du Rhone. The way to taste was by looking, smelling and tasting a wine, he explained. He recommended that we smell the wine before swirling it in the glass to smell it a second time before tasting it.
A smell aid we used to practice identifying scents
He relied on synthetic smell aids in an exercise designed to teach us to identify the range of flavors found in wines. They were flower, fruit, vegetable, earthy such as mushrooms and forest, spices like pepper and vanilla, wood, toasted aromas, mineral, balsamic, animal and chemical or foreign. He described the varied flavor zones of the tongue. We can taste sugar on the tip, acidity and salty flavors on the side and bitterness in the back, he explained.
The custom made table allowed everyone to see the presenter.
The meeting room featured a modern design and wood furniture. The tasting table with a V shape was custom made according to his specifications to allow up to 12 guests a good view of the presenter and the large wall mounted television screen. At the same time, it allowed him to stay in the middle to pour of wine for each tasting course. We plucked pieces of sliced baguette from the bread filled baskets nearest each of us to cleanse our palates between wines. As the workshop ended several of us lingered and bought wines to take home and sample at leisure or with a meal.