By Elena del Valle
Photos by Gary Cox
The restaurant in the Youngtown Inn
We arrived hungry at the Youngtown Inn and Restaurant in Lincolnville, Maine, after a day of driving and tourist activities with little time for lunch. Instead of driving the six miles from our nearby inn we opted for a taxi. Fortunately, it was early when we asked if the restaurant was near enough to walk. A smiling front desk staff person indicated it would be better to drive or rely on a transport service as it was several miles away down dark roads. Advance planning was necessary as it required 25 minutes before a taxi made its way to Linconlville Beach, where we were staying, from its base of operations in Rockport. It was the only taxi service available, the staff woman explained.
The lobster bisque
As the taxi van negotiated the dark residential roads and our tiredness sunk in we were glad of our decision. As we entered the restaurant, located within a classic 1810 farmhouse turned into a cozy four room inn, a distracted middle aged woman welcomed us, led us to our table and handed us menus. We explained that we needed a taxi and she offered to call the service when our dessert arrived. As the evening wore on her timing estimate proved to be spot on. Moments later, another personable woman arrived to announce the daily specials and bring us water. Although it was a weekend evening we were among few guests at the restaurant because of a nearby special event.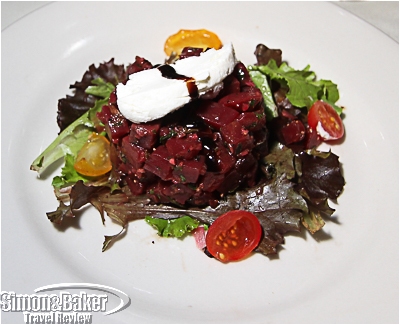 Our beet salad (click to enlarge)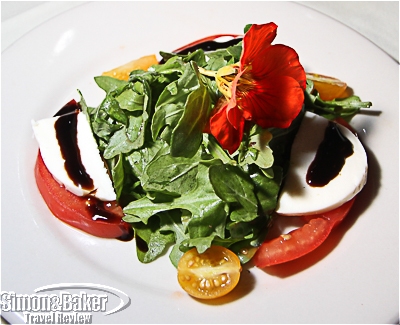 The arugula salad was garnished with a flower (click to enlarge)
While the set menu was well priced, the chef's beef and lamb specialties were on only offer in the a la carte menu so we chose that one. There were two types of bread, whole wheat and sour dough. For starters we ordered Lobster Bisque with Sherry made with fresh lobster chunks, one beet salad and one arugula salad. For mains we had Pan Seared Black Angus Filet Mignon, Caramelized Onions, Roquefort and Roast Rack of Imported Lamb with Herbs de Provence (a favorite) both of which were well prepared. They were served with green beans, carrots and potatoes. Relying on our server's advice we ordered a 2010 Billerond Saint Emilion to accompany our dinner. It was a good match for the meal, stout enough for the red meats yet well rounded and with a smooth finish.
The lamb was moist and tasty (click to enlarge)
The filet mignon with the pepper sauce removed
Although the menu description of my filet mignon said nothing about pepper nor did the server mention it when I placed my order, the meat was sitting atop and covered in a thick black pepper sauce. After I raised the issue, the server took it back to the kitchen where they removed the sauce. She brought it back quickly and it was still hot, but the pepper flavor had penetrated the meat, making it difficult to enjoy my dish or taste the Roquefort cheese.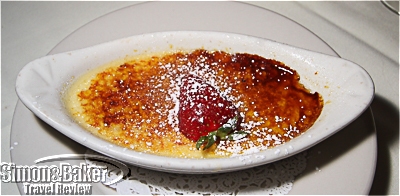 The creme brulee
The chocolate truffle cake
For dessert we had Tahitian bean Creme Brulee and Chocolate Truffle Cake. While the thin slice of cake didn't look especially appetizing it had a rich chocolate flavor. Dinner was pleasant. The Youngtown Inn and Restaurant, 581 Youngtown Road, Lincolnville, Maine 04849, +1 207-763-4290, info@youngtowninn.com