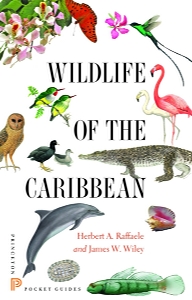 Wildlife of the Caribbean
Photos: Princeton University Press
In Wildlife of the Caribbean (Princeton University Press, $19.95) a 304-page softcover book published this year, Herbert A. Raffaele, a wildlife conservationist, and James W. Wiley, a researcher of ornithology, explore nature in The Bahamas and the Caribbean: Cayman Islands, Greater Antilles, Lesser Antilles, and Virgin Islands. Color tabs identify each section for easy reference. An introductory section addresses the region, its geography and conditions. The remainder of the book is divided by type of grouping.
The book includes 600 color images of 451 species of island flora and fauna. The authors focus on the most widespread and visible plants, terrestrial mammals, birds, terrestrial reptiles, amphibians, terrestrial invertebrates, marine mammals, marine reptiles, marine fish, and marine plants and invertebrates, and seashells. The bird section is by far the largest. There is information about the identification, status and distribution of the plants and animals of the region.
Herbert Raffaele, coauthor, Wildlife of the Caribbean
Raffaele directed wildlife conservation at the Department of Natural Resources in Puerto Rico, and was chief of Latin American and Caribbean programs for the United States Fish and Wildlife Service. Since 1972, Wiley has worked in ornithological research in the Caribbean. The two are coauthors of Birds of the West Indies.
---
Click to buy Wildlife of the Caribbean
---