Photos by Josette King
The lodge was reached via a suspension footbridge over the Mkulumadzi River
The recently restored Majete Wildlife Reserve in southern Malawi remains mostly undiscovered by tourists. Mkulumadzi offered accommodations within a 7,000 hectare (27 square mile) private concession with exclusive tourism rights in one the most spectacular areas of the repopulated wilderness area.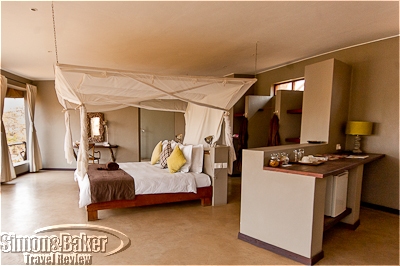 Josette's room featured a well appointed pantry
Designed to minimize its impact on the environment while offering high levels of creature comforts, the property also focused on serving healthful, refined international dishes with a pan African accent. Beyond game viewing our contributor especially appreciated Mkulumadzi's responsible tourism practices and guest centered service.