By Elena del Valle
Photos by Gary Cox
A table at Restaurant le Meurice Alain Ducasse
The previous time we had dined at restaurant Le Meurice, in 2011, a different chef was in charge. On our return at the end of 2013, subtle decorative changes in the beautiful dining room of the restaurant of the Hotel Le Meurice on the famed Rue de Rivoli in Paris, France reminded me that food industry icon Alain Ducasse had assumed control of the hotel kitchens. Among them were new Baccarat crystal pieces and an elaborately made panel near the entrance which itself was next to the revolving doors of the hotel entrance, discreetly behind the greeter's stand.
The service was attentive and precise
The staff members were helpful and attentive with a healthy amount of reserve. The new menu at le Meurice focused on produce, the producers themselves and the seasons. Langoustines, a spokesperson explained, will only appear on the menu if they can be delivered alive. The olive oil from Sicily is exclusive to the restaurant.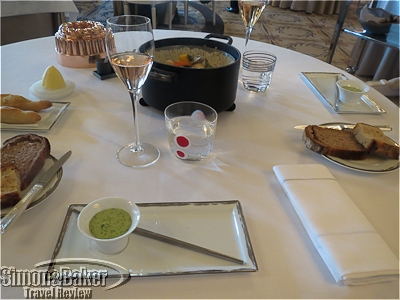 We had a steamed vegetables appetizer
Our meal was well prepared and served. We particularly enjoyed the steamed vegetable appetizer and the meat dishes. For example, the venison (chevreuil) was cooked just right and served with a peppercorn sauce that brought out the game meat flavor without overwhelming it. The chicken with white truffles was fragrant and tender. The sauces in both cases were outstanding.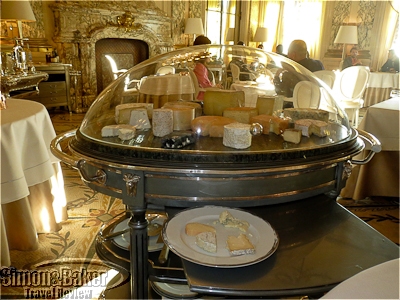 The cheese cart
The wine specialists were notable for their selections and customer centered service. We especially liked the wine pairings with the meal. We look forward to a return visit to Restaurant le Meurice Alain Ducasse under its new management and chef.