Photos by Josette King
Our contributor's sitting room opened onto a secluded side deck
At Pumulani, a lake shore property in Malawi, a landlocked country in Southern Africa, part of the experience was the location. The country itself is among the less trekked destinations in the region, making it particularly attractive for exploration oriented travelers.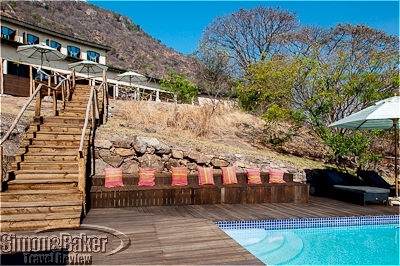 The pool was just below the lodge
When our contributor wasn't soaking in the ambiance she took advantage of the activities on offer including sunset cruises, in a dhow and a motor boat; a visit to the village; and star gazing. She rose early to swim in the pool at dawn. The swims and the setting combined were a treat unlike anything she had experienced anywhere in Africa. There was also an outstanding beach.
The traditional dhow sailed around the lake
There were many aspects of her stay at Pumulani she liked. The property setting was stellar. It seemed ideal for someone, who like her, was willing to travel the distance to Malawi and wanted to enjoy first world creature comforts, and guest centered service in a property that followed responsible tourism practices.