Photos by Josette King
Josette's tent was a reed and thatch bungalow atop the rocks above the lake
An hour's motor boat ride off shore from Cape Maclear in Malawi in southern Africa is Mumbo Island Camp. Simple accommodations are available within an unspoiled one square kilometer (250 acres) rock topped by lush miombo woodland and an alluring crescent golden sand beach. In 1996, the National Parks authorities awarded Kayak Africa the exclusive rights to operate tourism accommodations on the unpopulated island for the first time. In an effort to maintain the secluded tropical island's pristine environment whole the company built Mumbo Island Camp as a back to basics property that follows sustainable tourism principles.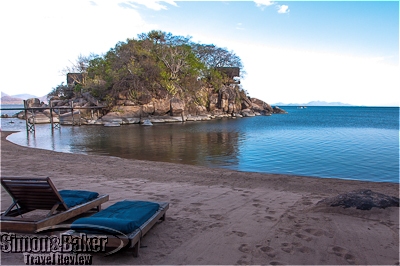 Guest accommodations were perched on a granitic promontory jutting into the lake
The owners set a handful of rustic rooms made of reed and thatch with comfortable beds, bucket showers and ecologically sensitive toilets among the rocks. One of the most notable qualities were views of the country's famed lake. Staff served wholesome meals in the dining area. A sports gazebo in a corner of the beach catered to those anxious for activities.
There was an inviting hammock on the deck
Light was provided by solar and paraffin lamps and wind up flashlights. Josette King, our contributor, liked the direct contact with nature. The setting reminded her to welcome the sunrise, and snorkel in warm waters so clear she could see the outlines of underwater boulders below as well as bright cichlids (small colorful fish) darting about them. She indulged in kayak rides at sunset and soaked the ambiance and setting, making the most of her visit. What made it special, we asked? That it was there and available for a few souls willing to appreciate it, she responded.