By Elena del Valle
Photos by Gary Cox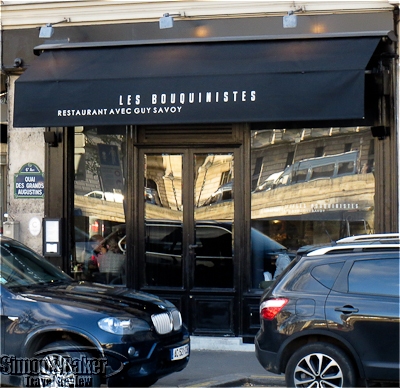 The entrance to Les Bouquinistes faces the Seine across the street
Walking west along the Seine facing the Left Bank it was easy to spot Les Bouquinistes, named for the iconic souvenir and antique book and magazine vendors that line the banks of the Paris river in that neighborhood. When we arrived at midday early in the week at the corner restaurant, there was already a small group of ladies waiting for the restaurant to open. I tried the door and entered to discover two friendly staff members making the final preparations.
The restaurant decor was contemporary with neutral colors
Moments later, after surrendering our winter gear to a staff person, we were seated in the rear most section. Wall size glass windows provided us an ample view of the side street we faced.
For a few minutes we were the only guests in that section and shared the restaurant with the group we had seen on our arrival. Although there was no wall to separate our section from the main dining room it seemed to have a cozy ambiance. The eatery had a contemporary decor by Jean-Michel Wilmotte where charcoal gray and black were the dominant colors. High ceilings with recessed lights contrasted with the glass walls and windows. Black wood chairs without cushions faced our Corian and wood like trim table. It was set with place mats in lieu of tablecloths and dressed with Couzon dinnerware.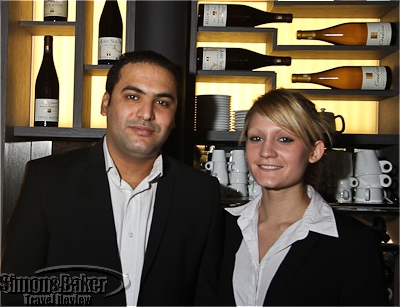 Amar Atya and Peruday Tupinier
An oversize wine rack occupied a prominent place across from the bar.  The rearmost wall next to our table had bookshelves filled with a variety of cookbooks and gourmet books. Les Bouquinistes menu was designed by Guy Savoy of the eponymous restaurant, and Stephane Perraud. The staff on duty that day were Amar Atya, Peruday Tupinier and Nils Marie.
White tuna half cooked (click picture to enlarge)
Soon other guests arrived and the pace picked up. A server appeared at our table with a basket of epi baby baguettes. An amuse buche of half cooked white tuna with bold smokey flavor and a touch of pepper arrived with our glass of well chilled champagne. Without our asking our server kindly offered to described the dishes in English or French. We relied on the staff to select our meal and wines.
Our langoustine course with vegetables (click picture to enlarge)
In the foreground, we could hear the loud mobile phone conversations of other diners in neighboring tables; in the background, some kitchen sounds reached us. A tepid bouillon with langoustine and "roasted" vegetables was first. The vegetables were aromatic and the dish flavorful, crunchy and mildly spicy hot.
The scallops with pureed cauliflower (click picture to enlarge)
Roasted scallops were next. They were served with a cauliflower puree, trumpet mushrooms, almonds and chorizo. Then, we had a Jerusalem artichoke soup with serrano ham was served with a side salad of artichokes and black radish that had a touch of truffle. Suckling pig with mushrooms and lentils and pork with black peppercorns followed. Pear ice cream was served for dessert. It was served with pear chips, vanilla jam and chocolate fondant.
Just across the street, the bouquinistes were open for business
Our first wine was a Saint Aubin premier cru from Burgundy. A 2012 red Cotes du Rhone was next.
We enjoyed the tasty, well prepared and well served meal and the casual dining ambiance within minutes by foot of our central Paris accommodations. Should we be staying in or near that part of the city again we would consider the restaurant for lunch. Les Bouquinistes, 53, quai des Grands Augustins, 75006 Paris, France, +33 (0)1 43 25 45 94, fax +33 (0)1 43 25 23 07, http://www.lesbouquinistes.com/