Photos by Josette King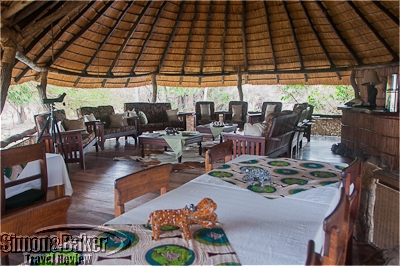 The common areas at Mvuu Lodge
Surrounded by river floodplains Mvuu Lodge in Liwonde National Park, one of Malawi's premier game viewing reserves, offered land and water game viewing options and luxury amenities in a comfortably casual atmosphere. Known best for its hippo population, the luxury tented bush camp was notable during our contributor's stay for abundant elephant sightings. She was able to observe, at close range from a small motorboat, a whole bachelor herd of big tuskers for an entire morning, a unique experience for her.
Elephants played and relaxed on the banks of the river
When her group first spotted them, they were drinking and splashing themselves with powerful trunkfuls of water and feeding on the high savanna grass along the shore. 
On the banks of the Shire River within the park, she saw a variety of antelopes, and many raptors and waterfowl. There were so many of them she could have spent a morning viewing them.
Her tent had a deck with an outdoor shower
At the rear of her boat, a member of the staff cooked a bountiful brunch for the guests. The warm service, amenable accommodations and rewarding game viewing at Mvuu Lodge afforded her an outstanding ideal introduction to the wilderness of Malawi.