By Elena del Valle
Photos by Gary Cox
The iconic Eiffel Tower in Paris on a sunny day
While the list of gourmet dining venues in Paris is long few restaurants can compete with the famous Le Jules Verne when it comes to sheer romantic appeal. Midway atop the French capital's best known landmark the restaurant, in the capable hands of the famed Alain Ducasse staff, offers a stunning view of the city combined with expert service and fine dining.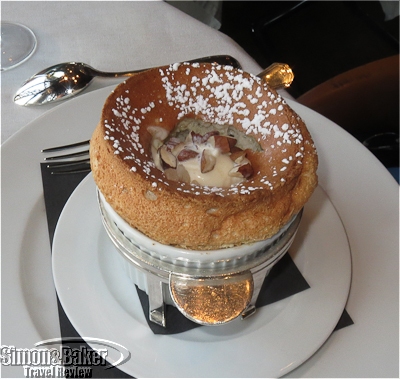 A souffle with pears, one of our desserts
On our most recent stay in the City of Lights we again had the pleasure of lunch at Le Jules Verne. We approached the monument from the Left Bank to find the restaurant's dedicated entrance in the South Pillar of the Eiffel Tower. At the foot of a medium brown awning extending outward from the pillar, a glass encased menu reminded us of the selections listed online and available at the restaurant some 125 meters above the city. After passing through a metal detector and having our personal belongings searched, we were invited to the restaurant's private elevator on the ground floor of the tower pillar.
Philippe Muze, the pastry chef
From our window side table we could see part of the north side of the city including the Seine River, the Golden Triangle, and in the background the Sacre Couer church. The light haze did little to mar the scene and the bright afternoon light enhanced the beautiful view, inspiring us to walk along the outer deck one floor below the restaurant following our meal. We were so bewitched by the views that we returned to climb the stairs another day and take the elevator (the only way to reach the summit) to the top of the tower.
Chef Pascal Feraud and his team (click to enlarge)
Attentive and friendly service coupled with a well presented and perfectly prepared delicate multi course meal made the afternoon memorable. Le Jules Verne is on our short list of fine dining restaurants in Paris, in particular for special occasions and celebrations.