Article and photos by Josette King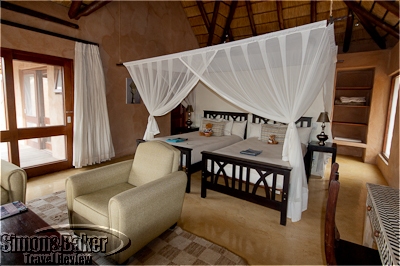 The beds were draped with mosquito netting in the Chilton Suite.
After three weeks of an exciting southeastern Africa itinerary that had me bouncing from off the grid havens to some of most sought after safari destinations in the region, I was beginning to feel worse for the wear by the time I reached Little Garonga. I knew right away that I had arrived at just the right place to unwind before the long journey home. Set deep into the privately owned, self contained 22,000 hectare (85 square mile) Greater Makalali Conservancy, west of the world famous Kruger National Park, and with only three secluded guests accommodations, Little Garonga was an intimate, no pressure luxury retreat that focused as much on relaxation and self indulgence as it did on traditional game viewing activities.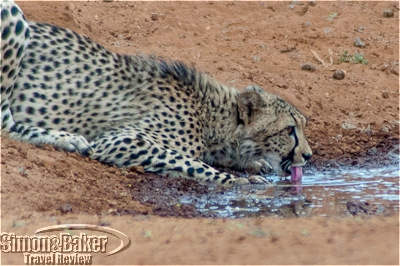 The water hole provided some great game viewing opportunities
The first word that came to mind as I settled into my room was Zen, not a term I usually associate with the African wilderness, but a feeling doubtless reinforced by the miniature Buddha statue in the center of my coffee table sandbox. Then there was the serene elegance of the room itself, filled with light and decorated in the pale colors of the dry season bush, and the low wooden yoga bed, paired up with an inviting white canvas hammock strung across my thatched veranda. Already I could feel my breath slowing down.
A young zebra heading to the water hole
Even the game drives were laid back, with our low key guiding team well familiar with the habits of the Makalali resident game. They knew to position our vehicle where the game would come to us: rhinos oblivious to our presence as they browsed within feet of us, lions coming up from the river, cheetahs on their way to the water hole; it was a lovely opportunity to say goodbye to the African wildlife. Even the notoriously shy steenbok came to pause for a picture. But when I think back on my visit to Little Garonga, what I remember most are the quiet dinners under the stars, on the lodge's deck romantically lit by the dancing flames of the fire pit and myriad votive candles, and the huge African sky reflected in the sapphire swimming pool.