Article and photos by Josette King
Rue Royale and Place de la Concorde at night.
Although I am a regular visitor to Paris, it had been years since I had set foot around the Rue Royale, the short street that runs between Place de la Madeleine and Place de la Concorde, within the posh Right Bank enclave where the first and eight arrondissements meet. There, Rue du Faubourg Saint-Honore on one side, and Rue Saint-Honore on the other, share a directory of addresses that represent the Gotha of French and international haute couture. Then just around the corner, Place Vendome is home to some of the world's most renowned jewelry houses (Cartier, Van Cleef and Arpels, Boucheron, Chaumet et al.).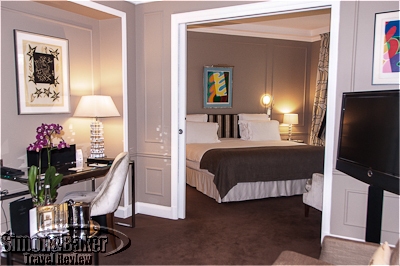 The bedroom of the Opera Suite.
Being of one mind with Lady Windermere ("I can resist anything but temptation."), I suppose I instinctively felt it best not to venture too far into this bastion of enticing luxuries until my recent stay at Le Burgundy, a five star boutique hotel that opened in 2010 on Rue Duphot, just off Rue Saint-Honore.
Originally, the winning argument for my choice of Le Burgundy was its in house spa, complete with 15 meter (50 foot) long swimming pool, hammam and sauna, a rarity among boutique properties in Paris.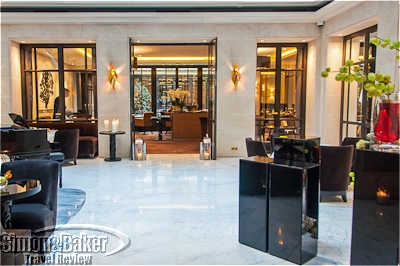 The winter garden opened onto the dining room.
That it had already garnered a solid reputation for the luxury of its accommodations and excellence of its service had only faintly registered in my awareness, until I checked in. From the warm welcome of the doorman who relieved me from my bulky carry on bag before I had even made it through the front door to the reception staff who had me settled in my suite in record time, the tone was set. The service was attentive and unobtrusive every moment of my stay.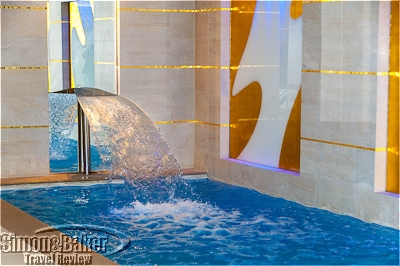 There was an arching waterfall at the far end of the pool.
My spacious second floor suite, Opera, (the eight suites were named after some of the most iconic nearby landmarks) was an intimate urban retreat decorated in an understated classic style with contemporary touches and the latest modern amenities. I especially enjoyed the vast bathroom with its top of the line whirlpool bathtub and oversized walk in shower with high pressure rain showerhead and six moveable body jets. And then, for the ultimate Parisian apartment luxury, the bedroom's French doors opened onto an inviting private terrace surrounded by large tubs of lush shrubbery.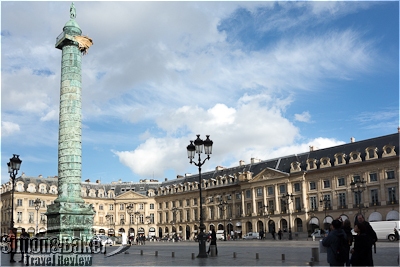 Place Vendome was only a few minutes' walk from Le Burgundy
It was a pleasure to relax there between marathon visits at the nearby Musee du Louvre and Galerie Nationale du Jeu de Paume, a museum of contemporary arts.
And yes, I did enjoy window shopping around this chicest of Paris neighborhoods every time I stepped outside Le Burgundy. But beyond its privileged location and excellent accommodations and service, it was the unique indulgence of starting each day with an invigorating swim followed by a scented eucalyptus and citrus steam bath that propelled Le Burgundy to the top of my favorite Paris addresses.