Taking Root in Provence by Anne-Marie Simons*
Anne-Marie Simons and her husband Oscar were self proclaimed gypsy souls who decided to settle down somewhere during their early retirement. In 1998, the couple set out to find a home that offered pleasant weather, culture, natural beauty and access to international travel. They found their requirements in a French urban setting, Aix-en-Provence, where they have been living full-time ever since.
Simons authored Taking Root in Provence (Distinction Press, $15.95), a 208-page softcover book about their life in Provence, France published in 2011. The easy to read book is divided into 40 short chapters followed by 13 of Oscar's regional recipes. She discusses various aspects of their life in Aix-en-Provence from the market, their apartment chimney, how they buy truffles from a restaurant owner to avoid the ubiquitous Chinese impostors, to Christmas in Provence and more. In the closing chapter, she draws attention to things that may surprise foreigners such as public urination of children and adults so common no one notices, air kisses, bare breasted sunbathers at the beach, well behaved dogs in restaurants, and the "national craze" for food.
She estimates 35,000 anglophones make the region their home. Many of them belong to the Anglo-American Group of Provence.
"They have a bridge club, a hiking club, clubs for gardening, cycling, cooking, etc. This is a great help to those who do not speak French and makes the transition easier. Also, this group tends to favor the countryside over the city, and most have bought homes with gardens and swimming pools which are being put to good use given that the local climate allows you to eat outside during a good part of the year. For many of these people Provence is a second home and they often have held on to a foreign address," she said by email.
When asked about changes in her area resulting from the economic downfall she responds, "If much has changed since the Great Recession, it seems to have had little effect on Aix-en-Provence and our region. There are as many tourists as ever but perhaps I am hearing a bit more Russian and Chinese (the deepest pockets). If some shops are closing, others quickly take their place; restaurants and bars are still full; and our opera festival sold out, as usual. The change seems to be elsewhere: there are factory closings in France and I hear that the Chinese are buying up French wineries, especially in the Bordeaux area. Real estate has been affected also: houses are not selling like before and there is quite a bit of supply."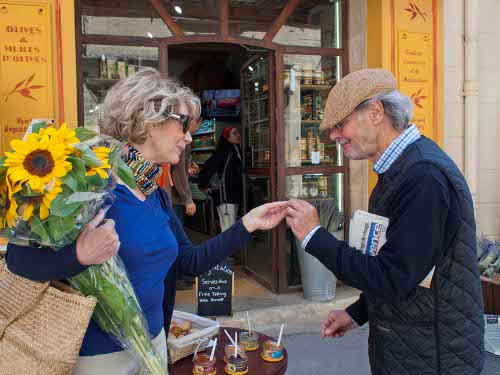 Anne-Marie Simons, author, Taking Root in Provence, and her husband Oscar Rodriguez-Rozic*
"What we like best? Without a doubt:  the quality of life. We may have different tastes and interests, but I don't know anyone who would not like to live in an environment of great natural beauty and a climate with 300 days of sun a year; daily markets; very good public service (national healthcare, education, public transportation), and subsidized culture which is at least partly responsible for the fact that we have five bookshops and three movie theaters in the center of Aix (while they are leaving city centers in the U.S.). Proximity to the Mediterranean and the abundance of healthy fresh produce directly from the farm are added pleasures."
When asked about the possible impact of taxes on the wealthy she said, "There's been a lot of talk about the high taxes in France including celebrities that have moved to a neighboring country to save taxes. What has been your experience in that regard?" she replied: "This has not affected us at all. When the Socialist candidate François Hollande won the presidential elections last year, one of his campaign promises had been that he would 'tax the rich' by putting a 75 percent income tax on all private income over €1 million per year. Since I am not in that category (nor are most of the retired expatriates here) this threat did not concern us and, in fact, has since been rejected by the French Supreme Court as discriminatory. People like French actor Gérard Depardieu and businessman Bernard Arnault who both moved to neighboring Belgium and applied for citizenship there to avoid this tax hit at home, have become a 'cause célèbre' and attracted a lot of attention. Predictably, this political issue was called an 'invitation to tax flight' by the right and 'a call to solidarity when the country is in financial straights' by the left, and has since died down. Ever since this tax on the rich was declared illegal, the French Finance Minister has announced that he will rewrite and resubmit the 75 percent tax requirement to suit the existing tax laws, but this will take time and now that everyone is forewarned there will surely be few "victims". In short, this issue has come and gone and is no longer talked about."
Simons work experience includes translator, teacher, director of corporate communications and journalist. She writes ProvenceToday.blogspot, a blog about Provence. Her husband is a former international development banker now dedicated to Provencal cooking among other things.
*Book cover photo courtesy of Taking Root in Provence media page and photo of author and her husband courtesy of Marie Hennechart Photography