Article and photos by Josette King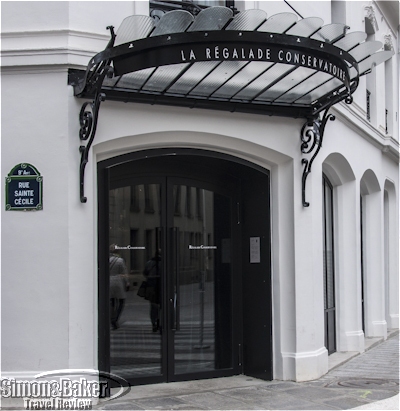 The main entrance of La Régalade
In a city that boasts more than its fair share of venerable grande dame properties, it's luxury boutique hotels that have been creating a buzz in Paris in recent years. And few have buzzed louder than the recently opened five star Hotel de Nell. What I enjoyed most about my recent visit there was, well, everything! The location first of all, in the heart of the tony 9th arrondissement, a Right Bank neighborhood of understated side streets lined with elegant balconied buildings of quarry stone, just north of the Grands Boulevards on the way to Montmartre. Although mainly overlooked by tourists, the quietly chic 9th has been a hub of Parisian intellectual and artistic life for more than two centuries, and retains to this day its 19th century atmosphere.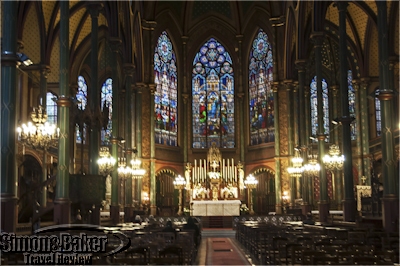 The neo-gothic Church of Saint Eugène and Sainte Cecile
One block down the street from the Hotel de Nell is the Conservatoire (music and dance academy founded in 1795) where Paris was first introduced to the music of Ludwig van Beethoven in 1828, and Hector Berlioz premiered his Symphonie Fantastique two years later. Around the corner, is the church of Saint Eugène et Sainte Cécile (Jules Verne was married there), a unique 19th century neo-gothic church, the first in Paris with its interior entirely metallic. The legendary Folies Bergères cabaret, with its 1930 Art Déco façade recently returned to its original gilded splendor, is one street over. And the place where George Sand and Frederic Chopin once lived (in separate apartments across from each other) is just a short walk away.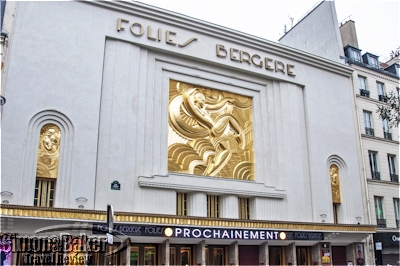 The newly restored façade of the Folies Bergères cabaret
I thoroughly enjoyed my leisurely exploration of the neighborhood. And I loved even more returning home to the serene luxury of the Hotel de Nell after my forays back in time to Paris' Belle Epoque. Behind its impeccably restored 19th century façade with its lacy wrap-around wrought iron balconies, noted architect and designer Jean-Michel Vilmotte created a tranquil minimalist retreat that brilliantly combined mid-20th century-inspired furnishings with oriental details. The resulting Zen-like atmosphere permeated every corner of the property. But nowhere was it more in evidence than in my light-filled fifth story room with its romantic view of the neighborhood rooftops and its stunning bathroom with a white marble Japanese-style soaking tub and shoji screen-like unpolished glass windows.
A votive candle cast a soft glow on the bathroom
Then on the street floor, there was La Régalade, one of Paris' hot new bistros. Here Bruno Doucet, one of the city's leading young chefs, dished out a cuisine that has become so popular in recent years that a new word had to be invented for it: bistronomy. This is where gastronomy, and the skills Chef Doucet honed in the kitchens of Pierre Gagnaire and Jean-Pierre Vitago, is translated into simpler yet imaginative, more convivial bistro fare offered as a friendly three-course prix fixe formula. Small wonder that whether for lunch or dinner, reservations were strongly recommended during the week and definitely necessary on weekends.