By Elena del Valle*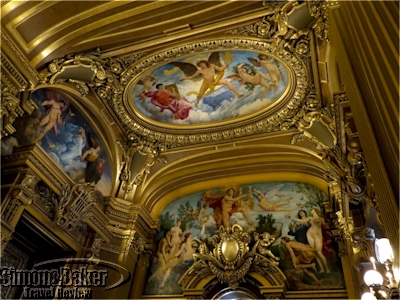 The interior of the Palais Garnier
For years we had wanted to attend an operatic performance at the Palais Garnier, the old opera in Paris, France. We had enjoyed one at Opera Bastille, the modern theater across town, and longed for the exuberant historic building's greater intimacy. On our last visit to Paris we managed with no small amount of effort to obtain good seats in the ninth arrondisement building. La Cenerentola was one of a few operas performed in the theater that season and happily for us one that we liked.
Marianna Pizzolato (Angelina)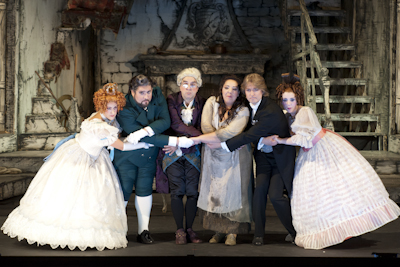 Claudia Galli (Clorinda), Nicola Alaimo (Dandini), Bruno De Simone (Don Magnifico), Marianna Pizzolato (Angelina), Maxim Mironov (Don Ramiro) et Anna Wall (Tisbe)
By the time we checked for tickets online several months in advance of our strip nearly all shows were sold out. Luck was on our side for a performance on a Sunday at 2:30 p.m. On the day of the three hour event, the weather was clear. We enjoyed a plentiful brunch prior to our arrival at the Palais.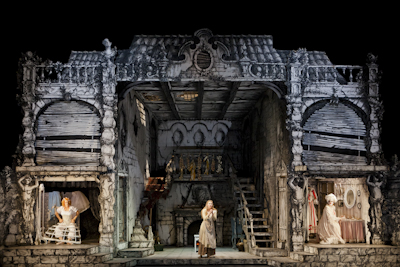 The three sisters in La Cenerentola
I was thankful that we arrived in a good mood. When we went to pick up our tickets at the window we encountered a long line. Worse yet we discovered the opera cashier was unable to accept any of several credit cards we offered making it necessary for us to pay in cash. Once inside, the lines for the coat check and the restroom were so long we avoided both. This meant no food or beverages during the intermission. And we were forced to carry our sweaters and coats as we strolled along exploring the beautiful halls of the old building.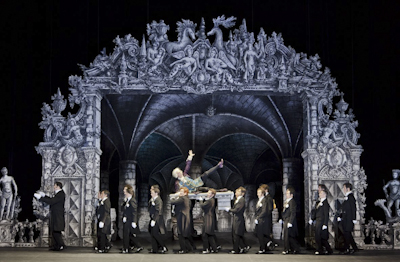 A scene in La Cenerentola
The ceiling of the Palais Garnier
 On the plus side, the interior of the theater was as pretty as we anticipated and the musical event was worthwhile on its own. While a few glitches detracted from the experience overall we were rewarded with an outstanding performance by the Bayerische Staatoper from Munich accompanied by the Orchestre et Choeur de l'Opera National de Paris.
*Photos of La Cenerentola courtesy of Opéra national de Paris/ Ch. Leiber and of the Palais Garnier by Gary Cox