By Elena del Valle
Photos by Gary Cox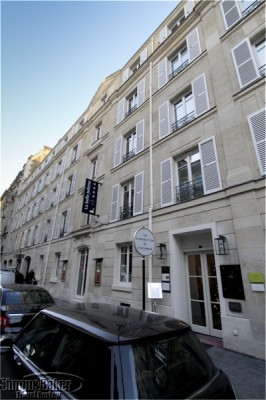 Hotel and Spa La Belle Juliette
The Hotel & Spa La Belle Juliette sits on a quiet street in the Latin Quarter of Paris, France. It's conveniently located within one of the city's most desirable neighborhoods. That alone would have attracted us for a look. There was much more to the hotel. Electronic and luxury amenities, gourmet treats, custom fragrance samples, bespoke decor, a size appropriate spa with plunge pool, attentive service, and English speaking staff were among the features we liked.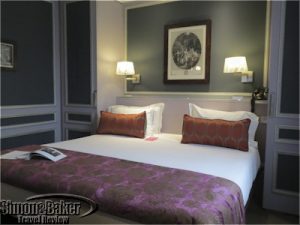 Decor on each floor represented a period in Julliette's life.
Our small rooms were pretty and stylish with modern amenities, handsome bathrooms, individual temperature controls and room service. The hotel's common areas and the rooms followed a decorative theme focused on the life of Juliette Recamier, a historic figure popular in her day.
The breakfast area con the ground floor
Friendly youthful staff spoke English and appeared eager to help. The basement level small spa was worth a visit with a steam room, unisex changing room with shower, treatment room and a color light filled plunge pool. The single spa treatment I had was outstanding.
The tidy spa downstairs was an unexpected bonus
Breakfast choices though few were good. I especially liked the rich hot chocolate and the deli platter which while not inexpensive was large and delicious. This jewel of a property was the real deal and would draw us back in the future.